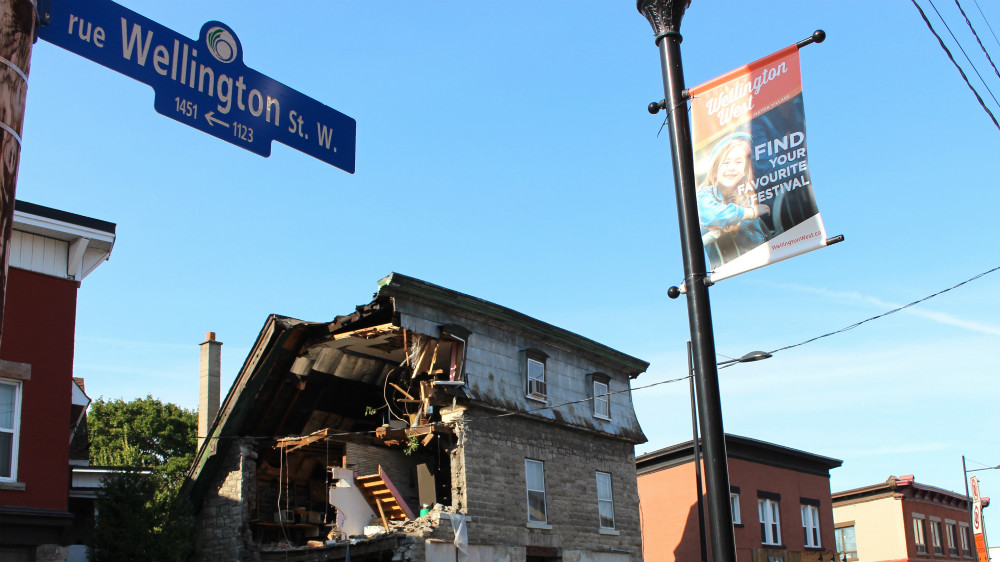 By Jackie Bastianon, Michael Charlebois, Caroline Mercer
On a bright autumn day in Hintonburg, pedestrians cross Wellington Street to avoid a stretch of sidewalk that has been closed because of the partial collapse of the 148 year old building known as Magee House.
One side of the house, at 1116 Wellington St. W., has fallen away. Inside, a staircase climbs to a missing floor. A television sits on a pile of rubble, hanging from a wire. People glance at the building, but few pause to take a closer look because the building has been like this since July.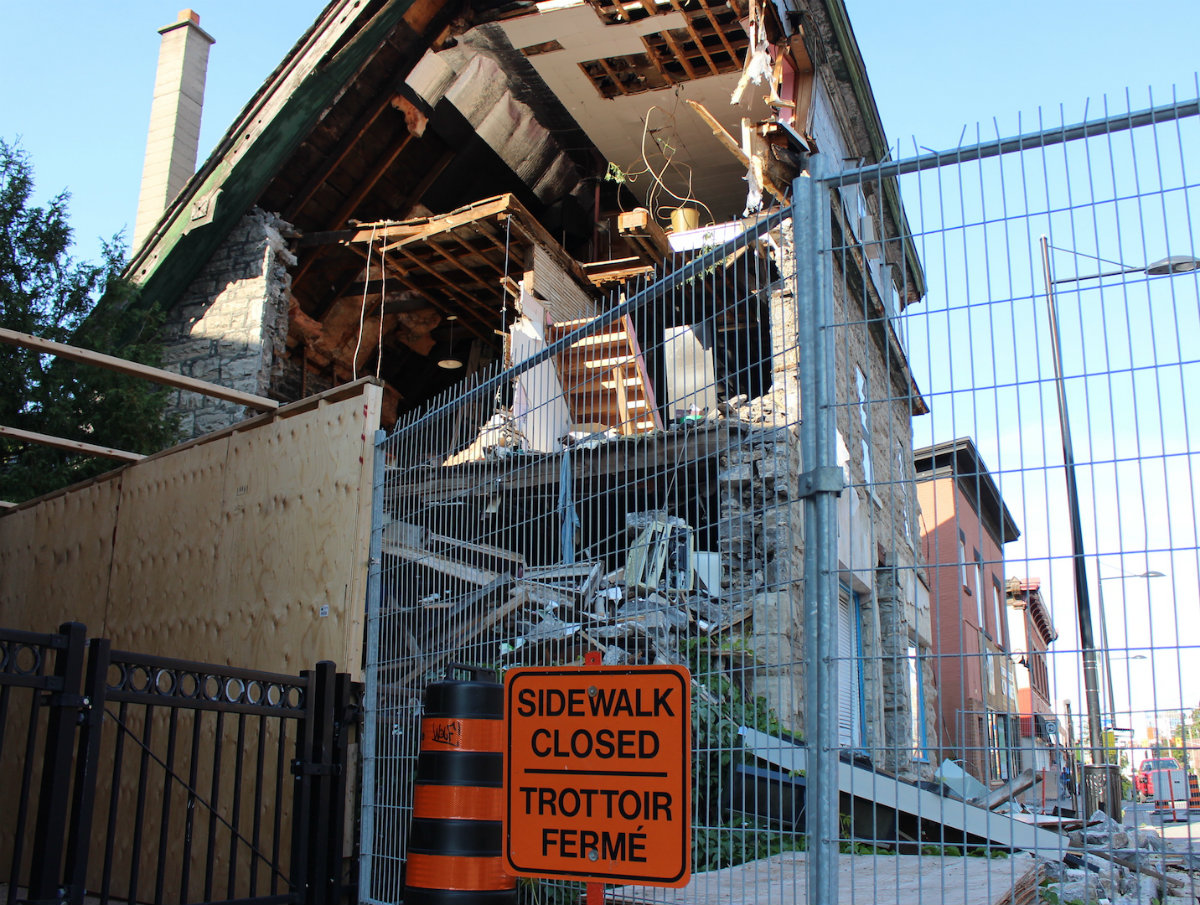 "When we see houses at risk, it is clearly an indication that the person who owns the property has decided that there isn't enough incentive for them to try and preserve it," said Sandy Smallwood, president of Andrex, a real estate company specializing in heritage homes. He's also a member of Ottawa's Built Heritage Sub-Committee. It is part of the City of Ottawa's planning committee and provides advice to city council on heritage buildings. It is comprised of four members of council and three members of the public.

According to Smallwood, the cost of repairing heritage properties such as Magee House can be significant for owners, who are required to make restorations in keeping with a building's original design. While construction materials for new buildings have become cheaper overall, materials used in heritage properties are scare and expensive.
More than 3,500 properties are designated under the Ontario Heritage Act in Ottawa. The majority are in 18 heritage conservation districts. These are districts such as Rockcliffe Park and much of Centretown. There are about 300 properties outside these neighbourhoods that have individual designations.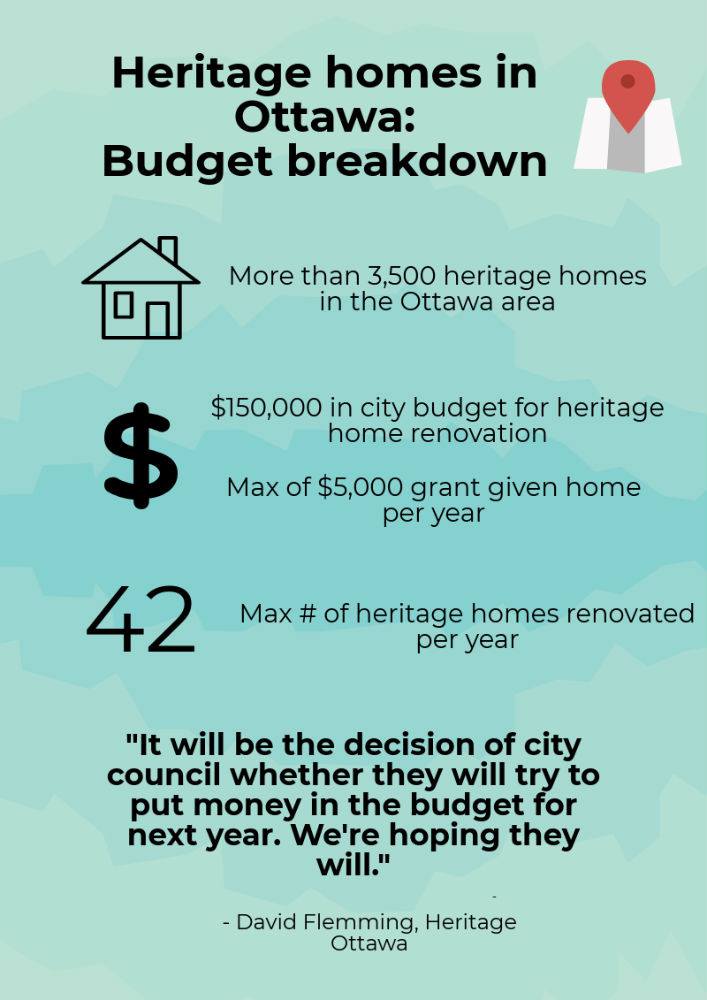 Ottawa heritage homeowners can apply for grants of up to $5,000 to cover renovations or repairs. The City of Ottawa budgets $150,000 a year, which is enough to renovate about 40 homes per year.

And, as Smallwood explains, the amount set aside is declining in utility as the cost of building materials rises. Depending on the type of materials and the age of the house, renovating a heritage home can be "a little bit more expensive to dramatically more expensive," he said.
Lesley Collins, a heritage planner with the City of Ottawa, said the value of these grants has not changed since the 1990s. Although there has been discussion about recommending changes to council, she said that work is ongoing.
Before its collapse, the Magee House was one of 23 Ottawa heritage properties on a watch list. David Flemming, the co-chair of Heritage Ottawa's advocacy committee and the organization's former president, said that the collapse is an example of what experts call "demolition by neglect."
Ovidio Sbrissa, who owns Magee House and was living in it when it fell apart, rejects that his home crumbled because of neglect. Instead, he suggests that a series of construction projects gradually destabilized the building's foundation. In particular he mentioned recent construction on Hintonburg's Carruthers Avenue, which sent heavy vibrations through his house a few weeks before it fell.

"There was no way that an owner of such a building would ever be able to see what was happening internally in those walls," Sbrissa said.


With an election coming, Flemming said that Heritage Ottawa is encouraging the city to provide tax relief to homeowners who promote the preservation and restoration of their heritage buildings. The organization has posted a series of questions on its website so that residents can ask their candidates about heritage matters.

"The city really has to be a bit more proactive and a bit more on the ball," Flemming said.

John Feihl, who lives in a heritage home known as Hunt House in Old Ottawa South, has used city grants to renovate the exterior of his house several times since he bought it 47 years ago.
Whether he's doing roof work or having custom windows built to match the style of his late-Victorian-era house, Feihl said that his renovations are generally more expensive than renovations to homes without heritage designation.
Despite the cost, Feihl, who was approached about having his house designated in the early 1980s, sees things rather philosophically.
"The heritage stuff didn't exist at the time, but I bought it because I liked the house and I was willing to look after it," Feihl said. While it would be nice to have more funding for repairs, Feihl recognizes that tax dollars are finite and needed in other areas.

Almost 50 years after he bought it, with its sprawling garden and fresh cream-coloured paint, Hunt House looks well cared for. Feihl has seen to that.
As for Magee House: the city has recommended that the rest of Magee House be torn down. The built heritage subcommittee has endorsed the demolition. Planning committee agreed and so did City Council. Magee House will be demolished by Nov. 15.

This map show the location of over 300 individually designated heritage homes in the Ottawa area. Click to explore their exact locations (including the Hunt House, see above).
---
More Stories