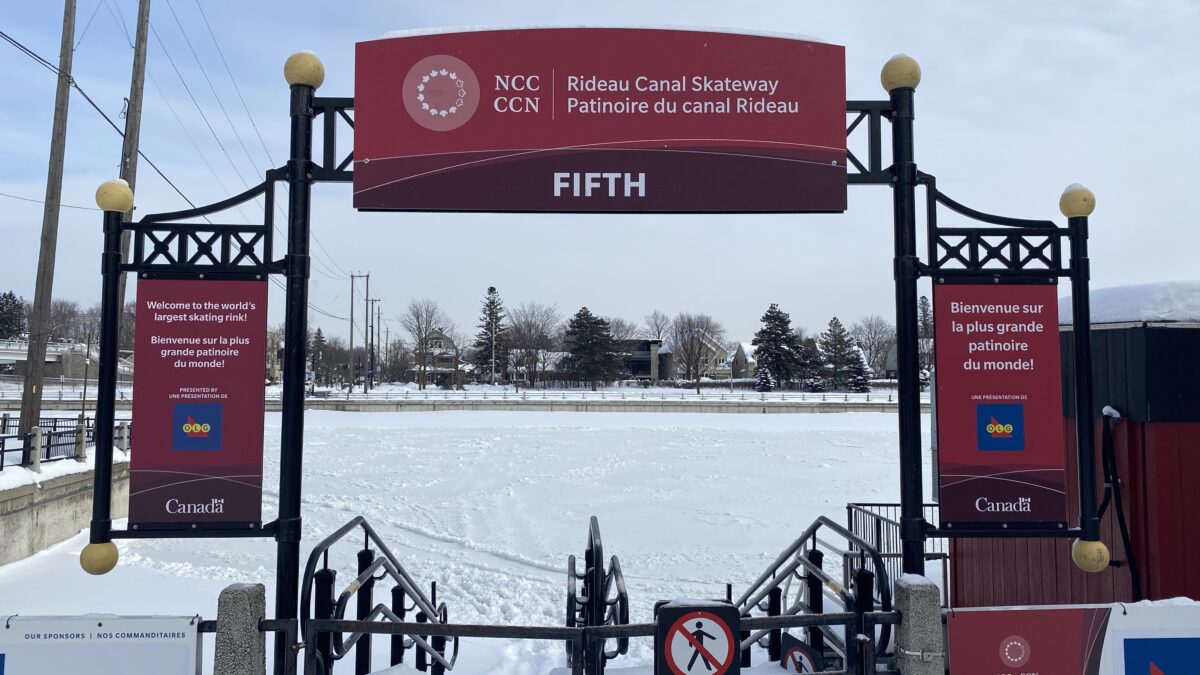 It's nearing mid-February and residents of Ottawa are still unable to skate on the not-fully-frozen Rideau Canal. Winterlude events and other planned activities in the capital have been cancelled, postponed or modified.
Ottawa, known for its bitterly cold winters, has had a surprisingly mild one so far this year. Temperatures in the world's third coldest capital city have been significantly warmer than they were a year ago. According to the online weather tracker Meteostat, January 2023 had an average temperature of -5.1 C, while January 2022's average was -14.8 C. 
Last year the canal was available for skating by mid-January, and in each of the previous five years, it was open before the start of February.


This year's unseasonal temperatures have caused events such as the Carleton Cup and Winterlude attractions to make considerable changes.
"It is great sadness that we bring you this news," Carleton Cup organizers posted at their website on Jan. 27. "The canal will not be open in time for the Carleton Cup to take place."
The news was particular disappointing, they added: "We're very sorry that Mother Nature had not been kinder for our first year back since the pandemic."
"This is the third year in a row that we've had to cancel the race," said Scott Rondeau, an organizer of the event, a skating-running-boozing triathlon that raises funds for Cystic Fibrosis Canada.
Rondeau calls these the "global warming years."
Rondeau, who participated in his first Carleton Cup in 1996, became an organizer for the event in 2000. He says that every year the event gets cancelled, fewer people participate the following year.
"Our biggest race ever is 280 racers. But then there were 350 people at the after party," he recalled. "Then the very next year was a global warming year and the canal wasn't open, so we didn't have the race. And then the next year we had 30 racers. (A year later) we had 100 racers, and then we had 180 racers — and then global warming, and then the next year, 20 racers."
Winterlude, which runs until Feb. 20, hasn't been cancelled. But the famous winter festival does rely heavily on the canal, prompting cancellations and changes to various activities. 
Winterlude has its own triathlon. This one normally involves skating, cross-country skiing and running, but the canal's delayed opening forced organizers to switch the event in late January to a ski-snowshoe race scheduled for Feb. 4 at Mooney's Bay Park. Ironically, a brief deep freeze on that day — which saw temperatures approaching -40C with the wind chill — forced organizers to reschedule the modified triathlon to Feb. 5).
"We really appreciate your willingness and flexibility to adapt to the changes in the final 10 days," organizers stated at the triathlon website after the event. "While the format turned out really well, we are hopeful to be able to organize the 2024 version as a skate, run, ski event, and actually pull it off as planned."
It wasn't the first time that the conditions of the canal affected the event.
"We've had to modify the event about 15 times. There was one year that we just ran because there was no snow either," said triathlon organizer Rick Hellard.
As with the Carleton Cup, last-minute changes due to weather affect participation in the event.
"The economic impact is pretty huge," Hellard said prior to the Feb. 5 snowshoe-ski race. "People come here to skate on the canal. For us in the Winterland triathlon, we're used to getting two and a half to 300 people, and this year we're at 40. So from an economic impact, we are barely covering our expenses."
According to National Capital Commission, which is responsible for maintenance of the canal, "they state that "the Skateway opens to the public once the surface reaches a minimum thickness of 30 centimetres of good quality ice. Generally speaking, we require a period of 10 to 14 days of consecutive cold weather (-10 C to -20 C) to get good quality ice that is safe for skaters."
Despite this year's disappointing conditions, Rondeau is hopeful the canal will freeze well in 2024.
"Next year, we're having a party no matter what," he said. "Three years is enough."
---
More Stories