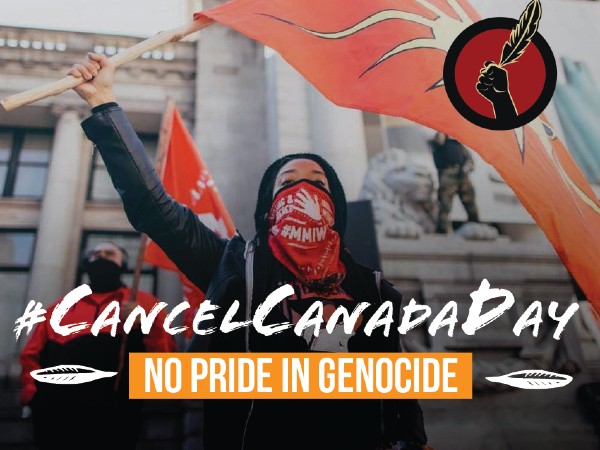 Indigenous organizers are holding a Cancel Canada Day Rally in Ottawa today amid growing calls for a rethink of the national holiday.
Calls to Cancel Canada Day come in the wake of the recent discovery of more than 1,000 unmarked graves on the grounds of former residential schools in British Columbia and Saskatchewan.
An estimated 751 unmarked graves were unearthed at a former Saskatchewan school, with the remains of 215 children found on another residential school site in Kamloops, B.C. On June 30, a First Nation in Cranbrook, B.C. discovered 182 unmarked graves near the location of another former residential school.
Virtual fireworks and Canada Day celebrations organized by Canadian Heritage are still scheduled to go ahead. In a statement, Canadian Heritage encouraged Canadians to "reflect on the violence" government institutions may have inflicted on Indigenous people and racialized communities.
National rallies are taking place all across the country, spearheaded by Idle No More and led by local community members. 
"Cancelling Canada Day is the bare minimum recognition of the ongoing colonization and genocide perpetrated against Indigenous peoples across Turtle Island," said Sylvia McAdam, Idle No More co-founder, in a statement.
Rae-Anne Whiteduck, one of the participants behind the Ottawa Cancel Canada Day Rally, said one of its main goals is to honour the children, families and survivors of those forced to attend residential schools.
"We're really hoping that for once that we can be heard and we can be seen. The goal of this is to share all of our grief and share our stories with the rest of Canada," she said.
Whiteduck said she and a group of people from the Algonquin community organized the rally I. Ottawa after the findings of the graves, which left them reeling.
On her mother's side of the family, Whiteduck said she is the first generation not forced to attend a residential or day school.
"We all have our own stories and why we're doing this, but at the end of it, we're doing it for our ancestors, we're doing this for the ones we lost, the ones we will recover, the ones we won't and the survivors," she added.
Whiteduck said she has never understood the notion of celebrating Canada's legacy, especially this year.
"What you're celebrating is the ongoing genocide of not just one nation, but of hundreds of nations across Canada and the United States and the deaths of those families," she said. "I just don't understand why people would want to celebrate that."
Alyssa Curto, 29, said she'll be marking Canada Day by attending the Every Child Matters walk in Toronto, organized by Toronto Council Fire in remembrance of the children who were killed while attending residential schools.
This year, Curto said she couldn't, in good conscience, take part in Canada Day celebrations like she normally would.
"I do think that we should be reworking Canada Day to be more of a remembrance type day this year because it feels a little bit insensitive to be celebrating anything in light of the news," she said.
Curto added that taking part in the commemorative walk is a way for her to show her support and solidarity in an offline manner.
"If I'm going to say that I stand with these groups of people and that I am an ally, then I don't want to just be doing that from my Instagram page. I want to be doing that in a real way," she said.
"You can't just sit there and benefit from a country where the systems have been built to keep these people at a disadvantage, and say that you're not part of it," she said.
Curto says she isn't sure what the right way to recognize Canada Day should look like, but hopes to see more recognition of Canada's past.
"I do think that it's worth the discussion and worth opening the topic of conversation of how we can change Canada Day to be more sensitive to the fact that this is part of our history and we can't ignore it."
The Cancel Canada Day rally will gather and begin marching at the Indigenous Services Canada building in Gatineau, Q.C., which Whiteduck said is a "symbolic" location due to the federal government's role in implementing the Indian Act and policies harming Indigenous people.
The rally is expected to include drummers, dancers and singers, and will feature speeches from elders, youth and survivors of residential schools. Whiteduck said prayers, special events and activities are planned for the rest of the day on Parliament Hill.
"It is not a day to celebrate Canada and their legacy, it's a day to amplify Indigenous voices so the truth can go out there," Whiteduck said.
With files from Rebecca dePencier
---
More Stories