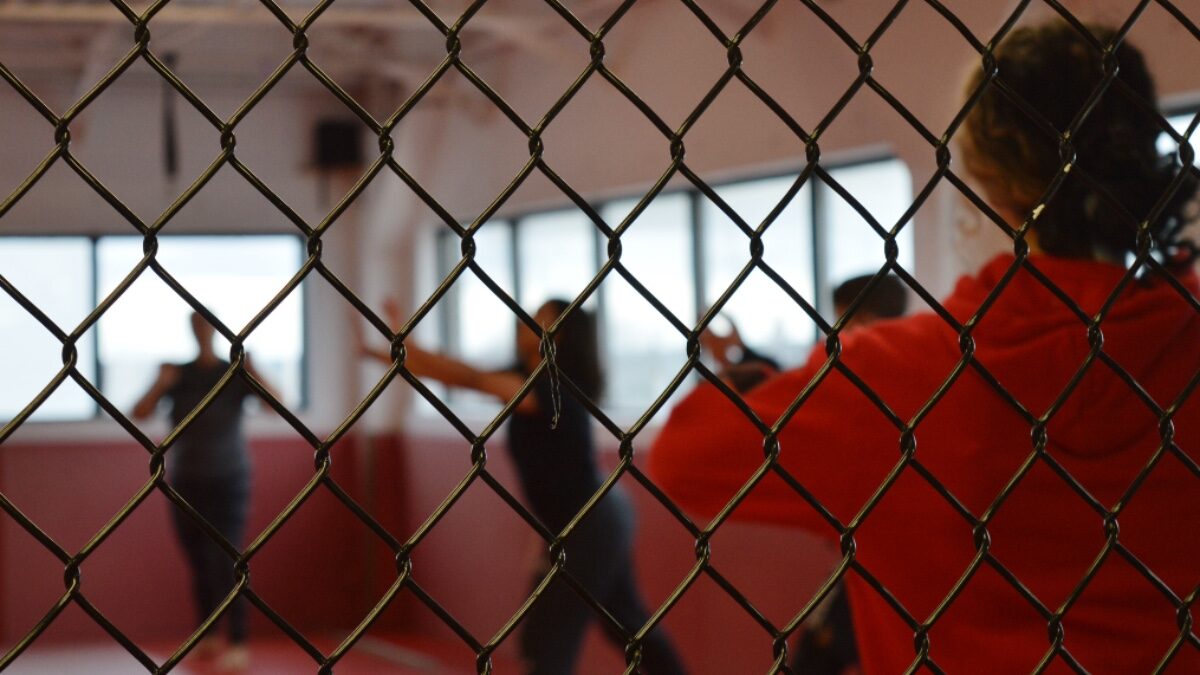 "I can just picture breaking his nose," said an attendee at the Kanata Academy of Martial Arts' women's self-defence class, as she struck a foam pad with her elbow. Women all around her were smiling and showing their emotional and physical strength as they attended the event — held on Nov. 25 as the world was marking the International Day for the Elimination of Violence Against Women.
"​​Having confidence in yourself is very much key," said Sherry Coulterman, an instructor at the Kanata academy. "I find that a lot of things happen to us, unfortunately, when we don't believe in our own strength. And unfortunately, the stats are not on our side."
Approximately one in three women have been abused in their lifetime, according to the United Nations. This number typically increases in times of crisis — including during the COVID-19 pandemic, when disrupted services and increased isolation have contributed to rising rates of intimate partner violence.
An important day
The International Day for the Elimination of Violence Against Women on Nov. 25 was the first of 16 days of advocacy for women's issues, which ends Dec. 10 with International Human Rights Day.
The initiative, established by the UN in 2000, is meant to shed light on the increased violence and insecurity women around the world face. In addition to increased violence in general, women face high levels of sexual violence and harassment, human trafficking and child marriage, according to the UN.
"In the world, obviously, it shouldn't be our responsibility to have to protect ourselves," said Coulterman. "So, we want to help women — as many women as we can, anyway — to really find that in themselves."
Women in Leadership Carleton (WiL) is a new club at Carleton University with the goal of providing mentorship and guidance for students to explore career paths. Together, students explore issues that impact women specifically, which can range from a lack of menstrual hygiene products to incidents of gender-based violence.
"I think listening might be one of the most important aspects of this because people deal with things differently," said Jodi Matthews, one of the founders of WiL. "You need to listen to the survivor."
WiL aims to provide a safe space for female students and is planning to host an event to raise awareness about domestic violence.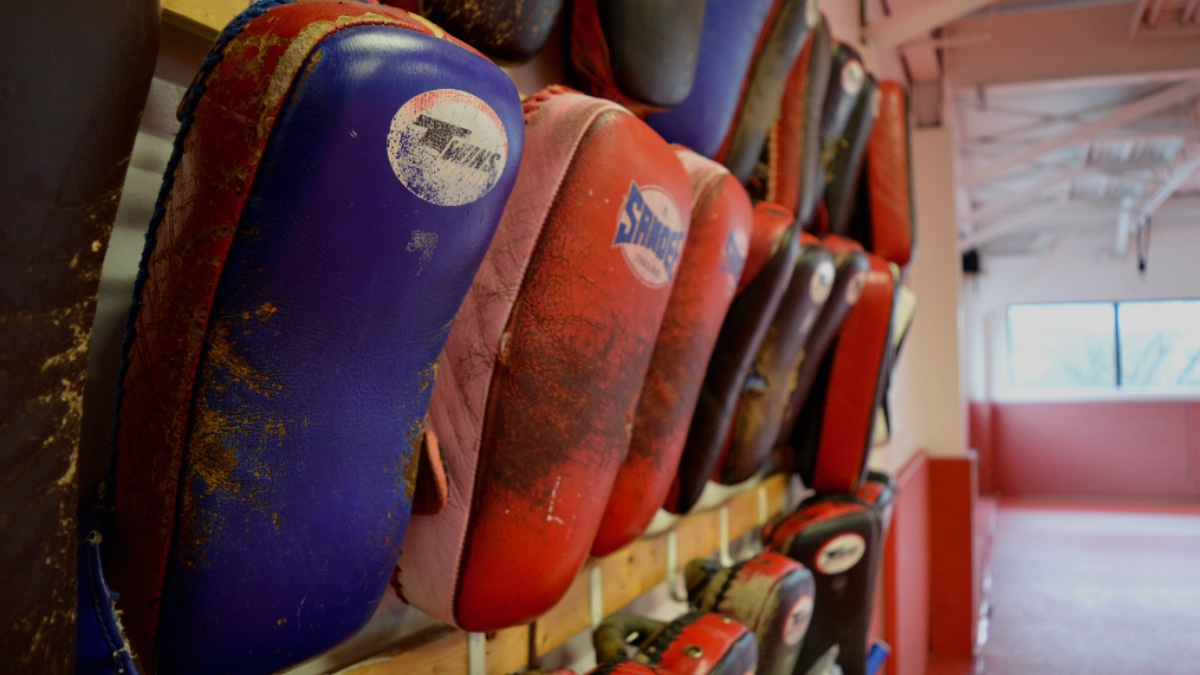 "We've also obviously shared that this is a safe space, if anyone is going through anything to come forward, and we can find (them) resources," said Gracie Lee Filip, the other founder of WiL.
The club leaders recognize that Black, Indigenous and other women of colour generally face higher rates of violence than the rest of the population, and hope to provide specific resources for them as well.
At the moment, Matthews and Lee Filip recommend seeking support from the Carleton Equity and Inclusive Communities website or by emailing equity@carleton.ca. Students may also call the Health and Counselling Services Centre during business hours at 613-520-6674.
Harmony House
Ray Eskritt became the executive director of the Ottawa women's shelter Harmony House in May 2020, amidst the pandemic. What helped her transition into this new role during a terrifying time was knowing that she was one of the first women to run a shelter in a pandemic — so there was no clear "right" or "wrong" way to do her job.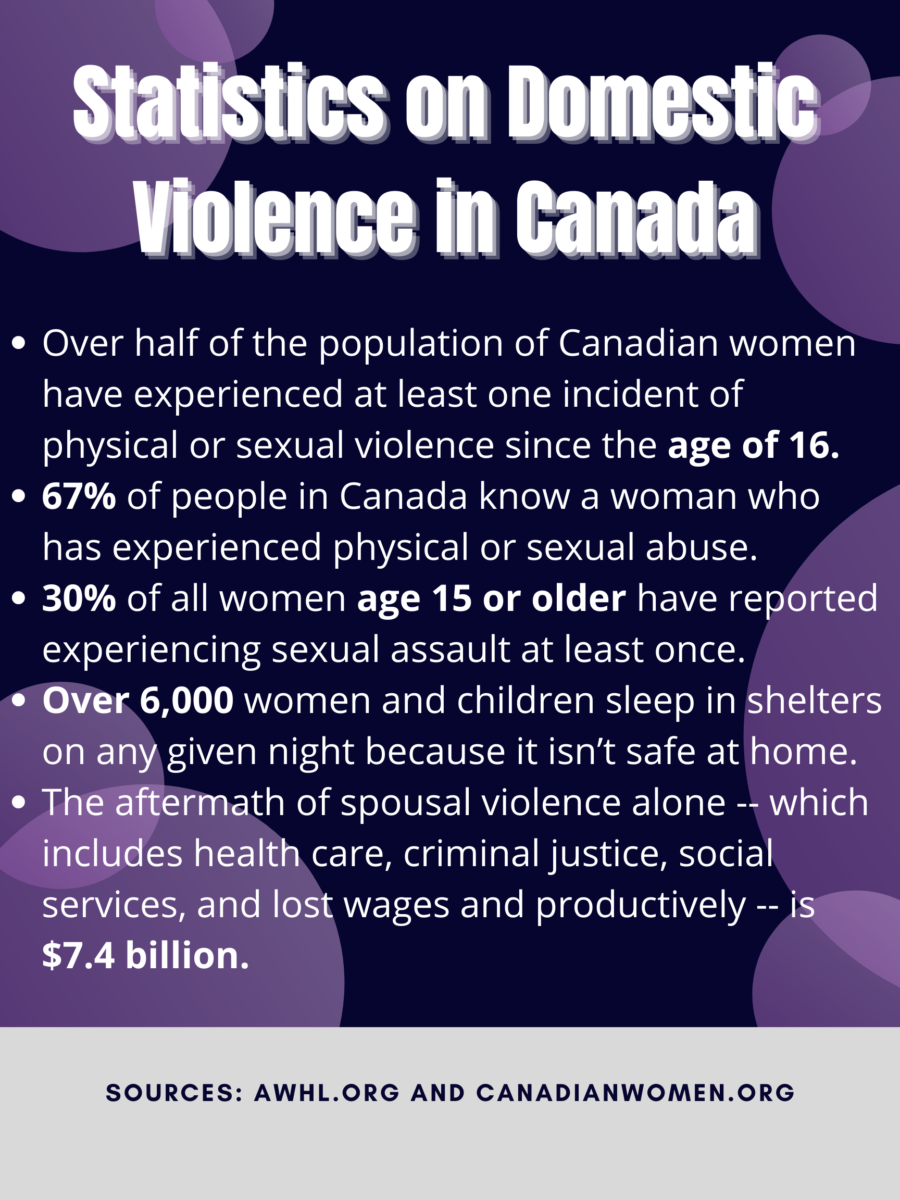 "The most experienced people in my sector had no clue what to do. And we're so underfunded and we're so overworked and we're always teetering on burnout. And now there's a pandemic," Eskritt said.
Thankfully, government sources and private donors stepped in and the "sisters", as Eskritt describes them, were able to work from home this past year. At the same time, as COVID-19 cases increased and people began to work and study from home, many victims were stuck with their abusers without an opportunity to leave.
"You just saw people breaking, and there was nothing you could do . . . No matter how many Zoom meetings you sit through, no matter how many phone calls, it's just not the same as sitting in a room and holding someone's hand," she said. "It was heartbreaking."
Since the beginning of the pandemic, the number of domestic violence cases against women and girls has increased. Approximately every six days in Canada, a woman is killed by her partner. And the rate at which Indigenous women are killed is almost seven times higher than for non-Indigenous women.
The Kanata academy has been a great supporter of Harmony House. Eskritt said she is all for women learning self-defence, especially if it helps protect them at home from someone who's hurting them.
Power in confidence
Jo Maisonneuve helped lead the self-defence class at the Kanata academy with Isabella Griffin. Maisonneuve has cultivated a personal sense of comfort through martial arts, which she said she was missing before.
"Jiu jitsu in general has completely changed everything about my approach towards self-defence," Maisonneuve said. "Before I started training, I kind of wasn't comfortable at all with men."
It is important for women to build confidence, said Maisonneuve, because though oftentimes people say they will act accordingly in a crisis, they will most likely experience fright, flight or freeze. However, people's confidence can often develop quickly, she added. As an instructor, Maisonneuve said she notices most newcomers start hitting lightly but it doesn't take long for them to "get into it" and exert more force.
"If you don't practise, you'll probably freeze, which I don't want any woman to ever have to feel," Maisonneuve said.
Q&A with Ray Eskritt
Ray Eskritt, the executive director of Harmony House, met with Capital Current to discuss the International Day for the Elimination of Violence Against Women. She spoke about the history behind this day and Harmony House's need for support, as the only second stage transitional shelter in Ottawa.
Q: What does the International Day for the Elimination of Violence Against Women mean to you?
A: The big day is (December) 6th for Canada. That's because of the Polytechnique massacre that happened in (1989) where 16 women were shot and killed at the Polytechnique school in Montreal, for the crime of being women in school.
[Today,] there are violations of women's rights; of girls being married off at the age of eight, girls not being entitled to go to school, girls being forced to have children they don't want, women being forced to have children they don't want, women in the U.S. losing abortion access. Screw that. Women in the north and women in Atlantic Canada still don't have abortion services.
You often hear people say 'Women have it fine.' And I go, wait a minute—nine tenths of the labour on this planet is done by women. So, women are not fine. A woman dies at the hands of a partner in this country every two and a half days. And we have a police force (the RCMP) in this country in 2015 that admitted 40 per cent of them beat their wives on a regular basis. So, I have very little faith in Canada's protection of women.
Q: Why is Harmony House Ottawa's only second stage domestic violence transitional shelter?
A: First stage is what's more commonly known as a crisis shelter. Secondary stage is, say you've been at that crisis shelter for a while and you're ready to go outside again, but you're still very much in danger. Each family gets their own apartment and then we usually start them off with a few little groceries (and) some grocery cards so they can go out and get what they need. But they can come and live with us; usually up to a year is what we're mandated for. But with the housing crunch, we've seen them stay two, three, four years.
There used to be dozens of [secondary shelters] in town until the 90s, then Mike Harris (Premier of Ontario from 1995 to 2002) came into power and cut all of that funding. So, they all closed because they couldn't afford to stay open anymore. Harmony House was very, very lucky. We had private donors get us through lean years and now government funding has returned. So, we're still the only ones in Ottawa but we're hoping we won't be for long. We're hoping they'll come back and we'll have a collective of sister shelters again.
The Maid series on Netflix spoke to some of the aspects of emotional and financial abuse. Is that a form of domestic violence?
Absolutely. And emotional abuse and financial abuse—both don't leave marks on the body, but they will hurt your brain and can cause permanent brain damage. Fiscal abuse can ruin your entire life. I have a woman who lived in the shelter whose husband took out a $50,000 loan in her name and never told her. Usually forms of abuse usually don't come in just one way. If you're with an abusive partner, there's usually multiple forms of abuse happening. The more we recognize what is abusive and what is not acceptable, the easier it is to go. It's hard but it can be done.
What are you hoping that [readers] take away from this article?
Nothing changes without political action. Nothing without a demand. So, it's not enough to wish that it goes away. It's not enough to hope somebody else does the work. It's not enough. You actually have to get involved politically. And if you can't get involved politically, just remember that who you vote for matters.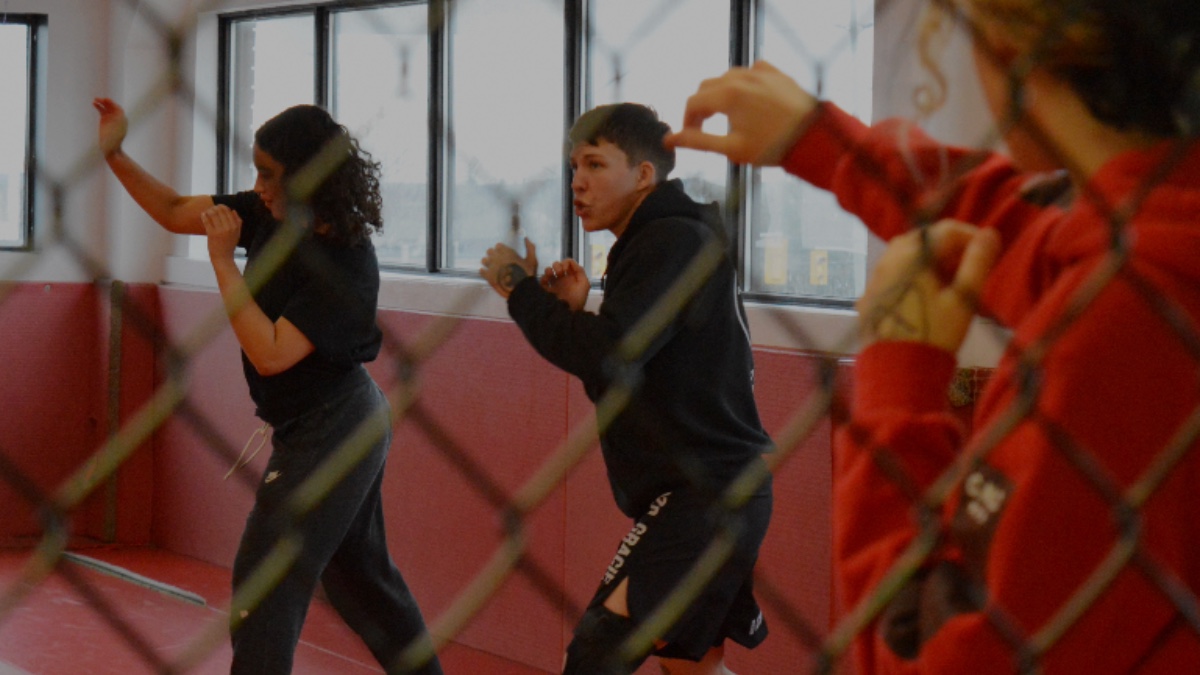 Maisonneuve's passion for teaching women's self-defence stemmed from her own personal experiences in the army and with incidents of sexual assault at the age of five and 12.
There are many things Maisonneuve said she wished she'd known growing up. One of those is the power of being loud. According to Maisonneuve, people who are typically timid or quiet are the ones who are more at risk of being attacked.
"I would've never thought that being loud would make someone not attack me," Maisonneuve said.
Besides finding her voice, Maisonneuve said she wishes she'd started martial arts sooner. She said the tools she's learned as a martial artist have not just allowed her to protect herself, but also others in a safe, controlled way.
In 2018, as Maisonneuve was driving, she noticed a man punch someone — a woman who seemed to be his girlfriend — on the side of the road. Maisonneuve instantly got out of the car. Without harming the man, Maisonneuve was able to bring him to the ground and render him unconscious. In the process, the man struck Maisonneuve across the face, causing her to bleed.
"Me knowing jiu jitsu, I didn't even have to hit him. I just put him to sleep. So, I controlled the situation without having to harm anybody," she said.
At the end of the day, more women need to build confidence to be able to better react and control dangerous situations, Maisonneuve said. And that is exactly why the Kanata Academy of Martial Arts hosts these self-defence classes, Griffin explained.
Griffin has a black belt in Japanese jiu jitsu and a purple belt in Brazilian jiu jitsu.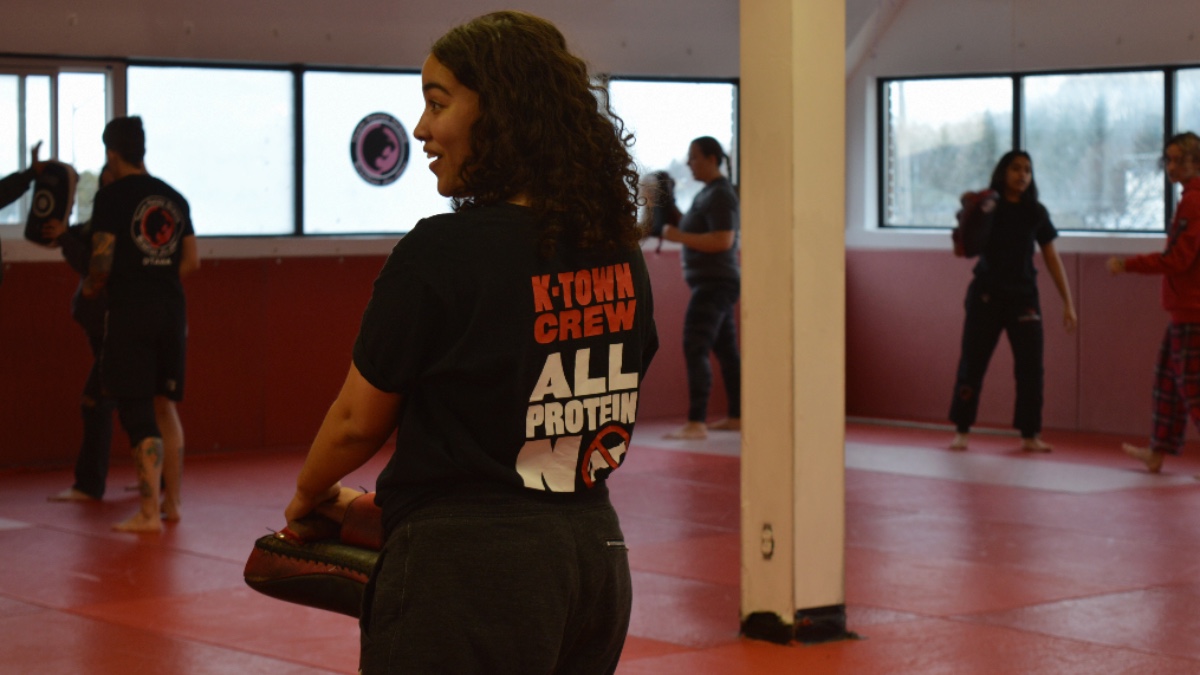 "There's so many women here with stories of abuse who come to martial arts to get stronger, to get confident," Griffin said.
The academy is particularly concerned with domestic abuse within homes, something that has become increasingly problematic during the pandemic. Griffin said she hopes these self-defence classes can offer some women in the community a safe avenue for support.
For those in need of immediate assistance, please call 9-1-1 or the Assaulted Women's Helpline at 1-866-863-0511.
---
More Stories