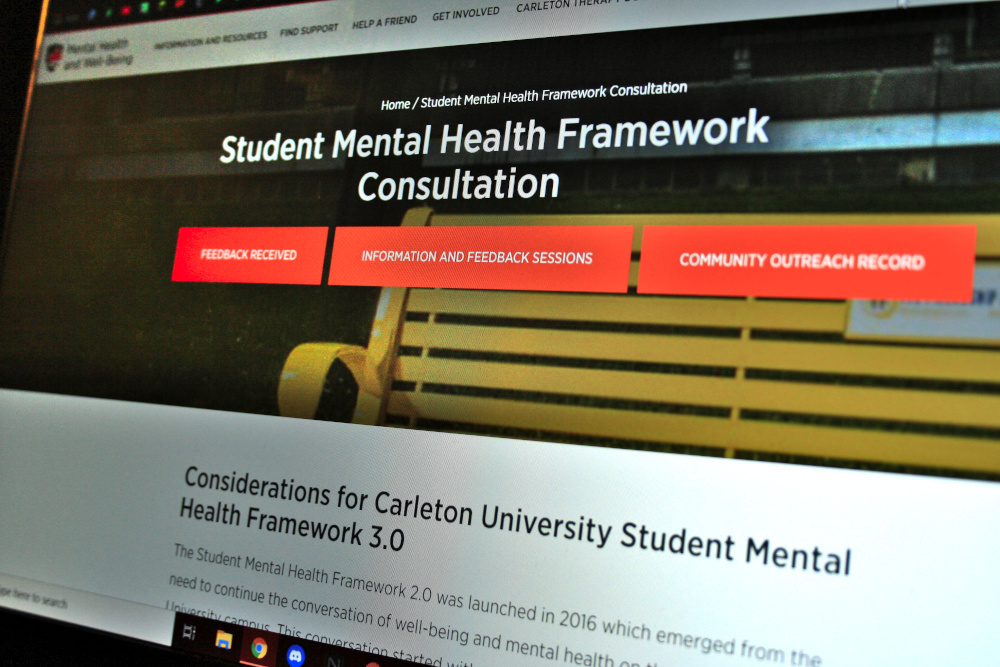 As Carleton University continues the listening and consultation phases of the new Student Mental Health Framework 3.0, students like Bobby Eros remain hopeful their needs and desires are met by the new plan.
Eros, a third-year journalism student, began therapy with Carleton University's mental health services at the beginning of the 2021 fall term. He expected in-person sessions with an emphasis on guidance and solutions.
"Counseling as a whole was less talking, and more listening than I was expecting," Eros said. "I was expecting more guidance than I received."
Three months later, Eros' current online sessions have been reduced from a bi-weekly schedule to around once every three weeks, with occasional month-long gaps between appointments.
Although Eros has had around six sessions through the Carleton program, under his original schedule he says he believes he should have had more by now. Eros said he believes that limited staff capacity for Carleton's mental health services are responsible for the delays.
"They seem understaffed and overworked from all of the service providers that I've talked to," Eros said. "It will be very short appointments that will be ended abruptly because they need to get to another client, then another client, then another one after that, because they are dealing with the entire 10,000 student population."
Carleton University was unable to provide Capital Current with someone to confirm whether mental health services experiences capacity issues.
The university's Student Mental Health Framework 3.0 is an evolution of a framework implemented in 2016. Announced on Oct. 5, the new framework incorporates high-level objectives like improving online mental health infrastructure through a new website and further education on cyberbullying, among other issues.
Current university press releases regarding the 3.0 framework make no mention of increasing staff to solve student capacity issues.
Lahari Nanda, another third-year undergraduate, echoes Eros' criticisms. Nanda began using Carleton's mental health services in her first year but noticed capacity issues immediately.
"This has been a persistent issue where they just simply do not have enough resources to cater to every single student," Nanda said.
Carleton University was also unable to provide Capital Current with somebody to speak with on the framework and delays.
In a letter addressed to the Carleton community, University President Benoit-Antoine Bacon outlined the drafting process for Student Mental Health Framework 3.0.
"There will be many opportunities to provide feedback on the framework through digital feedback, information and feedback sessions, and continued meetings with stakeholder groups," Bacon wrote in the letter.
The 3.0 framework is in a consultation phase, where students, staff, and stakeholders can offer their input on the plan and voice desires and concerns to be addressed.
Eros' desire to see an increase in staff and accessibility is common among the university population: a continually updated document released by the university shows some of the anonymous feedback submitted by students and staff.
One respondent highlighted that for students struggling with mental health, a short term and understaffed program poses serious danger for student health. Another respondent pointed out a need for diverse specialists that can provide more timely care.
The same consultation response document addresses most of the feedback by stating that issues will be addressed in Framework 3.0's listening phase.
For now, students like Eros and Nanda can provide feedback via e-mail, or through an online form on Carleton's Mental Health and Well-Being webpage.
Nanda said she was vaguely aware of the option to submit feedback, but hadn't seen any mention of it besides a single Instagram story on Carleton's wellness page.
Eros said that he hadn't been made aware of the 3.0 framework, or any option to submit feedback regarding the updated plan. He said that for himself and many other students, mental health is more important than ever.
"[Mental health] is incredibly important," Eros said. "There's been a drastic increase in depression and anxiety among students. Students feel overwhelmed during school. And the average person now needs like a master's degree to get a job that normally would need a bachelor's. So just the increased workload, the increased stress requires a lot of mental health focus."
---
More Stories