Some local business owners say they are facing some very tough choices in the current lockdown in Ontario.
Businesses deemed essential by the province include grocery stores, pharmacies, liquor stores, and cannabis retailers among others. This has forced some non-essential business owners to rework their plans to survive during the closures.
"I made the decision to cut all nine of my staff … I'm an employee too, technically, and I'm not getting paid either," said Karen Marcotte, owner of the Good Eats cafe in downtown Ottawa.
Marcotte bought Good Eats two years ago, and says that she reported no profits from the first year.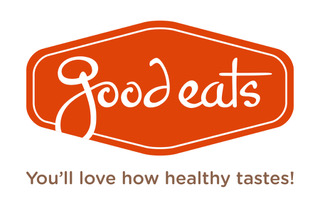 "I always wanted to buy a cafe as a retirement plan, but then I was diagnosed with a brain tumor, and then another tumor," said Marcotte.
"I decided while I was recovering that life is too short. You got to do what you got to do, you know," Marcotte said. "So, my husband was very supportive, and I decided I wanted to start the cafe and Good Eats was right near where I worked. It was just what I wanted."
Marcotte made the decision to close before Premier Doug Ford's shut down of non-essential businesses.
"When [the pandemic] started, and people started to work from home, our business was significantly slacking off. And so I guess [on March 16] I thought 'Well, let's try and see if, you know, we can stay open.' So we opened up on Monday and I got like two people for breakfast and one person for lunch," said Marcotte. "That didn't even cover the employees' salaries."
With Good Eats operating in the red, and Marcotte being forced to reduce her staff hours significantly, she decided it would be better to lay everybody off.
"I did a bit of research and, everyone said it's hard, but it's better to lay the staff off so that at least they can go on Employment Insurance," said Marcotte.
But staff layoffs aren't the only thing affecting Good Eats. Marcotte made a large portion of her revenue from catering. When social distancing measures were first put in place, she lost all of her contracts but was stuck with the food she had already purchased.
"I tried to sell as much as I could at the wholesale price like eggs and stuff … But when I heard there were people who had difficulty leaving their homes, like some of my customers who I know very well, I started making meals and I'd bring them to them for free," said Marcotte.
"I lost a lot of money, but I also fed a lot of people and it felt great to give back to people who needed it."
Marcotte was preparing to move Good Eats to its new location before the pandemic, and has not heard back about whether she will be expected to pay rent. "It's sort of up in the air." She hopes to reopen as soon as the restrictions are lifted. In the meantime, Marcotte is focusing on developing a business plan around delivery, although the response has been minimal.
Following multiple revenue streams
Reagan Bradley, co-founder of Women Who Weed, is a young entrepreneur and a personal branding professional.
"I'm kind of like a multi-passionate entrepreneur. So I have my feet dipped in a lot of different baskets," she explained.
Bradley used to lead 'Local Talks,' a panel on which local business owners could share knowledge with each other on diverse topics such as setting-up an e-commerce store, finances and small-business problems. Now, she has founded Women Who Weed, a female empowerment group with a cannabis twist.
"There are a lot of stereotypes around cannabis where, if you're consuming cannabis, you're lazy or you're … losing brain cells or all of the negative things," she said. "So I wanted to create a space where women could consume cannabis and connect with like-minded women."
Bradley explained it is an experiential business where women would perform an activity – like engaging in a book club or a creative workshop – while consuming cannabis.
"I think those experiential businesses right now are really the ones being hurt by all of this because people can't meet with one another in person," she said.
On March 28, the Ontario government banned gatherings of more than five people to stop the spread of the virus.
On top of not hosting offline experiences, Bradley said people don't want to pay for online events.
"There's this misconception that if it's online it needs to be free because there's obviously so much free content that's going around. So it's 'how can we create a paid event that people actually want to buy into?' We haven't really cracked the code on that right now," she said.
But Bradley says she is using the down time to work on a marketing campaign.
"You've got to use this time to your advantage and think about it optimistically," she said. "And right now is the perfect time to start building without feeling like falling behind."
Bradley said people should use this opportunity to generate multiple revenue streams.
"My business – it's all about creating offline experiences for people so social distancing doesn't work with that business model."
Besides working on Women Who Weed, Bradley also works as a Personal Brand Strategist for entrepreneurs and is the Marketing Director for Unicornlab, a leadership development company.
"[It] makes me thankful that I followed multiple passions instead of one," she added.
Adapting business models
Fahd Alhattab is an Ottawa-based entrepreneur who focuses on leadership development.
His business, Unicorn Lab, has two branches. In the educational sector, he speaks to high school students and helps universities develop experiential learning courses. He also assists growing technology startups to improve their leadership capacity.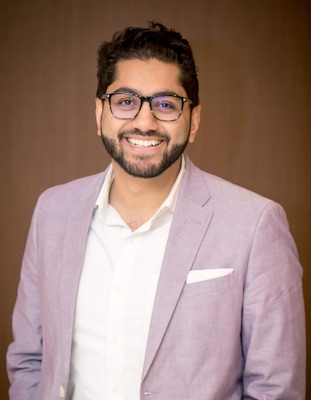 "All my bookings from March, April and May have been wiped off. There's about $25,000 worth of revenue that just disappeared," said Alhattab.
Alhattab said despite that, he has not laid off any of his employees.
"I haven't had to lay anyone off on my team yet, because I had six months of cash reserves," he said.
His team consist of five people including multi-tasking Reagan Bradley who is the marketing director.
Alhattab, said as a business owner and economics graduate, he knows the importance of preparing for a market crash, however, a global pandemic presents unique and unprecedented challenges.
"You're always prepared for a crash. You're not prepared for a shutdown, like you're not prepared for no gatherings," Alhattab said.
When working with startups, Alhattab's business performs assessments, retreats, training workshops and one-on-one consultations.
"My trainings, my assessments, and my one-on-one coaching can all be moved online," he explained. "So now I have to convince my clients that it's okay for us to continue to do our trainings online and to move our retreats to late August, September, and maybe we do a retreat in December or January."
He added his training workshops now include new topics such as teaching teams how to work remotely.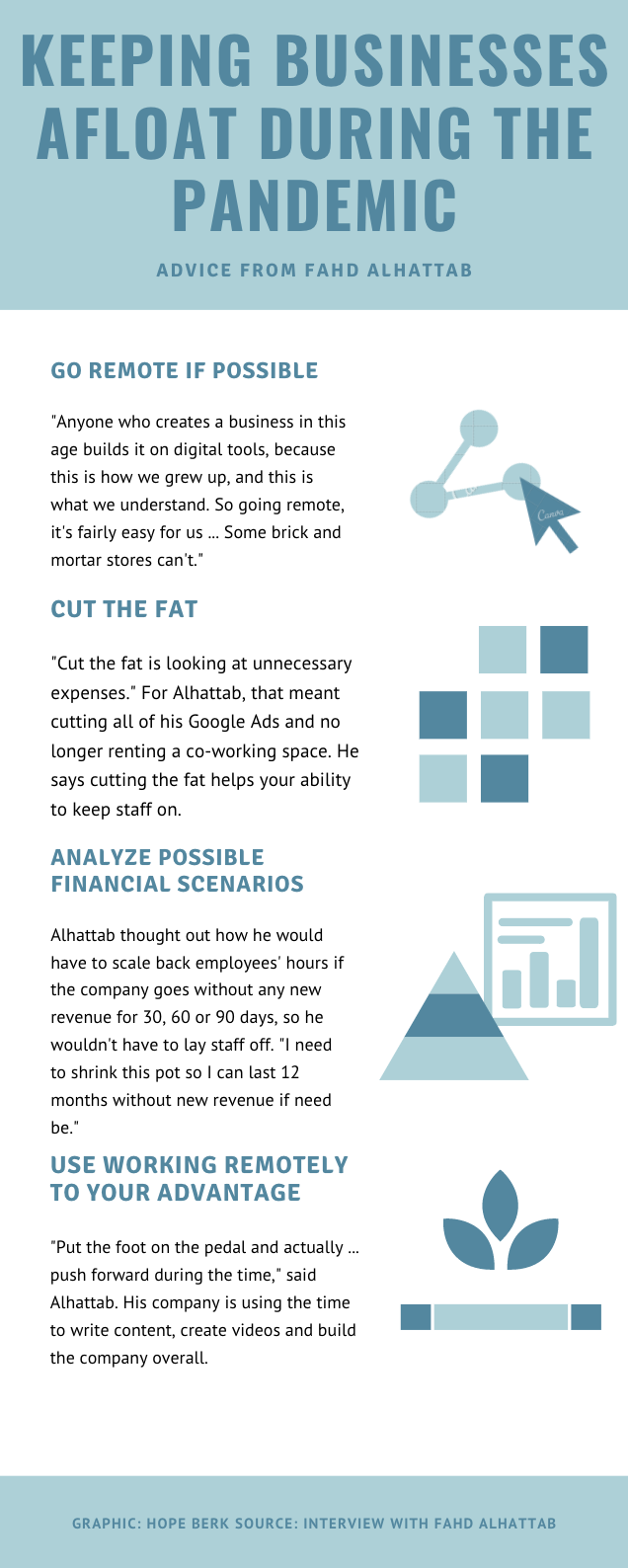 "We've had to shift our product in order to work with the teams better. And we've been able to, to retain a few [clients]," he said.
"I'm working to make no money – I am working to survive."
Communities supporting local business
Other local businesses not deemed essential by the province have moved their operations online in order to stay afloat throughout the closures. The owner of the independent bookstore Octopus Books, located in the Glebe, reached out to customers for support through a Facebook post on March 21.
"Last year, we celebrated the 50th anniversary of our store," the post reads. "Little did we suspect that months later, Octopus Books would be struggling to survive."
"Like many local independent businesses in Ottawa and across the country, we won't get through this challenging time without the support of our community."
The post urged customers to order books by email or over the phone to be picked up at the store's mailbox or through special delivery, as well as purchase credits for their accounts, or buy gift certificates in order to help the bookstore bring in the $10,000 in sales needed by the end of March to survive.
Five days later, a new post stated they've been "simply blown away by the community response," and have had to temporarily halt all of the orders they've been receiving because they aren't able to keep up with the demand.
"Thank you, stay healthy, don't leave the house, read lots of books, and we can't wait to see you again in the future!" the post reads.
---
More Stories