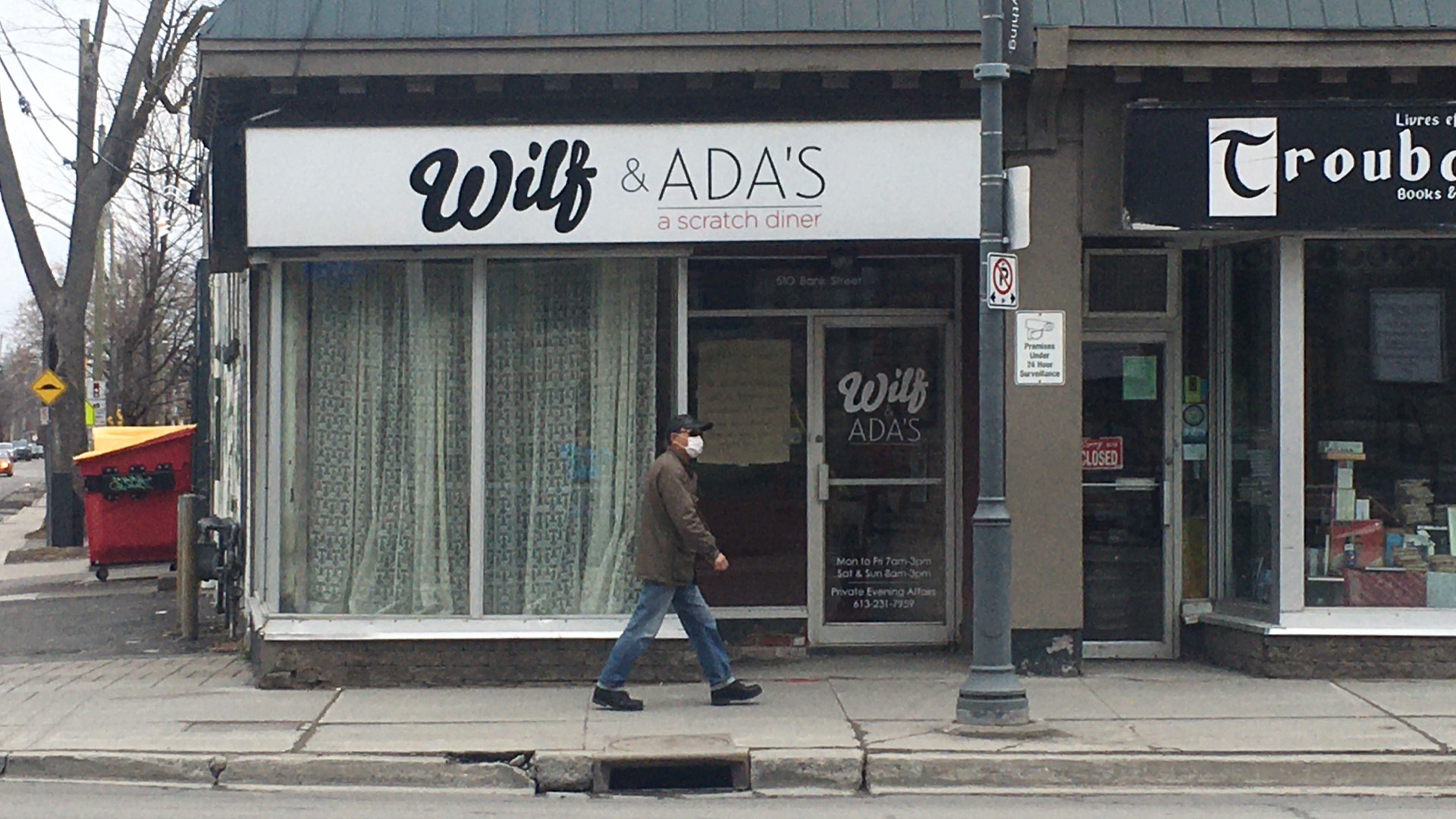 Local restaurants have been dealing with new realities since the outbreak of COVID-19 across Canada. Some in Ottawa have closed their doors while others have stayed open, adapting to the new rules of running their business.
With so much change, popular eateries such as Zak's and Wilf & Ada's were been forced to make difficult decisions. Among the options are going only online, using food delivery services or completely shutting down.
John Borston owns six restaurants in Ottawa – Zak's Diner, which has three locations, Zak's Cantina, the Grand Pizzeria and the Metropolitan Brasserie. He had to close the brasserie because its menu was not well suited for take-out, but all of the Zak's restaurants and the Grand Pizzeria are open for take-out and delivery. Dining in isn't possible because of physical distancing protocols imposed by health authorities.
"There's no sales. There's nobody," says a discouraged Borston. He's retained minimal staff at his restaurant locations to take care of take-out orders, which keep a little cash flowing in. That trickle of traffic also keeps his restaurants "connected" to customers.
"Sales at this point are OK. Am I making money out of it? Probably not."
This is uncharted territory for Borston.
"I've never not made money in my life," he says. "For instance, instead of doing $15,000 or $20,000, we'll do, you know, $2,000 in take-out."
Uncharted territory
Borston is worried about when business will be allowed to start rolling again. "If this goes on, I'm hearing August now. So, we're closed until August. Where are my staff? They're going to go work for Amazon or whatever, and then I basically have to open six new restaurants overnight with a new staff."
Other issues Borston foresees are rules that would limit occupancy in restaurants right away once the pandemic threat begins to ease.
Borston says he has no plans to completely shut down his restaurants unless the government deems his line of work a non-essential service. An essential service is defined as anything that is critical for preserving human life.
Every province is different, but in Ontario any entity that provides human or pet food is considered an essential service. However, the province's restaurants are only allowed to provide take-out or delivery as part of the public health strategy to prevent gatherings of groups in a certain place.
The federal government is planning to help small businesses in Canada survive through the pandemic and then rebound after COVID-19 blows over. A special emergency business account was launched to have banks offer businesses up to $40,000 loans, interest-free for the first year, in order to have businesses "come back strong."
"You've had to slow down your operations, in some cases you've even had to close up shop for the foreseeable future, and because money isn't coming in, you can't afford to keep your employees on the payroll. These are really tough decisions," said Prime Minister Justin Trudeau.
Federal help
The federal government initially planned a wage subsidy of 10 per cent for businesses. However, after much criticism of the plan being too limited to help businesses stay afloat, Trudeau announced a major wage subsidy increase from the original 10 per cent to 75 per cent as a way to ensure businesses are keeping their employees on staff during the crisis.
Ion Aimers, the owner of Wilf & Ada's in Centretown, has also made difficult decisions over the past few weeks. The breakfast and brunch restaurant is now closed, leaving Aimers and his staff with no income.
"I'm not a fatalist, but I had a feeling this was going to be worse than we thought from the get-go," Aimers said.
The restaurant was one of the first in the city to close. The doors were shut on March 13, just two days after the pandemic was officially declared and before widespread self-isolation was in place in Ontario.
Aimers said the restaurant had a staff member who fell sick on that Friday, which scared the rest of his employees. Aimers made the decision that day to close the restaurant.
"We always want to put our staff and our guests and our suppliers — their lives first," Aimers said. "It just seemed like the right thing to do all across the board."
Unlike many other restaurants across the capital, Wilf & Ada's is not handling take-out orders. Aimers said he considered the possibility of take-out, but concluded that their meals aren't particularly conducive to the format, and he didn't think take-out would justify the costs of keeping the business running.
Most importantly, though, Aimers said he didn't want to risk putting any of his staff, guests or suppliers in danger by staying open.
"I just felt the best thing for us was to shut it down, lock the doors for the time being and wait it out," he said.
The decision to close has significant ramifications for his staff, though. Aimers said that everyone is worried about now being out of work. He decided to put everyone on temporary layoff, which would allow them to qualify for employment insurance under the government's new temporary guidelines.
Closing the best option
"I looked down the road and thought, OK, this could go on for a long time. And so this seemed to be the best option for the staff. Any situation that could get them some relief."
Aimers said that before the business shut down, he brought staff members into the restaurant at a safe social distance and distributed whatever perishable food was left. "We made an assessment of our food and gave that to staff so they could at least eat well for the first couple of weeks," he said.
"One thing I've tried to say to employees, friends and family is that we're in this together as a community, as a province, as a country. And so we'll get out of it together," said Aimers. "If people are in trouble, there will be help for them. That's one of the wonderful things about our country."
Aimers said he is concerned about the long-term viability of his business, though.
The original business has been there for 30 years, and he's owned the place for the last seven. The restaurant is profitable and has a very low turnover in staff.
"This is a model of business that you would expect to see on that corner for the next 20 years hopefully, if everything went well," he said.
Aimers, who's in his mid-60s, is also on the cusp of retirement. "This business is all I've ever done," he said. "I'd like to not have a big crazy situation on my hands. But that's the way it is, so we'll do what we can."
He now has to think about the carrying costs of his restaurant, such as rent and electricity bills, while he stays closed. "I'm still going to have to pay that rent with zero revenue," Aimers said. "Money's going out, and zero is coming in. You get very concerned."
He said he's looking at worst-case scenarios of having to stay closed until December, because he needs to know if the business can make it that far without any income.
"Is that feasible? I don't know," he said. "So absolutely the viability of the restaurant going forward is completely up in the air."
For the employees of locally run cafes and restaurants, it is a very trying time due to layoffs and uncertainty surrounding future wages. Patrick Stokes, 23, was working at a Wellington Street coffee shop in Hintonburg when the growing number of COVID-19 cases in the capital began to affect his work.
Trying time for employees
"The business was dead. You'd usually serve 100 or 200 people coming in for a sandwich and leaving. But then it got reduced to maybe 20 or 30 people per day," says Stokes.
He says he never felt overly nervous about working during the pandemic because of the safety measures that were in place, such as sanitizing everything and having no customer seating available. However, he was glad, for his health, to be laid off after working for six months.
"Yeah, it was a relief in some ways for sure. Obviously I'd watch TV every day and see (COVID-19) numbers going up and I'd be like, 'I don't want to go out, I want to start staying inside,'" explained Stokes. He was laid off from his barista job on March 29.
Since not having to face the public, a weight has been lifted from Stokes' shoulders. But there is new anxiety about where his income will now come from.
"I half wish I got laid off earlier," says Stokes. "Then I'd have half a chance at getting EI. The EI website is completely overrun — you can't even access the forms because there are so many people trying to get on it."
Not having an income "is obviously a huge concern," he said, adding that he planned to apply for the Canada Emergency Response Benefit. "I don't know, I'm not in bad waters, but I know a lot of people are," says Stokes.