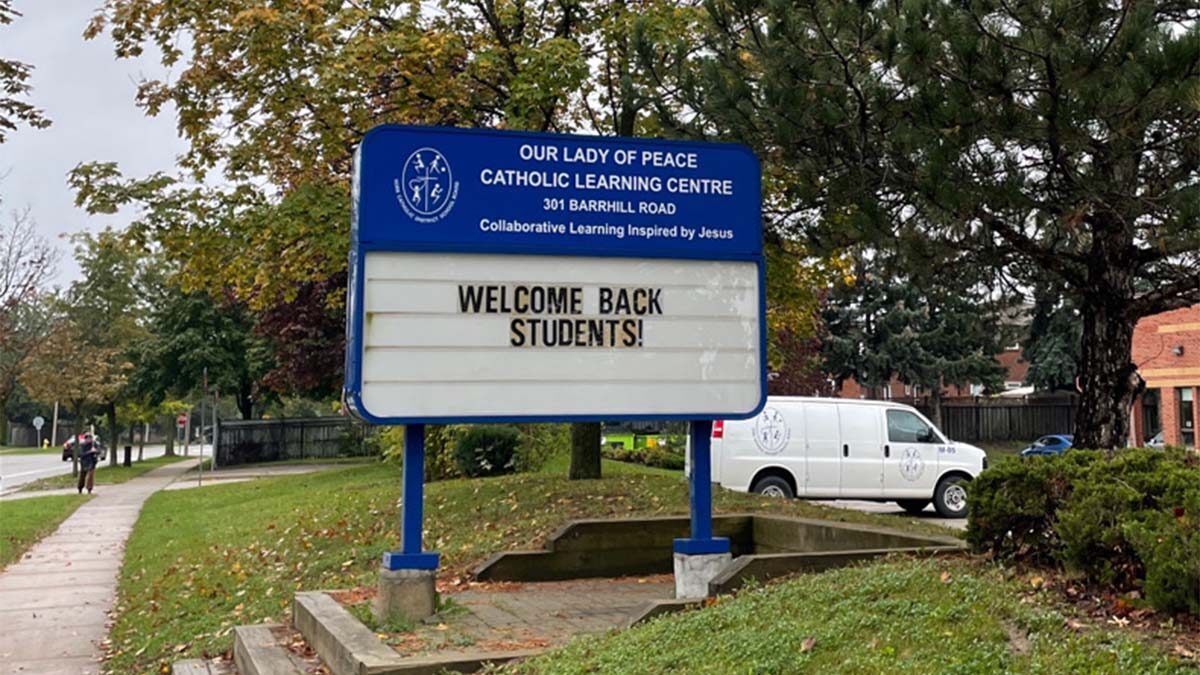 With schools allowing an in-person return for the fall semester, many students and teachers are faced with the foreign feeling of being in a classroom, once again. This year high school-aged students are eligible to receive a COVID-19 vaccine that has been Health Canada approved. As most of the eligible population of Ontarians are fully vaccinated, the outlook for this school year is different than the last.
As the fall semester progresses, more research is being conducted in order to examine the safety of COVID-19 vaccinations in young children.
The decision on Pfizer's COVID-19 vaccinations in children aged five to twelve is expected to be announced in the coming months. Protection in younger students will lead to safer school environments as the pandemic continues.
Ontario high school math and science teacher, Amy Campeau describes the COVID-19 situation in schools as continuously challenging. In order to keep the students and staff safe, the secondary school has implemented measures like mandatory masks, social distancing between desks, and reduced seating in the cafeteria. This is in addition to the provincial guidelines that schools must follow.
When it comes to students following the COVID-19 protocols Campeau says that "generally in my experience, students are good". She goes on to say that "if someone's mask is down" she will just tell them to put their mask up "and they do." Overall Campeau says that "it really depends who you ask."
"The school currently has one active case of COVID-19" as of Sept. 28, 2021, states Campeau who teaches at Sinclair Secondary School in Whitby, Ont. Due to the mask mandate most of the students have either been returning home for lunch or eating outside in the courtyard, says Campeau.
Her concern is where students are going to eat once the winter months set in. "They're encouraging students to go home for lunch, but not everyone lives close enough," says Campeau.
Similarly, the COVID-19 pandemic has revealed many disparities. Campeau explains that during the previous school year while she was teaching virtually, she had to be creative to keep testing fair and preserve equality in the learning environment.
"Cheating was an issue," says Campeau. When it came to testing, she described requesting that the students keep their Chromebooks with their video cameras behind them rather than in front of them. This is so that she could observe what they were seeing while they wrote their tests.
To do this, students needed to print off the test beforehand which creates other challenges because "not everyone has a printer," she states.
Campeau, who has taught for over 25 years, plans to retire from her teaching career at the end of this academic year. She says she can only hope the rest of the year runs smoothly.
As COVID-19 cases continue to rise province-wide, current students worry about the repercussions that the growing numbers will have on their ability to receive an in-person education.
Anthony Maddaloni, a grade 12 student at ÉSC Renaissance, explains that there is no way for him to anticipate what will happen during his final year of high school. While there are no current COVID-19 cases in his school, he worries that this will change as fall gives way to winter.
Maddaloni says that students and teachers were faced with a similar situation during the previous fall semester; COVID-19 cases began to rise as winter approached, which led to the decision of sending students home to complete their schooling online.
"We're only one month into the semester and students are already getting discouraged," says Maddaloni. He explains that he is increasingly seeing students in the classrooms that are not respecting the safety measures established by his school.
"they're acting like it's not there anymore and teachers aren't doing much to make them follow the rules," says Maddaloni. He worries that the behavior of the students will have consequences for the people in his life beyond the confines of his school.
"The increase of COVD-19 cases in schools has not only had an effect on students, but their parents too," says Sheila Botton, the mother of a 13-year-old boy attending a high school in Quebec, where the increase in COVID-19 cases is similar to Ontario.
While students are reaping the consequences of the pandemic in their classrooms, parents are losing sleep, worrying about the safety of their children.
"Even if it is helpful to receive these emails giving [regular] updates on the COVID-19 cases at my son's school, it is also very stressful," explains Botton. She says the emails being sent to parents do not contain the age group the cases were found in, leading parents to try and find more information on their own.
When emailing parents about current cases, school boards must keep their students' personal information private. As a result, the only information that can be released is the number of active cases and what grade the students are in.
Parents have very limited options during these trying times and many do not have the luxury to keep their children at home. "Every time I get an email [about rising cases at school], my heart stops and I wonder if I should just take off work and stay home," says Sheila.
---
More Stories