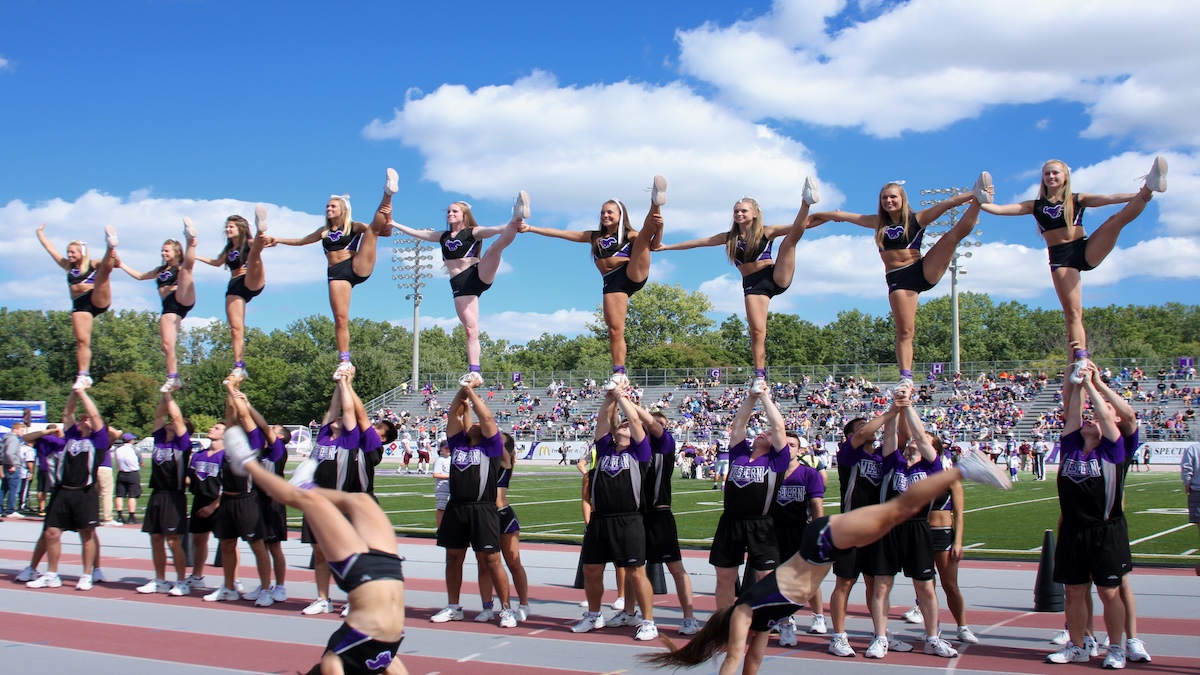 The Western University Mustangs' cheer team has been chanting, flipping and flying high since 1924. Not even the Second World War stopped the Mustangs from spreading spirit and showcasing their own remarkable athleticism.
But with U Sports' cancellation of Canadian varsity athletics for the fall, cheer teams will be similarly sidelined by COVID-19.
Football, soccer, cross country, women's field hockey and women's rugby are the main sports affected by U Sports' June 8 announcement. But it also has an impact on cheer teams, which have their own competitions involving several Canadian universities while also showcasing their acrobatics at other sporting events.
"U Sports has been working hard with the four conferences, our 56 member institutions and medical experts to examine the feasibility of delivering the fall national championships this season," Lisette Johnson-Stapley, U Sports' chief sport officer. "Taking into account the academic realities of university sport, we arrived at a point where a tough decision had to be made."
"Although the Canadian sport system is working together to create evidence-based return to training, practice and competition protocols, it is not currently feasible or safe due to the COVID-19 pandemic for U Sports to be able to offer fall championships," added Dr. Taryn Taylor, U Sports' chief medical officer and its representative on the national Own the Podium Return to Sport Task Force.
Taylor said U Sports is continuing discussions with public health officials across the country to explore the options for returning to play for the winter 2021 term.
"We're obviously very disappointed, as are hundreds and hundreds of athletes all over the (Ontario) conference and country," said Western cheer coach Trace Tracey, who has led the London-based team to over 30 national championship titles. "I mean, gosh, it hurts."
Staying optimistic
But Tracey remains optimistic.
"I said to my team, 'A war didn't stop us back then. And a virus is not going to stop us now.'"
Although cheer is part of the university's intercollegiate athletic department, the team holds a unique status. It has more freedom to perform at a variety of events, depending on how things open up across the province.
This may include exhibition games organized by the athletic department, parades or other public gatherings.
Tracey emphasized that the team would follow all public health guidelines to perform safely. He said that he is eager to get the team back together for the sake of the athletes and for morale on campus.
"The student body needs something to keep them active. We need to keep our spirits up when the world is going to hell," he said. "You can home school, but you can't home sport."
While the Mustangs might have opportunities to perform come fall, other teams won't have the luxury.
The varsity cheer team at Wilfrid Laurier University falls under the strict authority of the Waterloo-based school's athletic department.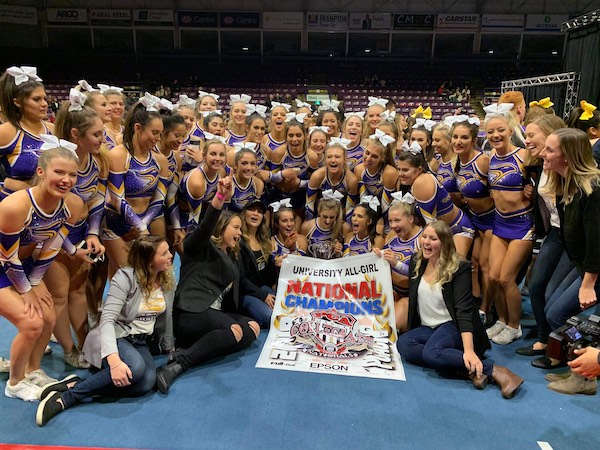 "The championship we attend is held by an independent event producer. Even if the event producer chooses to hold the event in December, we still will not be able to attend, based on the school sanctions," said assistant coach Marley Gray.
The team usually starts practising in May for a championship held in December. Now teammates are using technology to keep in touch and to hold virtual workouts.
Even athletes not directly affected by the U Sports' cancellations are feeling the wider impacts of the pandemic.
Olivia De Ciantis, a hockey player from Vaughan, Ont., was headed to York University in the fall to play for the school's hockey team. While women's hockey was not listed among cancellations because its championship is held in the winter term, she said the pandemic will likely have an unfortunate impact on her introduction to varsity sports.
"I was a bit disappointed, but honestly, I saw it coming because, realistically, I didn't think that we would be back on track right in September," said De Ciantis. "It's kind of unfortunate because it's obviously in my first year and I won't get the full experience of playing hockey this year." 
At the other end of her university career, Christina Chin just finished her fourth year on the York hockey team.
The team made it to nationals last season — a first for Chin — when the tournament was cancelled because of the pandemic.
"It was pretty disappointing. We were all so excited because we practised two days and we watched video on McGill, because we were going to face McGill," said Chin. "And then it all happened so suddenly."
---
More Stories