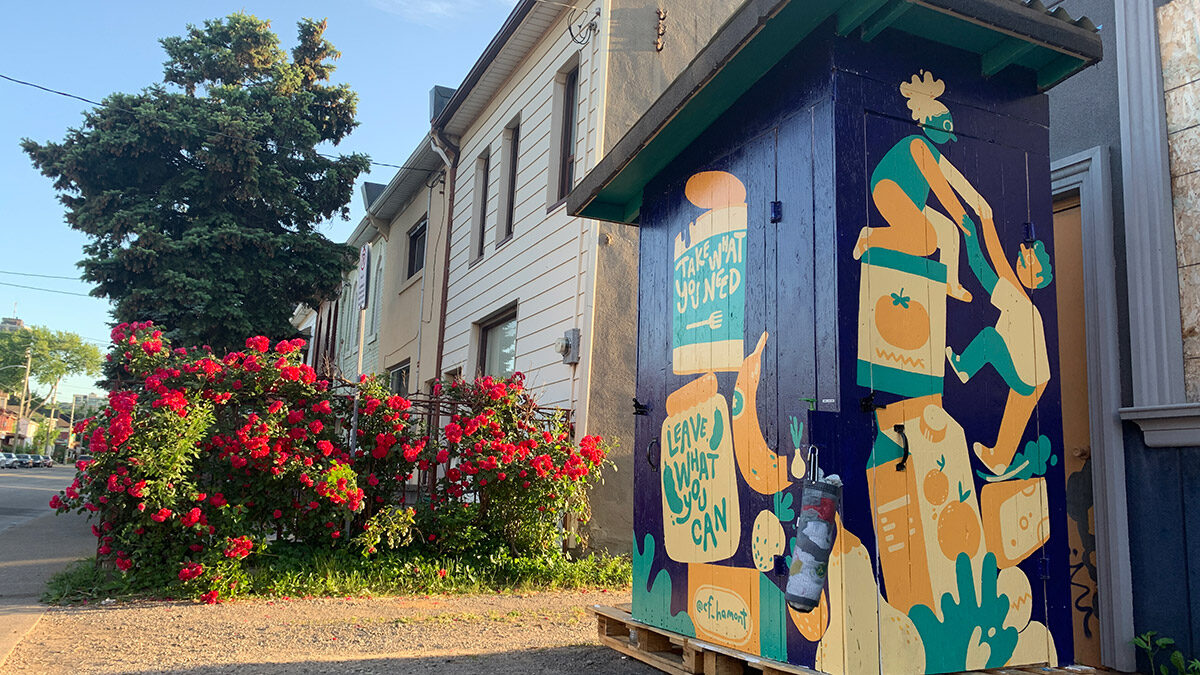 In August 2020, Kamil Ahmed noticed that pre-existing vulnerabilities had deepened over the course of the pandemic in Kitchener-Waterloo. He says a combination of factors such as unemployment, homelessness and gentrification had increased food insecurity in the community.
With a friend, he decided the solution was to create a community fridge.
Now, nearly a year and two fridges later, Community Fridge KW is run by a network of around 300 volunteers, Ahmed says. One fridge is still operating in downtown Kitchener.
The fridge is available 24/7 and was opened on Dec. 23, 2020, just in time for Christmas. It replaced an earlier appliance, located at a zero waste grocery store, that had closed a month before.
The current fridge is in a wooden shelter outside the Full Circle Foods grocery store. Three times a day, volunteers disinfect the fridge and remove any donated items that don't meet public health rules, such as meat, alcohol or dairy products, says Ahmed. Volunteers also take photos of the contents to share on Community Fridge KW's social media.
"Just a few weeks ago, we had a fridge-user message us and say 'Hey, because of the fridge I fed my daughter broccoli for the first time in months,'" Ahmed says.
Community fridges are being set up in neighbourhoods where people can donate and access food for free, anonymously, following a take-what-you-need, leave-what-you-can, model.
Community fridges operate on a different model than other parts of the charitable sector, because in some cases, they are supported by community members, says Michael Classens, assistant professor in the Trent University School of the Environment in Peterborough, Ont. "In some ways, this represents more of a kind of mutual aid strategy, communities coming together to help each other out."
Classens refers to this approach as "food commoning" – redefining our perspective on food to see it not as a commodity to be bought and sold, but rather something that is for the collective wellbeing of the people.
"These fridges represent that kind of approach to food where it is neighbours sharing food with other neighbours who need it."
Community fridges should have been set up a long time ago, says Laurel Carter, the program co-ordinator at Community Fridges HamOnt, which operates two fridges in Hamilton, having just opened their second at the beginning of June.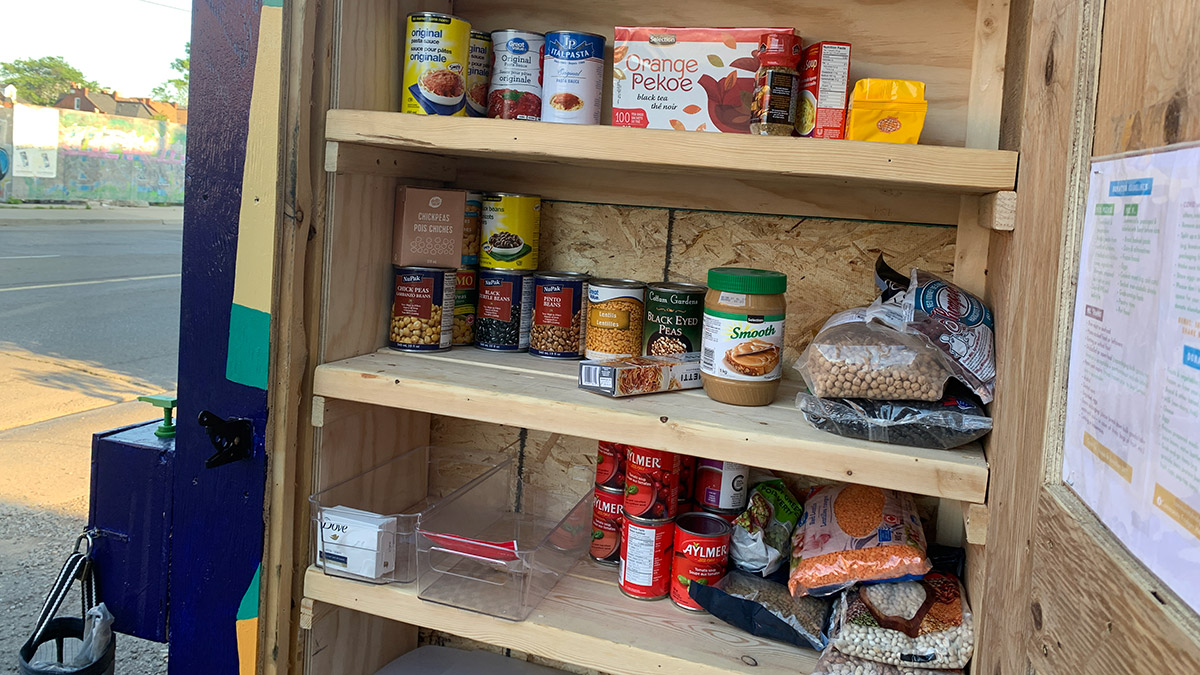 Community Fridges HamOnt is volunteer-run, with volunteers doing three daily check-ins to clean the fridge and remove any risky food items, such as raw meat or home-cooked meals.
Local businesses have also gotten involved, says Carter. For example, Smither's Sausages have said they would pool resources and make it possible for customers to donate money for groceries for the community fridges as the sausage company cannot donate its own product.
"Our mentality and the mentality of many of the other community fridges is that it's solidarity, and not charity," says Carter.
To Katie German, the advocacy and programs director at FoodShare, a food justice organization in Toronto, community fridges themselves highlight the fact that communities don't have the income needed to get the food that they need and want. "The research on food insecurity shows the number one cause of food insecurity is income, lack of income, and then that was already a crisis before COVID-19."
Once the pandemic started, German says, people were not only losing their incomes, but also not getting rent relief or adequate support from the government to make it through the pandemic.
"It's good to talk about things like community fridges and it's good to talk about these types of interventions, but the real fight is at the policy level," says German. She says income needs to be supported through government policy, be it through a guaranteed livable income, a universal basic income program, or a living minimum wage.
For example, says German, the minimum wage is $14.25 an hour but the living wage is $22.08, if one wants to be able to afford a modest apartment, pay bills and take transit.
Classens says a universal basic income is strongly correlated to a massive reduction in food insecurity. "For example, we have a guaranteed income supplement for seniors in this country and in fact in pretty much every case we see rates of food insecurity amongst seniors much, much lower than for any other age demographic, people say partly because they have this stable income once you hit a certain age," he says.
Classens says initiatives like community fridges are great and worth applause, demonstrating compassion and understanding of the issues of food insecurity. "I don't think that means we don't need to also be struggling for broader social change, to create a country, a world, in which food insecurity is unthinkable in the first place."
---
More Stories