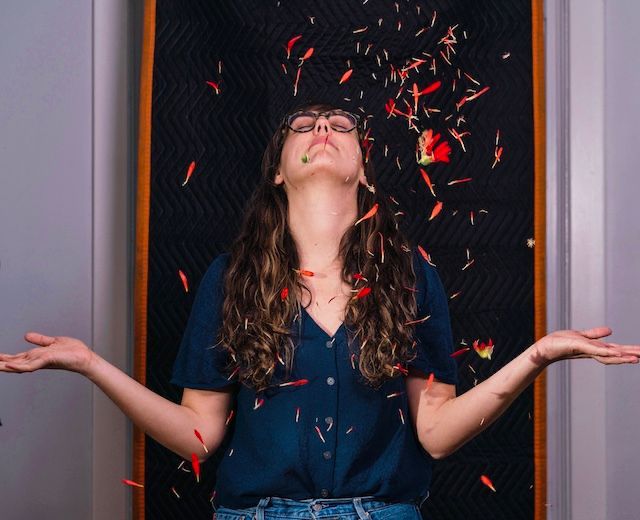 Ottawa's largest theatre festival is celebrating its 25th anniversary with a return to in-person programming starting Friday.
After two years of cancellations and heavy modifications, the Ottawa Fringe Festival is staging its comeback to Arts Court June 16 to June 26. 
Ottawa Fringe will showcase 42 productions by local, national, and international artists across six venues. With shows for every taste and interest, executive director Alain Richer said this milestone is the perfect opportunity to reunite the Ottawa arts community.
"The community has been hit hard over the pandemic with not being able to work, or to create, and to develop," he said. "So to know you're about to enter these spaces with other artists, with the community of patrons, with all these supporters in person again, after so many years, has inspired a sense of openness and excitement."
Despite the elation leading to opening night, the path has been turbulent since the last festival in 2019. Many artists and Fringe staff had to seek alternate sources of income during the pandemic Richer said. 
The return means the organization is coping with the challenge of rebuilding its team and getting ready for opening night, but Richer said he's optimistic about the process.
"It's bringing in a lot of like new energy and new ideas and new creative juices into the festival, both on a staff level and then the artists level," he said. "It's opened the door for a lot of new people who weren't participating before the pandemic to have an opportunity to … work with the festival."
Because the festival is bringing acts of all genres and origins to downtown Ottawa, Richer encourages patrons to take chances with their viewing experience. 
Local comedian Christina Muehlberger says she is excited by the number of comedies this year, as she looks forward to debuting her autobiographical show God, that's funny.
"I think people need to laugh and escape from a lot of things right now," she said. "I don't think that means any of these shows, at least for mine, personally, are shying away from serious content, but it's saying, can we find little moments of humor in this and little moments of joy, and moments to exhale as a community."
Muehlberger credits Ottawa Fringe as a space for artistic risk-taking that has allowed her to explore new ways to tell her story about growing up in the Pentecostal church.
"I'm excited to flex some new muscles, to learn how to use the stage in different ways," Muehlberger said.
British standup poet Rob Gee will bring his one-man murder mystery Forget Me Not — The Alzheimer's Whodunnit to Ottawa audiences for the first time. Gee last performed in Ottawa Fringe in 2011 and couldn't be happier to be returning a decade later and post-shutdowns.
"It's like a breath of fresh air," Gee said. "It's not Netflix, you know? So it's just very lovely to do live shows again, to get that atmosphere and that energy because there is nothing like it really."
Tickets and online listing information for the 2022 Ottawa Fringe Festival is available at https://ottawafringe.com/.
---
More Stories