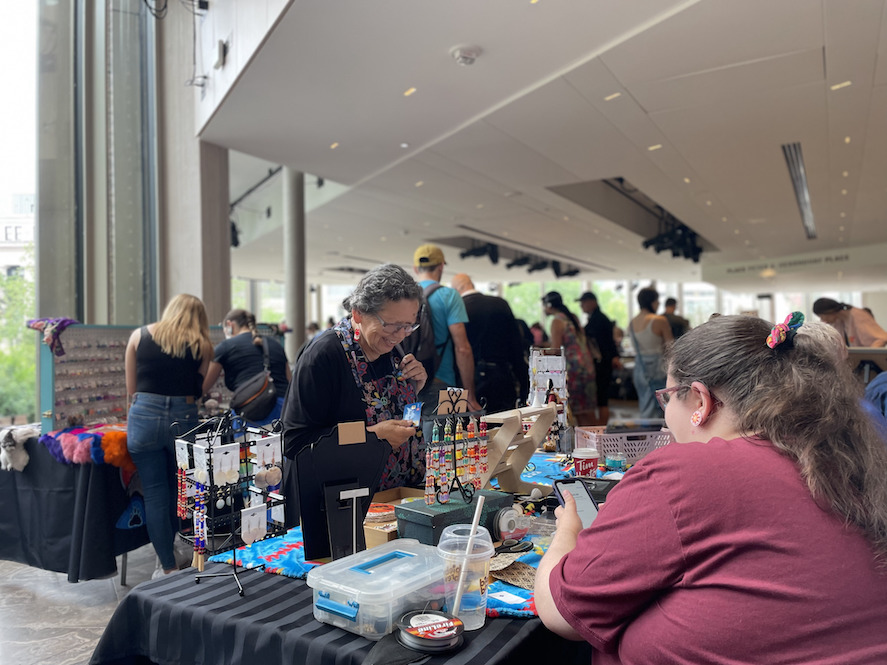 The Indigenous Art Market is back in person and in business at the National Arts Centre and organizers are celebrating its return after almost three years in hiatus because of COVID-19.
The doors opening this past Sunday was really important, event co-creator and Indigenous Cultural Resident Mairi Brascoupé told Capital Current.
"A lot about Indigenous culture is centred around a social aspect of coming together and being together to support each other," Brascoupé said. "​​These events foster relationships and help people find others in the community that they can feel supported by where maybe they couldn't find it before."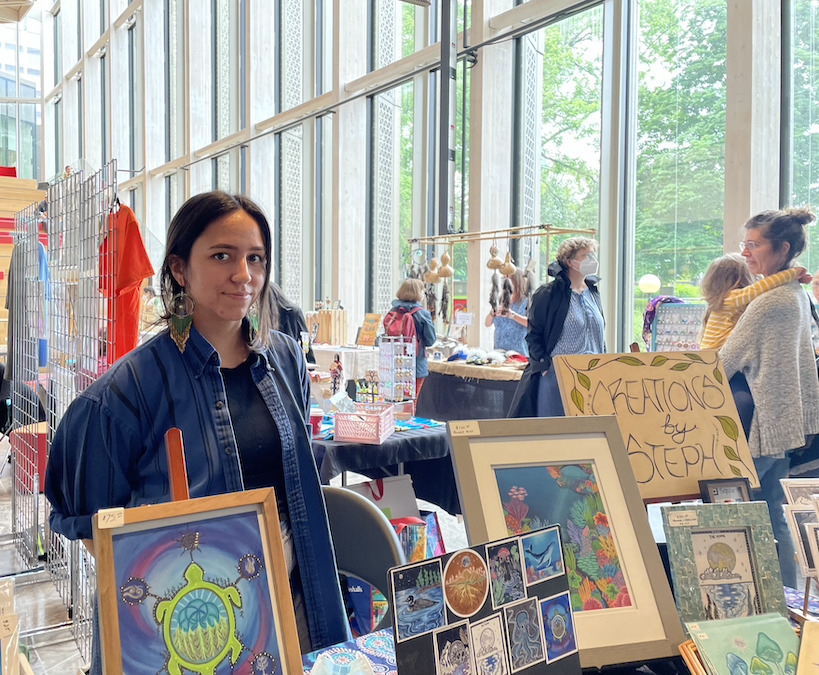 From left: Stephanie Babji stands at her kiosk; Beaded mittens by Nicole Beauchamp; Christine Toulouse wove porcupine quills into birch bark. [Photos @ Wafa El-Rayes]
For creator Nicole Beauchamp, finally returning to the NAC as a vendor and reuniting with old colleagues was important.
"It's better to be here because you can see the people. I can explain my gourds and dreamcatchers. … You have someone here and can explain how you did it or how to use smudging," Beauchamp said. "People are so happy to get out and see different things and ask questions. It's great, it's actually brilliant."
The isolation of the last couple of years wasn't all wasted time. It gave some emerging artists time to strengthen their craft.
Ojibwe artist Stephanie Babij started painting during the pandemic and began selling her acrylic artworks at markets last fall. She said she was excited to share her work with a new audience and hopes to participate again in the future.
"It's really cool that this is an Indigenous market. There is not a lot of that I see in this city which is really unfortunate. I think there should be many more of these, pretty much all the markets I've done are not strictly for Indigenous people so I think it's cool to have that representation," Babij said.
Anishinaabe artist Christine Toulouse learned how to do quillwork 10 years ago from her grandmother Ida Assinewe when her mother, Noella Toulouse, was undergoing treatment for cancer. After graduating from school during the pandemic, Toulouse returned to quillwork to honour her mother's memory.
At her first market, Toulouse said she was glad to be able to share her story and her work.
"It's really amazing because people get to see my work in person and it makes such a difference," she said. "Seeing something online is nice and all but to see the depth of my work I think it's more important for people to understand what materials I'm using, the natural process, the history, the knowledge that has been passed down, and the importance of it all."
Hearing artists' stories and browsing their artwork was an exciting experience for many community members.
"For most of us, the world has been on pause and it's affected our mental health and general wellbeing," Karina Herbert said. "So it's nice to have a sense of community again and to see people enjoying themselves and taking in this really nice art."
The Indigenous Art Market was part of National Indigenous History Month program offerings organized by the NAC's Indigenous Theatre department.
There are many online and in-person events community members can look forward to, Brascoupé said, including a Powwow life drawing class and many musical performances.
"The market was a really great opportunity to tell people that are interested in Indigenous arts about the work that we do more broadly as a department and get them out to other things that happen at the NAC," Brascoupé said.
---
More Stories