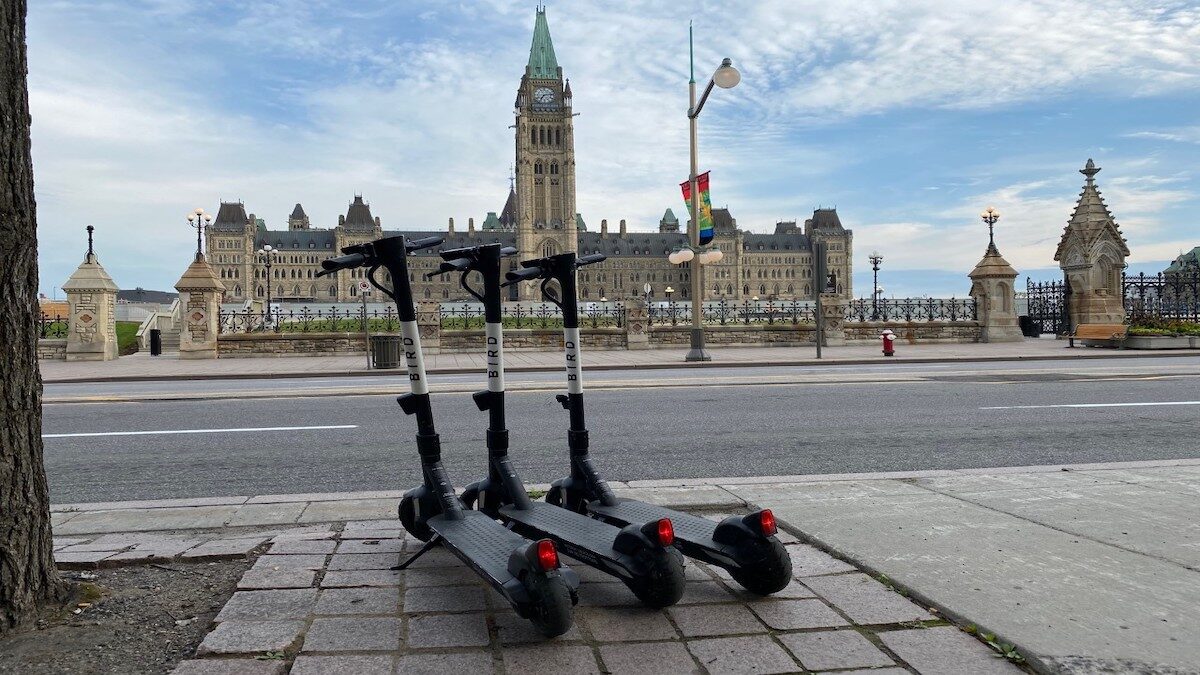 Following a city council decision on June 9, 2022, the city of Ottawa has confirmed it will be continuing its e-scooter program for the 2022 summer and fall seasons as intended.
This delayed rollout was a result of a council decision on March 23 staff reports and complaints about the safety of e-scooters were considered.
They boil down to two main complaints.
The first is the e-scooters being used on sidewalks and causing obstacles for pedestrians and individuals with accessibility barriers.
The second is the speed at which the e-scooters operate. An average e-scooter operates at a speed of about 15km/hour. Although this is much slower than a car, it's certainly much faster than a pedestrian.
According to the June 9 city council memo titled "Electric Kick Scooter Pilot Program2022 Season," "The 2022 program will focus on reducing sidewalk riding and improper parking."
The various mitigation efforts the city plans on including in this year's e-scooter rollout involve updated GPS systems, detection systems to reduce sidewalk driving, heightened e-scooter patrol, designated parking locations and stricter app parameters including users being removed from the app when disobeying the rules.
Not only does this e-scooter rollout aim to provide more safety measures to protect pedestrians and individuals with accessibility barriers, but the city has also reduced the number of e-scooters in this year's fleet.
According to the city council memo, "The 2022 season is approved to operate until November 15, 2022 (weather permitting) and will have a total combined fleet size of 900 e-scooters (reduced from 1200 in 2021)."
The scooters won't be arriving in Ottawa all at once, over the first few weeks of the program companies will be phasing in their scooters to the "city's urban core."
Another unique element of the 2022 e-scooter rollout is the new requirement for scooters to emit a sound while users are riding.
"The e-scooters used in the 2022 shared e-scooter program are required to emit a continuous sound while in operation… To help riders understand the role of sound emissions, education is also a mandatory requirement in the Agreement," as stated in the memo.
Hopefully, this new sound requirement helps riders alert bikers and other pedestrians when using the scooters, especially in the city's downtown core. The 2021 Electric Kick Scooter Strategy and Pilot report, shows an overall increase in e-scooter use from 2020-to 2021.
Following this trajectory, this season could be the busiest yet for e-scooters. Hopefully, these new provisions can ensure safer riding for both pedestrians and e-scooter users.
The scooters available for the 2022 e-scooter program will be Bird and Neuron Mobility. The city was asked if it would consider commissioning its own scooters to ensure safety measures.
Heidi Cousineau, Program Manager, Neighbourhood Traffic Calming says, "The City is not considering making its own e-scooters. Rather, it sets the regulations for private enterprises to obtain a permit and operate in Ottawa."
---
More Stories