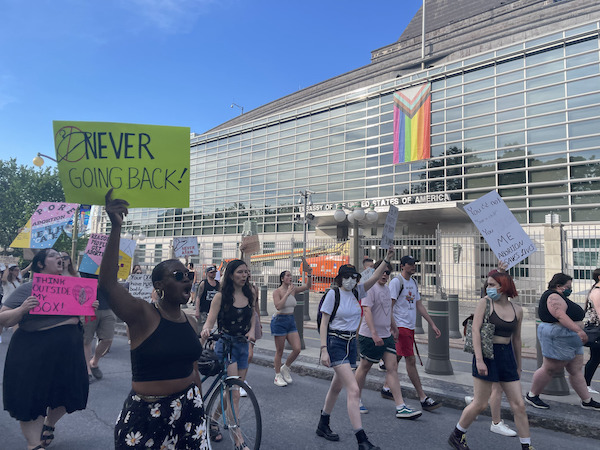 Protesters in Ottawa joined outraged pro-choice Americans this past Friday to condemn the decision by the U.S. Supreme Court that overturned the landmark Roe v. Wade judgment that legalized abortion in the U.S. 50 years ago.
The protest, organized by Defend Choice, was held held outside the U.S. Embassy on Sussex Drive.
A large crowd gathered to hear community advocates from Defend Choice and Planned Parenthood Ottawa (PPO) speak about their heartbreak and concern for Americans who may need an abortion and about the need to organize to defend abortion access in Canada.
The U.S. top court has put abortion rights in the hands of states and many have immediately restricted abortion rights, including Louisiana, Missouri, and Kentucky.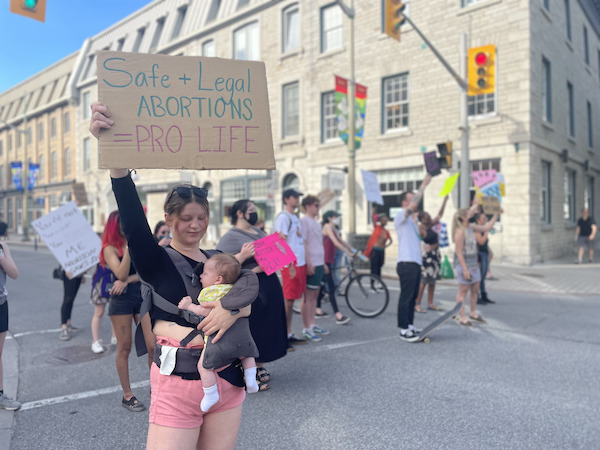 Protestors block the intersection of York Street and Sussex Drive. Then they marched down Sussex to the U.S. Embassy. One protested by painting a sign condemning the overturning of Roe v. Wade. [Photos @ Wafa El-Rayes]
Official Canadian reaction to the decision has been swift.
Prime Minister Justin Trudeau called the decision "horrific."
"In Canada, we will always defend women's rights to choose and continue to work to expand access to the full range of reproductive health services across the country," he said.
Despite the leaking of the judgment in May, Finance Minister Chrystia Freeland said she was "surprised" by her reaction.
"I was surprised at my own visceral reaction when I learned the news," Freeland said.
"I want all Canadians, women and girls to hear from me, that the right to choice, the right to an abortion is a fundamental right. We will not let that right be undermined in any way here in our country."
Meera Chander of Defend Choice told the crowd that "abortion is health care" while demonstrators chanted "Pro what? Pro-Choice," "Keep your rosaries off my ovaries," and "My body, my choice."
"(The judgment) is signaling they can potentially come and attack many of the human rights that have already been won and this is scary, right? It's indicative of the fact that these rights that we've won are not absolute," Chander said.
"These views are making their way into Canada and we really need to, you know, be ready and prepared to fight back because … even though we have these rights now, it doesn't mean that they're absolute and we know that because, for people that live in non-urban areas, they have a lot of trouble accessing safe abortion," she added.
The group, Action Canada, reported in 2019 the wide disparity in available clinics between provinces ranging from one in PEI to 49 in Quebec. Ontario has 38, B.C. 24 and Alberta has five, the group showed. In Ontario, for example, there are only four rural clinics and British Columbia only has one.
"It's incredibly important to talk about abortion access in Canada. Some people when they hear about negative impacts in the U.S. believe we're better here in Canada but in reality, there is a huge discrepancy in abortion access, particularly for LGBTQ2S+ communities, racialized communities, and Indigenous communities," Zoé Bordeleau-Cass said while holding a sign that read "SAFE ABORTION ACCESS FOR ALL let us choose!"
Protesters gathered on the York Street Steps to listen to pro-choice community advocates, then they made their voices heard. [Photos @ Wafa El-Rayes]
Prioritizing cis women in the conversation about abortion often excludes transgender men and nonbinary individuals capable of pregnancy said Alex Garcia. Garcia later spoke to the crowd about how trans and non-binary reproductive rights are just as endangered by the end of Roe v. Wade.
"It's so often forgotten that abortion is a trans right issue too that affects trans people. It's always focused on women but there are many people who aren't women who need abortion access but they're forgotten about," they said.
Garcia said they were heartbroken about the decision and scared for everyone in need of an abortion. These feelings were widespread among protestors including Yvonne Demalpas, who participated in the 1970 Abortion Caravan, which historically shut down the House of Commons.
"I was frightened by what might happen here but I also felt sick, you know I burst into tears. It's such a fight and it's very upsetting that we keep having to do it," Demalpas said.
Abortion is a human rights issue, said Brandon Boyd, who attended the Rally for Choice in May to protest the presence of March for Life on Parliament Hill in the wake of the Roe v. Wade draft leak.
"Abortion is fundamentally health care that people require in their lives at certain moments and it's up for those people to determine when and if they need that. It's not a question of providing abortion or not providing it. It's providing it safely or people going in other riskier ways in those tough moments and getting it in unsafe environments," Boyd said.
While in Canada abortion is legal the current lack of accessibility in remote communities forces people living in here to travel to the U.S for abortion care every year, said Bridget Dueck, the PPO Options Counselling Coordinator.
"Now that option is not accessible anymore, now we are going to have to accommodate a flood of Americans who are traveling to Canada who are seeking abortion care. That will have a strain on our health care system," she said.
This means that the overturning of Roe v. Wade will have a direct impact on communities across Canada. Now more than ever abortion services will need community support, Dueck said.
"It's important for us to be here today because we want to show our representatives that we will not stand for this at home or abroad."
---
More Stories