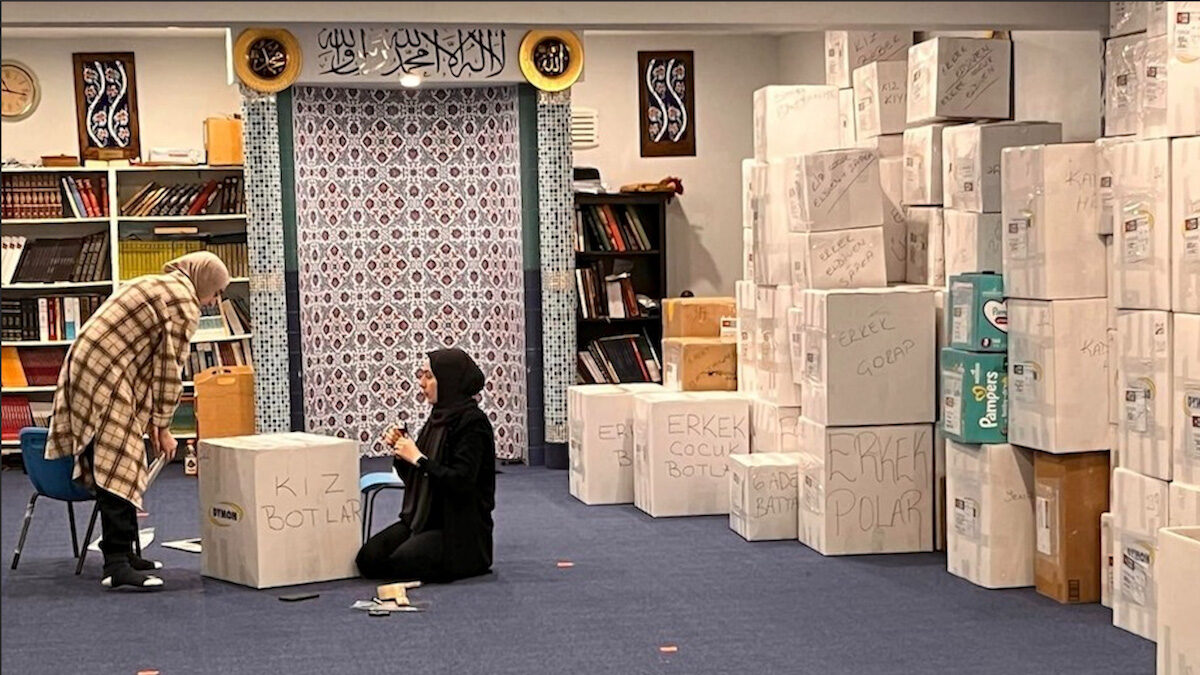 When a man pulled up in front of the Turkish Assembly Centre with a U-Haul filled with donations for the survivors of the catastrophic earthquake that rocked southeastern Turkey and northern Syria, volunteer Ayşe Rumeysa Mohammed was stunned.
The unnamed man brought 45 garbage bags full of clothes, which his elderly mother gathered in a drive to answer a call put out by the Turkish Association of Canada for emergency donations, Mohammed said.
"He just showed up and there are so many stories like this of people showing up, coming, volunteering, wanting to work, people reaching out through social media," said Mohammed, a graduate student at the University of Ottawa who is originally from Turkey.
Since Feb. 6, when two consecutive earthquakes sent shockwaves across hundreds of kilometres, volunteers like Mohammed have been hard at work sorting through the hundreds of donations they have received.
The community support has allowed the Turkish Association of Canada to quickly send an initial shipment of about 200 boxes carrying essentials such as winter clothing, baby formula, diapers, first aid kits and blankets.
Supplied with a list from the Turkish Embassy, the organization is now focused on collecting tents, sleeping bags and funds for medical machines, like portable X-ray machines, for a second shipment.
"Just imagine you left your home with whatever clothes you have on. You don't even have time to wear your shoes. You just run out without grabbing anything," Mohammed said.
"We are talking about millions [of] people that have been affected along a hundred kilometres long fault line. It's really not easy for me to comprehend. That many people need medical assistance, not even all the hospitals combined in Turkey can provide that, so they reached out, and we are trying to provide those needs."
Mohammed said she has been moved by the community response. 
"It's amazing, we knew that there was some support, but we weren't expecting it to this extent," she said.
The day following the earthquakes, Mohammed started a GoFundMe campaign to raise $5,600 to purchase baby and children blankets for earthquake survivors in Turkey from Barrhaven Costco. (The campaign had raised $6,350 as of Feb. 24.)
"I posted about the GoFundMe on social media, and within a few days, we got the money, even more than I wanted. Someone from our community even went to Costco headquarters, and they gave us a special discount. Someone that I met only twice just read my GoFundMe request and donated $2,000, which made us over halfway to our goal, and I only met him twice," Mohammed said.
Simple items like blankets can make a difference, Mohammed shared as she reflected on her experience as a 10 year old who survived a 1999 earthquake in Turkey, which killed more than 17,000 people. 
In the week after that earthquake, Mohammed, who was visiting relatives, could not contact her family and lived with five other children in a car while her aunt and uncle slept in the grass next to them. 
"I remember I was so cold, and I was shivering. I was in a car with kids I don't know, but we were hugging each other. We were trying to get warm. That's why I wanted to get the blankets for the babies and kids," she said.
Beginning Feb. 15, the Turkish Association of Canada stopped accepting clothing donations and is focused on satisfying shelter needs, including cold-weather tents.
Donations are also being accepted now by a number of organizations, according to the Turkish Embassy, including the Canadian Red Cross and the UN Refugee Agency.
---
More Stories