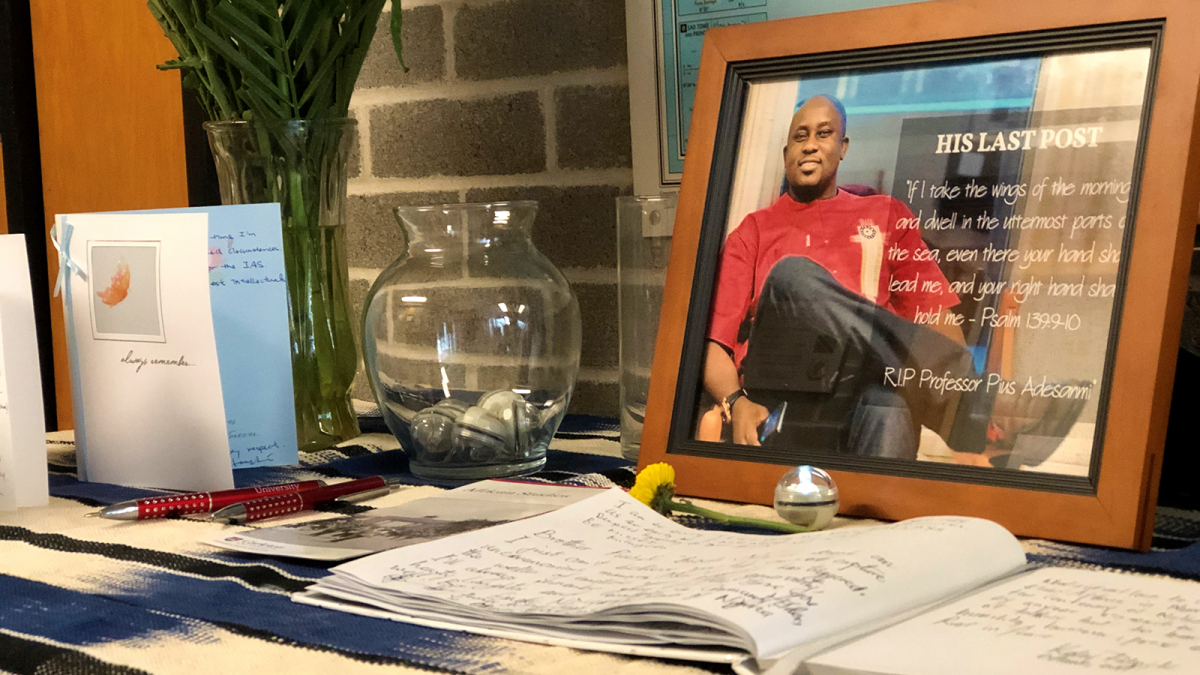 For Nduka Otiono, the reminders of his friend Pius Adesanmi – one of four Ottawa residents who perished in the March 10 Ethiopian Airlines crash – are constant.
A celebration of life for Adesanmi, a larger than life figure in Carleton University's Institute of African Studies, will be held on Tuesday. During an interview to talk about his colleague, Otiono was interrupted by an alert on his phone. It was a poignant reminder of a dinner Adesanmi had arranged weeks ago.
"We had a dinner slated at Ten Sushi,'' Otiono said. "He had set it up."
Adesanmi was one of 18 Canadians whose lives were cut short in the devastating crash. Although details surrounding the 157 total victims are still being released, Otiono says he can't help but think of the crash's four victims who lived and worked at some point across the nation's capital: university graduates, volunteers and a United Nations worker bound on a flight from the Ethiopian capital to Nairobi, Kenya.
"All 18 people, in a single plane crash," he says. "For as small a country as Canada, having the second highest number of victims on that flight … I think it's very sobering."
"It's not for nothing that the whole country is mourning."
Pius Adesanmi, professor at Carleton's Institute of African Studies
Born and raised in Nigeria, Adesanmi's Canadian connection began when he studied French at the University of British Columbia before teaching at Penn State University. When a position at Carleton's department of English opened up, Blair Rutherford was on the selection committee. He remembered Adesanmi as "an extremely dynamic, wonderful interviewee." It was 2006. Rutherford says Adesanmi had offers from schools such as Princeton University, but turned them down to take the position at Carleton.
Otiono's friendship with Adesanmi goes back even further. The two met at the University of Ibadan in Nigeria, and their paths crossed again when they became professors together at Carleton. For Otiono, Adesanmi's humour will be missed the most. "I used to dread the idea of going into that office, because every day he used to tease me about my outfit," Otiono jokes. At the same time, Adesanmi was an intellectual who had a transcendent following. "He has tens of thousands of followers internationally … and yet he seems to have remained in this place inconspicuously."
Kenneth Aliu is a fourth-year law and African studies student who remembers what it was like to be taught by Adesanmi for a class two years ago. "Pius was not necessarily a professor, he's not a lecturer … he's a teacher," Aliu says. "You know how you hear about those profs that change your life at university? Pius was one of those profs."
Stéphanie Lacroix, 2015 graduate from the University of Ottawa
Stéphanie Lacroix graduated from the University of Ottawa in 2015 before working with the World University Service of Canada (WUSC), a non-profit that improves education and employment in developing countries.
Hannah Berge, a fourth-year journalism student at Carleton, worked with Lacroix as an intern with WUSC in Malawi last summer. She says that what made Lacroix special was her welcoming presence whenever she entered the room.
"Stéph was funny, she was kind, she was always smiling," Berge says. "She was a person you could rely on to be there for you, and she was always putting others before herself." After their work together, Berge and Lacroix both moved back to Ottawa, and connected regularly as friends. Berge says that Lacroix was on her way to a United Nations conference aboard the flight.
"I think everybody will miss having Stéph's amazing presence around … in the community that she worked in, and her impact on the people around her," Berge says.
A celebration of life was held for Lacroix in her hometown of Timmins on March 16t. Another gathering will take place at the University of Ottawa at the end of the month.
Jessica Hyba, Ottawa resident and CARE worker
Jessica Hyba was a resident of Ottawa and a mother of two who grew up in Barrhaven. She later spent two decades working with CARE, a Canadian non-profit promoting equal rights for women and girls in developing countries. She then became a senior external relations officer with the United Nations Refugee Agency. According to the Ottawa Citizen, Hyba's partner also perished in the crash, but has not yet been identified.
Sara Williams covers the Middle East for the Daily Telegraph and the Globe and Mail. In a Twitter post, she praised the selflessness of her friend, describing Hyba as "wild, adventurous, life-saving and perpetually ebullient." CARE Canada president Gillian Barth echoed Williams' sentiment about her former colleague. "She was a devoted humanitarian and cherished mother. The world has lost an irreplaceable human being."
Peter DeMarsh, 1985 graduate from Carleton University
Peter DeMarsh graduated from Carleton's school of International Affairs in 1985 before living and working in Taymouth, New Brunswick. He was president of the Canadian Federation of Woodlot Owners (CFWO), and had a strong interest in preserving the environment and farmlands at home and around the world.
Bruce Oliver is a senior policy advisor for the government of New Brunswick, and said in a Facebook post that he and DeMarsh regularly attended numerous community halls and town meetings on environmental safety across the province. Oliver said he "marveled at his selfless dedication to the betterment of the most powerless in society." A book of condolences for DeMarsh is on display at the third floor of Carleton's Tory Building.
---
More Stories