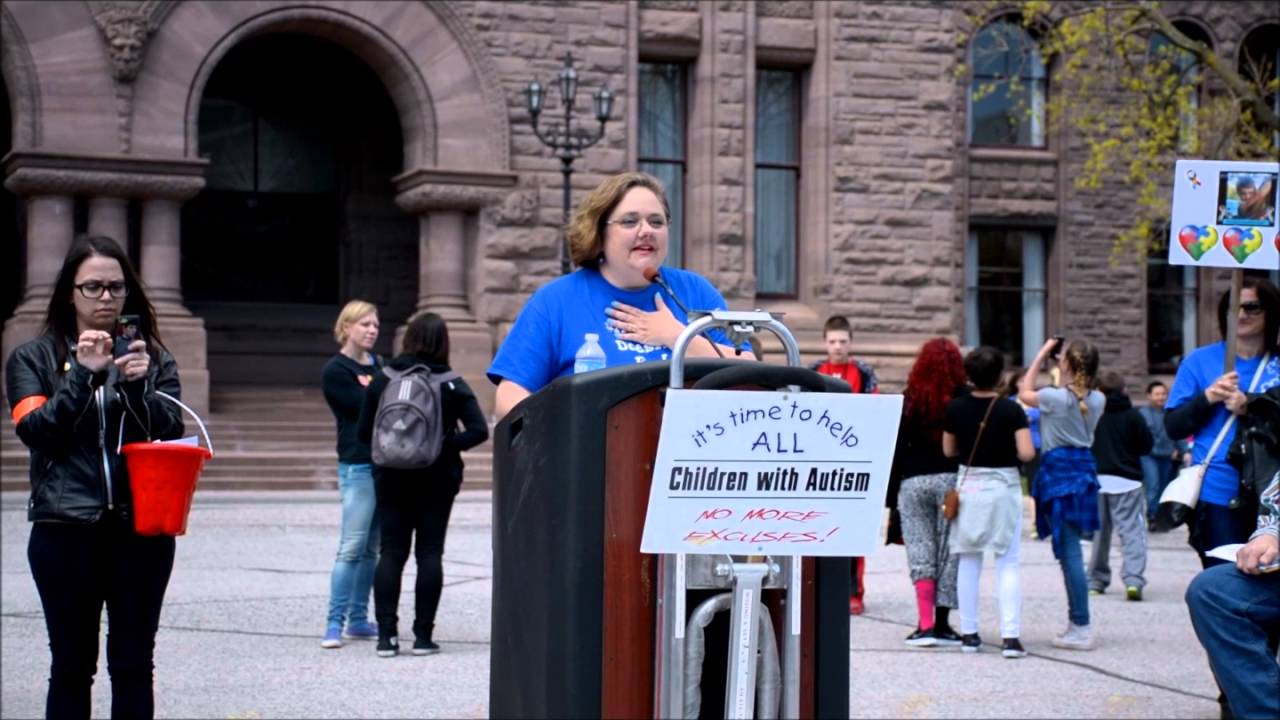 By Justine Ricketts
Laura Kirby McIntosh hasn't had a moment of peace these last few weeks. She holds her breath every time she turns on the television or radio, afraid what she'll hear next will turn her life upside down.
McIntosh is the president of the Ontario Autism Coalition (OAC) and the proud mother of two autistic children. Like any other parent, she wants them to get a good education.
"As a parent of two autistic teenagers, sometimes it felt like a fight to get them the supports they need," says McIntosh, whose children are 17 and 19 years old. "Often times, autistic kids are excluded from classes and school activities because there are just not enough resources to deal with them."
Her fears have been intensified by the Ontario government's recent changes to funding, that she says could force children with autism into classrooms without proper treatment and therapy.
The Ford government introduced a lifetime cap of $140,000 to households waiting for publicly funded autism therapy. The announcement was immediately met with protest. According to an OAC report, intensive treatments can cost up to $70,000 a year. This news comes after Ford's decision to cut $25 million for specialized school programs in December, including supports for children with autism.
After intense pressure from families, the Ford government announced last week it will look into providing more needs-based help for children with autism. Families will also be able to extend current therapy services for an additional six months to help adjust to the new Ontario autism program.
But many families are still concerned these changes are not enough to improve the situation for the 40,000 children in Ontario diagnosed with autism.
McIntosh was among those unsatisfied by these announcements. Along with other parents, she is worried that once therapy is no longer fully covered, children with autism will be pushed into public schools unable to accommodate them.
"As a mother of children with autism and a school teacher, I've seen both sides. I know schools are unprepared for what's to come," says McIntosh, who has been a high school teacher for more than 20 years.
Many schools have adopted the 'inclusive education' model over the decades, created to accommodate special-needs children in the public system. But McIntosh says inclusivity is hard to achieve.
"I'm definitely in favour of inclusive classrooms but there are just not enough examples of them in Ontario," says McIntosh.
She says inclusive classrooms put the entire burden on teachers and students with autism.
"Teachers have to deal with the meltdowns and behavioural issues and what we end up seeing are kids being excluded from field trips, assemblies and sent home early because teachers just can't handle it all," says McIntosh. "Children with autism are not thriving in inclusive classrooms, whether you look at data from OAC or not, if kids with autism were thriving we wouldn't see exclusion happening at an alarming rate."
Jacqueline Specht, director of the Canadian Research Centre on Inclusive Education and a professor at the University of Western Ontario's faculty of education, says the system is broken when teachers don't feel they have the resources to manage children with special needs.
"We need to give teachers the training and support that they need so they feel confident and capable in handling sensitive situations," says Specht.
Specht says rather than practice inclusivity, which accommodates each child's individual circumstances, many schools are using integration, which pressures students to fit in.
"There is a big difference between the two," says Specht. "Children are better off in an inclusive classroom, but that doesn't mean just putting all the children in a class, there needs to be support there. The research shows children are thriving in truly inclusive classrooms."
The campaign for better supports for teachers and students dealing with autism in the classroom is not new.
In 2017, the Ministry of Education partnered with the Ministry of Children and Youth Services to address the issue, establishing a one-year pilot program to improve school-based supports for students with autism.
Sandra Zeni, a spokeswoman for the Ministry of Education, says the pilot explored ways school services could be improved for students with autism. The program offered behavioural analysis training for education assistants and dedicated space at schools for external practitioners to provide direct services to students with autism.
"The program was supposed to be implemented in school boards across Ontario last spring but the pilot was extended another year to fully determine if the program benefits students," said Zeni in an email.
Zeni says the ministry is dedicated to ensuring every child in Ontario has access to a meaningful education in safe and supportive school environments.
Rishav Banerjee, a 20-year-old advocate for autism awareness, says he is not convinced.
"With the Ford government cuts to autism programs, I just don't see how this pilot will ever see the light of day. Its extension and delayed implementation in schools is a pretty obvious indication that it won't," says Banerjee, who was diagnosed with autism at age seven.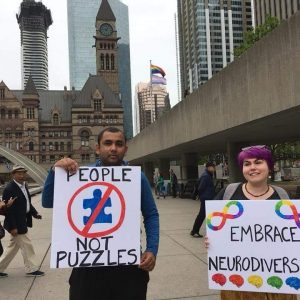 Banerjee is a member of the self-advocacy group, Autistics 4 Autistics, and says rather than inclusive classrooms and in-school autism treatments, he would rather see autistic teachers educating autistic children.
"Inclusiveness and accessibility are the future of education but for now, that's not where we are. Unfortunately, when it comes to education, nowhere for autistic children is completely safe," says Banerjee. "The reality is that not enough people understand that autism is a neurological condition that can't be fixed no matter what treatments you do. Yet, a lot of these public schools expect you to fit into these neuro-typical norms, forcing students to appear normal but that shouldn't be the standard."
Donna Osbourne couldn't disagree more. She says her autistic son, Andre, thrived in Ontario's public schools when he was a student eight years ago.
"Andre enjoyed school," says Osbourne. "He always had an educational assistant to help him in his academics and there was an understanding that Andre learned and socialized differently than other children," says Osbourne.
Like many other children with autism, Osbourne's son had access to an individual education plan (IEP) and educational assistants (EAs) to help facilitate his learning, but according to a 2017 survey commissioned by the autism coalition these supports are few and far between, with massive shortages of EAs across the school boards.
The coalition found that about 60 per cent of the study's 166 respondents were told by a professional that their child required one-on-one support from an EA assigned exclusively to them, but only 17 per cent say their child received that support.
McIntosh says she blames the lack of support on poorly allocated funding.
"EAs are stretched thin, usually dealing with five to eight kids a day. What we need is more investment in direct funding options for children, instead of funnelling money into more expensive service options."
McIntosh and her husband founded the autism coalition almost 14 years ago but says the government overhaul of the autism program shows just how much work still needs to be done.
"When my husband and I founded the OAC in 2005 … we fought against the Liberal government's age cap for autism treatments."
Now, more than a decade later, McIntosh says the fight remains the same, though the players have changed.
"The Conservatives supported us when it was a fight against the Liberals but now those same people are sitting in office, doing exactly what we marched against," says McIntosh. "It feels like a continuous uphill battle but it's one we just can't afford to lose."
---
More Stories