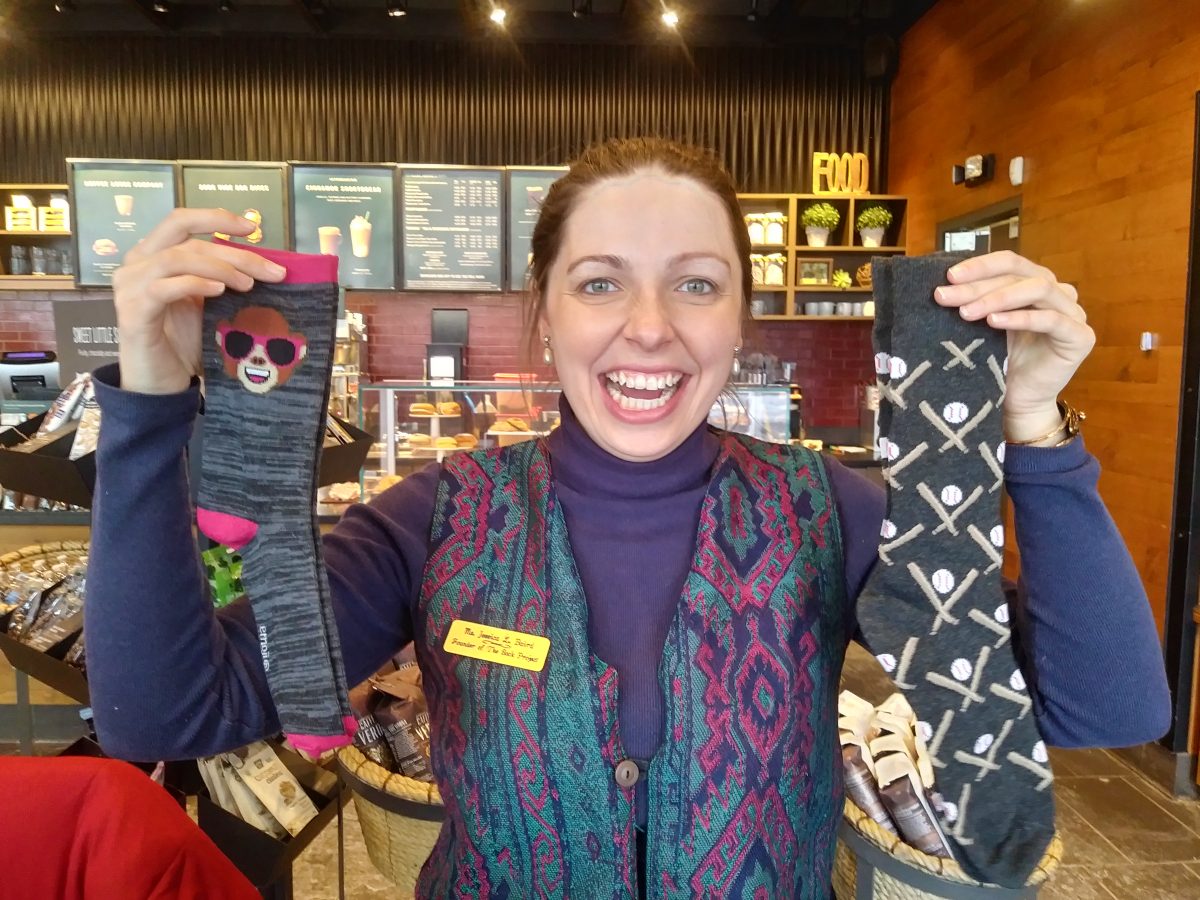 An Ottawa woman is bringing awareness to autoimmune diseases and other chronic illnesses by handing out eye-catching socks for free.

Jessica Baird founded The Sock Project in 2017 after taking medical leave from her job as an elementary school teacher. Baird had become ill with what was later diagnosed as Ankylosing Spondylitis (AS), an autoimmune disease that affects the spine and lower back joints. She started the project after family and friends wanted to know how they could help her. "I said 'send me fun silly socks and I'll do a challenge to wear 365 pairs of socks over the course of a year,'" Baird says.
The response Baird got was overwhelming. Thousands of socks were sent to her from family, friends and even sock companies. It was at that point when Baird shifted the focus of The Sock Project to helping others in the community.
"I started sending socks all over the world to people to brighten their day and to get them through medical issues or difficult times or whatever they were going through," Baird says.

Marie-Josée Heon is one of the recipients of socks courtesy of The Sock Project. She has received multiple pairs of socks from Baird in the past. Heon also suffers from an autoimmune disease and says she sees the benefits of The Sock Project. "It reaches out to people, it lifts people's spirits, and just getting a pair of socks and knowing that there's somebody out there that does care, that's willing to listen," she says.
One of the reasons Baird started The Sock Project was to help educate people about autoimmune diseases. "We need more awareness and we need more communities built for people with these diseases," she says. The idea of the project is that the flashy socks will strike up conversation about autoimmune diseases. "People start sharing their stories, which is exactly what I want with The Sock Project," Baird says.
These days Baird carries about 15 pairs of socks with her wherever she goes. All the socks she hands out to people were donated to The Sock Project.
McGregor Socks, a Toronto company, was one of the first big contributors to Baird and The Sock Project. The VP of Sales at McGregor Socks, Robert Stanley, says Baird made a good impression when she pitched him. "A few years ago she contacted me, told me a little bit about what she was doing, and said she would love for us to get involved," Stanley says. "We got involved and donated some socks to her."
"She's such a good person, she's trying to do good things, so we do try to give back to the community quite a little bit," Stanley says. "The projects we really believe in, we get involved with, so it was an easy decision to say yes and help her out."
The future of The Sock Project looks as bright as the designs on the socks. Baird is developing two books — one about her journey with AS and the other is a children's book about autoimmune diseases. She is also working on designing her own line of socks which she hopes will generate donations to autoimmune research.
Baird plans on continuing her work with The Sock Project. "Another goal is long-term continuing to develop the community with the project, continuing to support people with chronic illnesses, continuing to bring awareness to the project, and continuing to give out socks to people," she says.
---
More Stories