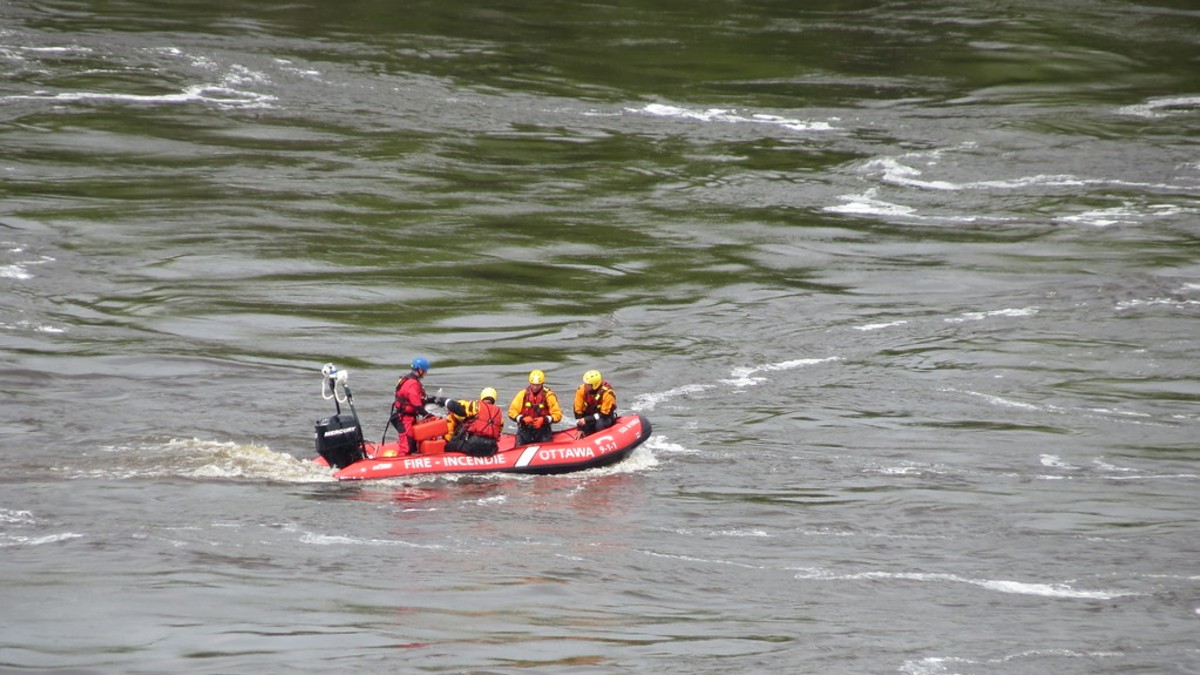 The COVID-19 pandemic and an early, steamy summer may be the reason why Ottawa has seen a spate in the number of drownings and other water-related incidents, says a safe-swimming advocate. 
High temperatures in May meant parks and beaches were packed and some pandemic-wary people may have headed to unfamiliar and unsupervised waters to escape the crowds. 
"When the swimming season starts that early, and you have people coming out of isolation, I think in general people's behaviours are different now," said Chris Wagg, chair of the Ottawa Drowning Prevention Coalition.
There have been five drownings in Ottawa-area waters since the middle of June, including a two-year-old boy who drowned near Petrie Island and two fishermen who lost their lives in the Ottawa River over the August long weekend. 
The ODPC and its partners — the Ottawa Police Service, Ottawa Fire Services and Ottawa Paramedic Service — released a statement Aug. 6, urging "all residents to practise water safety when they are on, in or near water this summer.
"Tragically, there have been five drownings on local waterways this summer. The combination of warm weather and people being near unfamiliar waters are considered possible factors in the these drowning cases."
Wagg said that while the number of drownings is actually about average for the summer in Ottawa, they all occurred over a short time period. She also said that Ottawa Fire has been receiving more distress calls. 
"They've actually had double the calls that they've had from previous years," she said. "They are getting called out twice as much as they used to."
Wagg said Ottawa Police are also seeing more people swimming where they don't normally swim, including unsupervised areas along the Ottawa River.
On July 3, a 14-year-old boy drowned swimming with friends from the Prince of Wales Bridge on the Ottawa River just west of LeBreton Flats. The once-popular spot for swimmers has been officially off-limits for several years after the City of Ottawa erected a fence and posted warning signs.
"We were coming to some sort of conclusion — that isn't proven yet — that because of COVID, and (that) Ottawa beaches are quite crowded, that people are just going along the bike path and finding their own little secluded area to swim," said Wagg.
Wagg said that she, along with Ottawa police, will patrol along the Ottawa and Rideau rivers to see firsthand what they need in terms of added safety measures in open water.
She noted that, in the past, they have focused on drowning prevention in swimming pools, both public and private.
"That was a large part of our focus for years," she said. "So now it's time to switch to the rivers."
The police Marine, Dive and Trails Unit will be on local waterways enforcing boating laws every weekend until the end of the summer.
The Ottawa Drowning Prevention Coalition has multiple tips for swimmers and boaters to prevent drowning. A full list can be found here, but include guidelines such as:
• Be aware of swimming in unknown waters; swift water and depths in our rivers can change quickly;
• Always wear a life jacket near open bodies of water, no matter what level of swimmer you are. Currents are strong and there could be undertows;
• Parents, stay within arms' reach of your young children. Drowning can happen in seconds;
• Swimming, boating and alcohol don't mix.
Wagg said it's especially important to be wary of rivers, which can be swift-moving and pose a number of unexpected dangers.
In short, she said: "Swim in familiar areas and know your limits."
---
More Stories