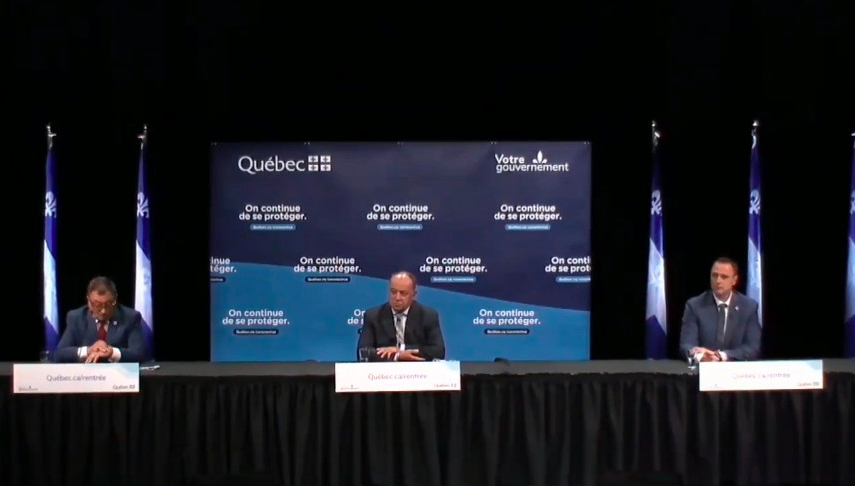 It's official: in just three weeks, Quebec students will go back to school.
Education Minister Jean-François Roberge released the provincial government's updated plan for reopening schools at a press conference Monday in Montreal.
"It's crucial that we get it right," he said in French during the live-streamed announcement. "We will be ready for the start of the school year, I'm sure of it."
The Quebec government had released a reopening plan in June, but revised it after receiving new evidence about the transmission of COVID-19.
Changes include mandatory masks for students in Grade 5 and above in hallways, bathrooms and on school buses. Masks will not have to be worn in classrooms, when students are eating or playing outside at recess.
Teachers and any visitors will be required to wear masks, although teachers may remove them in class when physically distant from students.
"Classroom bubbles" will also be put in place.
Students will be allowed to play with their classmates, but they won't be allowed to interact with children outside their class unless they respect physical distancing.
The government had previously proposed six-person bubbles within classrooms, but reversed its decision because it created too many pedagogical challenges, Roberge said.
Students with health issues that make them vulnerable to COVID-19, or who live with someone at risk, will be exempt from attending school in person. They will have to provide a doctor's note to be eligible. Those students will have access to online education, Roberge said. They are guaranteed two hours per day of direct support from a teacher and 15 hours per week of virtual classes.
Teachers with health issues will be assigned online teaching duties.
Benefits outweigh risks
Quebec's director of public health, Horacio Arruda, said that it was unrealistic to think there won't be outbreaks in schools once they reopen. "We won't be able to prevent that until we have a vaccine," he said in French. "The virus is still circulating and we're potentially facing a second wave."
But "we have the capacity to control the situation," he said, adding that the majority of children that caught the virus had few to no symptoms.
Despite this risk, Roberge and Arruda both said the impact of keeping schools closed was worse than the alternative.
"The information that we have about COVID-19 reassures us that kids most of the time don't get sick," Roberge said in French. But "not opening school is putting our kids at risk (of) trouble with mental health and learning disabilities."
"I think the higher risk is to not reopen schools."
Ottawa's health experts have expressed similar concerns.
Alex Munter, president and CEO of the Children's Hospital of Eastern Ontario, said last month that COVID-19 measures could lead to significant mental health issues for children.
Ottawa's chief medical officer of health, Vera Etches, also recommended that kids go back to school in September to minimize this risk.
Spring a successful "test-run"
Last spring, teachers and students in Quebec were able to see what it's like to go to school in the middle of a pandemic.
The province reopened schools in May after a two-month closure — a move that was criticized by some as rushed and unsafe.
Roberge said the spring return to school was successful even though many parents were worried.
"That's what we're aiming for (again)," he said.
Gaétanne Fortin, an English teacher at an elementary school near Trois-Rivières, Que. said she was confident the reopening would be successful because of how well students and teachers adapted in the spring.
"I think it will be a safe return," she said, adding she was excited about the first day of school.
Although Fortin said she and her colleagues were stressed about returning in May, they quickly got used to the new safety measures.
"As soon as the students arrived and the bell rang, we made them line up (with a two-metre distance) and then we distributed hand sanitizer right at the entrance," she explained. The children would then go straight to their class and wash their hands one at a time again with soap and water.
School desks were sanitized regularly and teachers had a designated "teaching zone" where they would stand during class.
Her school also had three different recess and lunch hours to decrease the limit the number of students out of class at any given time.
She said "people with a lot of imagination" invented games that could be done with physical distancing.
"Children spent six weeks playing games that had no physical contact," said Fortin, adding they had been thrilled to see their friends. "It was really good for (our students) to come back."
Mixed reactions to the new plan
But not everyone is happy with Quebec's new plan.
Dissatisfied parents and teachers have criticized the fact that masks aren't required in classrooms and that the return isn't optional.
A petition calling on the Quebec government to revise its plan again has more than 20,000 signatures since Monday.
"I'm very divided," said Josée St-Georges, a mother of two living in the Gatineau region. "The whole thing seems kind of contrary to me."
"Part of it makes sense," she added. "They're talking about having a distinct group follow each other so there won't be groups at recess and things like that."
"It makes sense to kind of control and limit the exposure."
Her oldest son is starting kindergarten in the fall. Although he isn't required to wear a mask, St-Georges said she was considering sending him to school with one "as an extra precaution."
She said she was sad to send him to school in this type of environment, as "he won't be able to experience the big assemblies or the gymnasium."
With their youngest in daycare and both her and her partner working full time from home, St-Georges said her son is often alone. For that reason, she said "sending him to school makes sense because he will be able to interact with other kids (and) learn new things."
Stark contrast with Ontario
Ontario's back-to-school plan looks significantly different than Quebec's.
First, parents can choose whether they feel comfortable sending their children back to school or opt for online learning.
Ontario students will be required to wear masks starting in Grade 4 and will have to do so at all times while indoors, including in their classrooms.
High schools pose difficulties for both provinces because students choose electives and don't typically stay with the same class all the time.
To minimize the number of people high school students interact with, both provinces plan to have alternating days between in-person and online instruction. Details on what that will look like remain vague, with school districts in charge of scheduling timetables accordingly.
Ottawa's two largest school boards also disclosed their plans for reopening on Monday.
---
More Stories