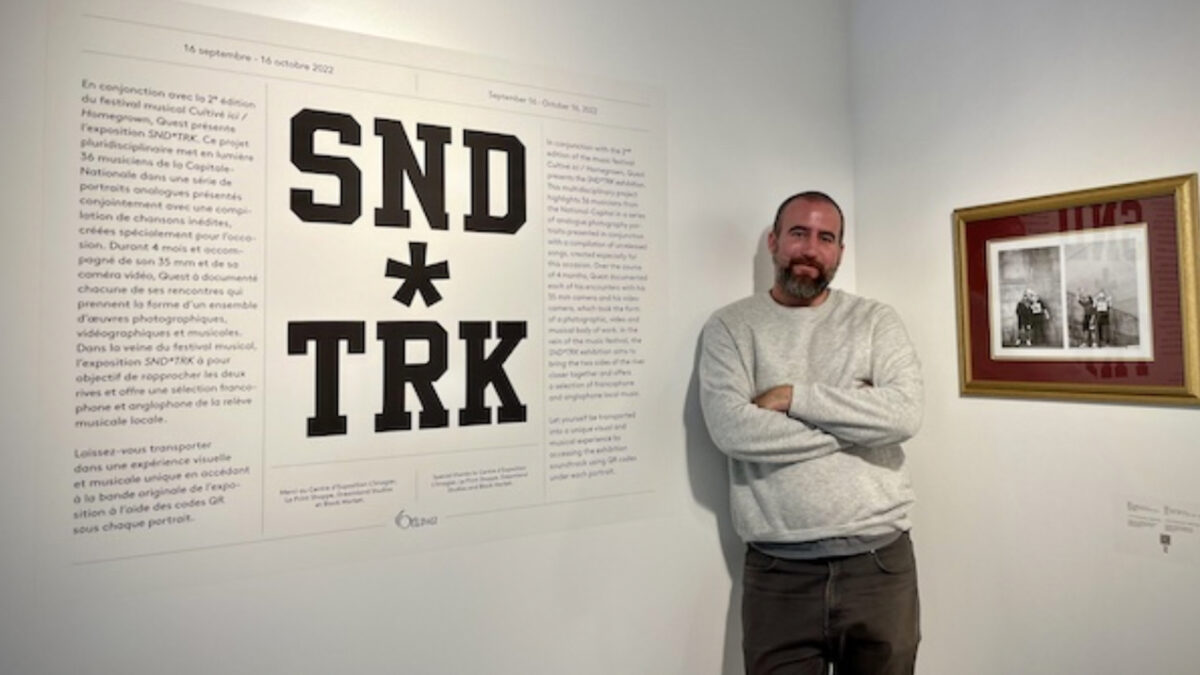 After a month-long run, the SND*TRK exhibit at L'Imagier Galleries in Aylmer has come to a close after raising $3,125 to support the work of Produced by Youth, a community organization that provides free music production workshops for underprivileged youth in the national capital.
For Poppa Quest, the Gatineau-based music producer behind the exhibit, the goal is to pay it forward.
"That's how I started making music — someone bringing me to a production session at a studio when I was 17. So I like what they are doing with Produced by Youth," said the producer, adding that he hopes the proceeds will improve access for youth who might not otherwise have the opportunity to learn the ins-and-outs of recording and developing beats.
The 36 photos displayed in the exhibit, priced at $125 dollars each, were taken by Quest on his father's old film camera. They depict the local artists he's collaborated with at his Dreamland Studios.
"Ottawa never had a reputation as an arts town. You had to go to Montreal or Toronto to experience that culture. There's a new generation, so I want to change that perception of Ottawa."

— Poppa Quest, music producer, Gatineau
Below each frame was a QR code linking to an original track produced by the artist for the exhibit. It was during a recording session that the producer shared his intentions to donate the proceeds with two of PBY's co-founders, Lealem Abebe and Tafari.
"He had invited us to record for the SND*TRK album and he kind of dropped the ball on us while Tafari and I were there. It was totally unexpected," recalls Abebe, who was at the studio recording "O.O.A.K" with Tafari. "He's that kind of guy. He sees people making moves and he just wants to be a supporter and accelerator."
Tafari, who records under the artist name Yung Heat, echoes Abebe's praise of the Gatineau producer.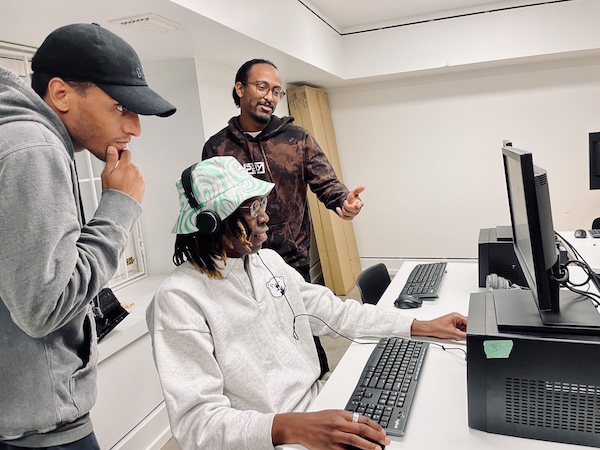 "I think Quest believed in what we were doing, and being a producer himself, understands the lack of resources for producers in the city — especially marginalized youth," he says, pointing to how the organization had been strapped for cash but would now be able to buy new equipment for the production workshops. 
While access to the arts rarely factors into conversations around inequality and representation, opening a door to these spaces can be a lifeline for many underprivileged and racialized youth. Jayel Dupont, the newest member of the PBY crew, first attended workshops in 2020 and says this kind of community programming is important because there aren't many spaces in the Ottawa area providing accessible and creative avenues for racialized youth. 
"Where can youth, especially Black youth, go to learn how to make music for free and have access to equipment?" they said, adding that the city is filled with young artists with great potential but little community infrastructure to foster and platform their talent.
"I feel like Ottawa has a lot of talent to give but making music is kind of expensive and sometimes (the youth) don't know how to do it."
This is something that has been on Quest's mind years. Over the years, he's seen many talented artists head to Montreal or Toronto – major cities known for having dynamic cultural scenes – because they felt like they had to leave Ottawa in order to pursue their creative dreams.
"Ottawa never had a reputation as an arts town. You had to go to Montreal or Toronto to experience that culture," said Quest, adding that he hopes encouraging the next generation of artists will change this trend. "There's a new generation, so I want to change that perception of Ottawa, this idea that it's boring (and) has no culture. There's more (culture) than we think."
The SND*TRK album has been released and can be heard on Spotify.
---
More Stories