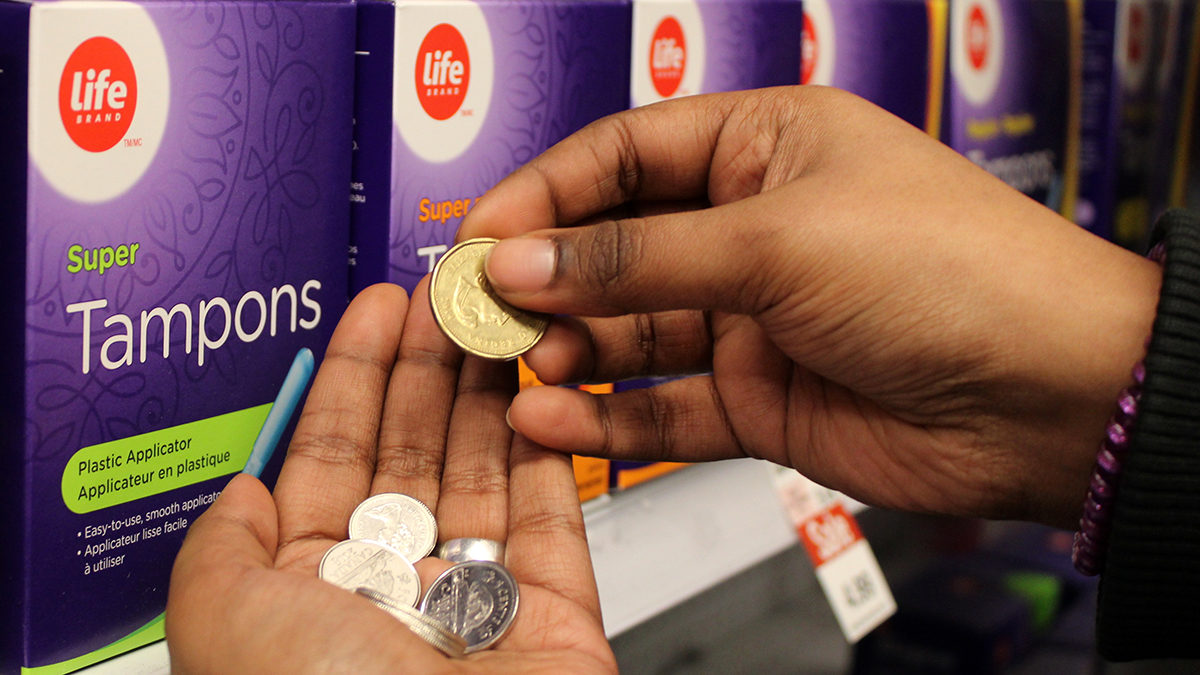 When Delaney Jeffery was fired from her job four years ago, her personal hygiene took a hit. Before, the 24 year old bought menstrual products without paying attention to price. Suddenly, she found herself resorting to shoplifting, stuffing tampons in her bag when no one was looking.
"I had to make the decision whether I could afford paying rent or buying tampons," she says.
Jeffery is not the only woman in Canada who struggles with period poverty — the lack of access to menstrual products because of financial constraints. One-third of women under 25 also face the same challenge, according to Plan Canada International.
In Ottawa, a new organization called Period Packs distributes free menstrual products. It hosts pad-and-tampon drives through which volunteers donate products and put them into paper bags covered with drawings and handwritten messages.
The organization mostly donates products to five homeless shelters but Meghan White, the founder, says Period Packs also helps public libraries, schools and others in the community who directly reach out to the organization through Instagram. Since Period Packs is still at an early stage, White says she uses social media to arrange the time and place to deliver the products and drops them off herself.
White says she got the idea to start the organization after spending $100 on menstrual products for a homeless shelter. She says she was "disturbed" when she was only able to fill a medium-sized grocery bag for that price. "It's shocking and so unnecessary," White says. "It feels like you're being punished for having a uterus."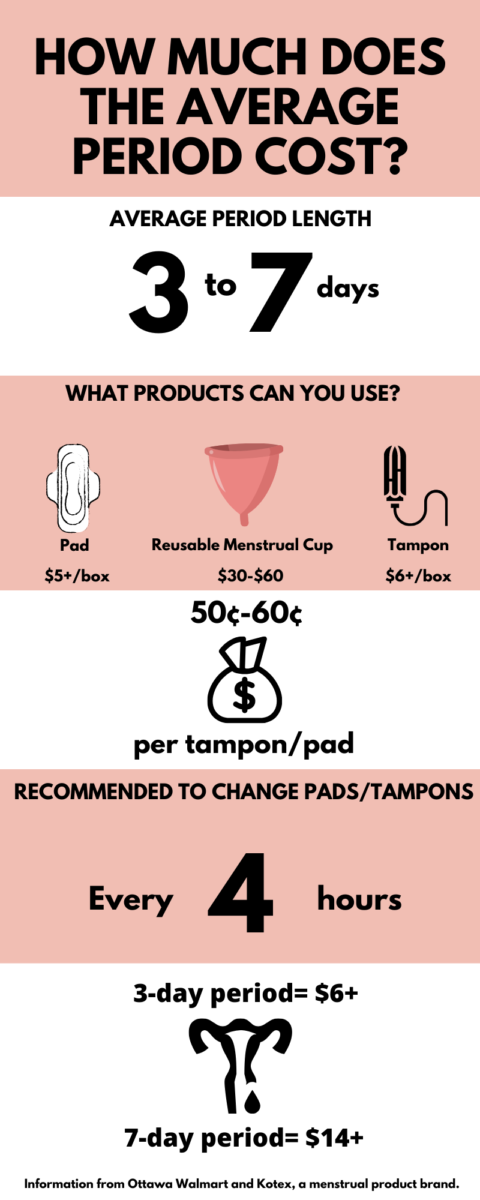 White studied human rights and works part-time at the Shepherds of Good Hope. At the same time, she's studying finance at Concordia University – which requires her to make an Ottawa-Montreal commute almost every week. The 30 year old says she hopes her education will help grow the organization on a provincial scale.
Period Packs officially launched in the summer after White spent months promoting and fundraising for period poverty in the Hintonburg area. Although the organization is run by two people, it has donated about 6,000 menstrual products with the help of volunteers, White says.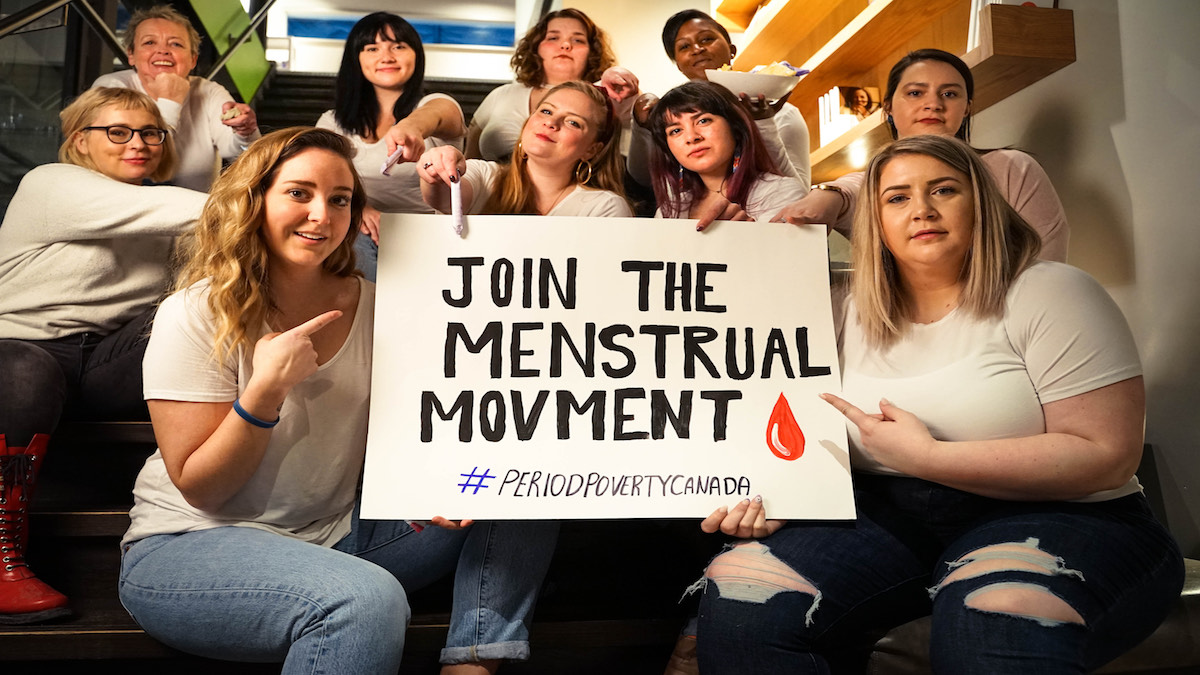 The organization supplies women and others who menstruate – including transgender, intersex, gender-queer and non-binary people — with enough pads and tampons to last the whole duration of their period. "The objective here is to provide people the tools to manage their own health," White says. "It's deeply rooted in maintaining human dignity and just allowing people that very basic control."
Period Packs also produces videos that invite community members to share experiences about their periods. White says it's important to talk openly about menstruation to get better access to menstrual products. "By not talking about menstrual health, we're not talking about women's health," she says.
Lindsey Hollemeyer, a University of Ottawa masters student researching period poverty in Canada and India, says menstruation is a "shameful" topic in both countries.
Hollymeyer says that before starting her research, she didn't think period poverty would be as severe in Canada, but her findings indicate otherwise. She says she has seen women use socks, newspapers and dirty clothes to cope with their periods because they can't afford menstrual products.
According to UNICEF, this kind of poor menstrual hygiene can pose health risks and has been linked to reproductive and urinary tract infections.
Although Canada removed the GST from menstrual products in 2015, White says she hopes Period Packs can pressure the federal government to make menstrual products completely free.
Currently, British Columbia is the only province that requires public schools to provide free tampons and pads to students. According to a 2018 survey by the popular menstrual product brand Always, one in seven Canadian girls have missed school due to a lack of access to menstrual products.
Tinu Akinwande, programming coordinator at Carleton University's Womxn's Centre, says people should not be surprised that college and university students also face period poverty, despite the thousands of dollars they spend on tuition. "It's just we have the services and loans that help us," she says. "That's not even taking into account the amount of part-time jobs students are taking to survive."
Even after getting a job and being able to afford menstrual products again, Jeffery says she still "occasionally" steals menstrual products as a sign of protest. "I shouldn't have to pay for something that happens to me naturally," she says. "Even if I get caught, I'll still stand by my actions and not give them the money for it."
---
More Stories