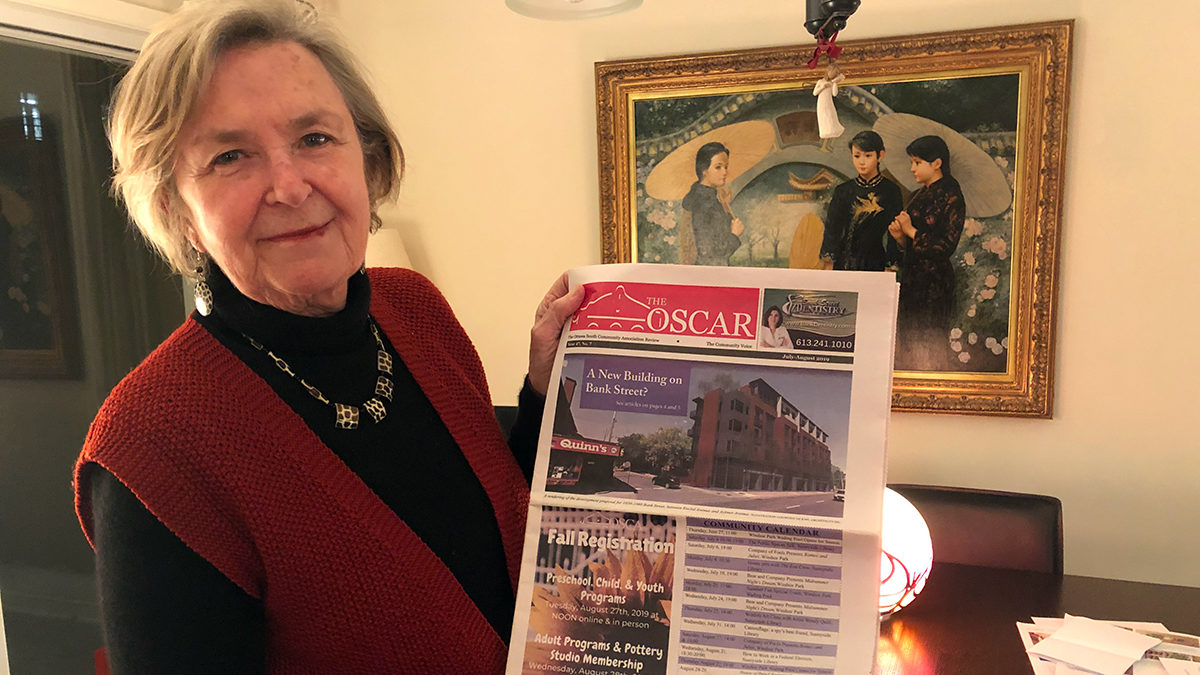 Young and old alike could soon be living under the same roof thanks to a new housing proposal in Old Ottawa South.
Senior Watch Old Ottawa South (SWOOS), a seniors community group, is proposing an inter-generational housing project that would have seniors and young tenants living together in a new residential building.
Several locations have been discussed including the old West Coast Video building on Bank Street.
Anna Cuylits, co-founder of SWOOS and a grandmother of five, said co-living can be good for seniors and young tenants.
"I think if students see a friendly old face, they might like that too, you know," Cuylits said. "Everybody benefits."
That said, younger tenants have the option to do just a little bit extra in this scenario, if asked to do so.
In an inter-generational housing system, younger tenants would live separately from older residents but still in close proximity, and can voluntarily complete tasks for their older neighbours, such as washing dishes or helping them with technology. Young tenants would, in turn, receive affordable rent.
Under the proposal, the building would feature standard apartment-style residences, but also co-living units with a common living space and kitchen. Tenants would still have their own private bedroom and their own washroom.
As senior residents get older and a house becomes harder to maintain, Cuylits said there comes a point where it makes sense to downsize. But in Old Ottawa South, downsizing isn't always easy.
"There's really no suitable rental apartments in our neighbourhood," said Cuylits.
Miriam Fry, a member of the Council on Aging of Ottawa, said the Old Ottawa South location is a key factor in this proposal.
"One of the great desires of all older adults is to age in the community that they are comfortable in," Fry said.
"If you've been living in Old Ottawa South for most of your adult life, but you can no longer keep up a house because there's snow shoveling, there's cleaning, there's all that stuff, then obviously you would be well off if you were able to stay in your community and yet still have something to offer," Fry added.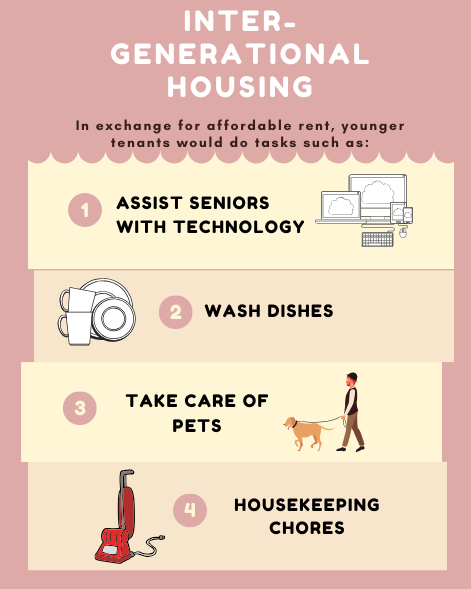 An inter-generational housing complex would help seniors in Old Ottawa South find a place to live, but it would also help them deal with the feeling of loneliness that comes with old age.
Cuylits, a retired social worker, said the common space in the building is so important because it fosters social interaction between the two generations.
"It is important for seniors to be active, to be socially connected," Cuylits said.
Fry said these social interactions are what makes the situation so unique.
"It's a matter of sharing the space, sharing knowledge and sharing tasks," said Fry. "That's the whole purpose of inter-generational housing."
But, as Cuylits points out, it's not just seniors who suffer from loneliness.
"Young people get lonely too," said Cuylits. "It's a difficult age, some people might really have mental health problems, there is a lot going on in your life."
"Young people have their studies, their friends, their relationships," Cuylits said. "They are finding out who they are. I think young people and seniors can talk to one another."
Marrie Rappos, a social work student at Carleton University, currently works at a senior centre in Ottawa and she said the response from seniors at the centre was overwhelmingly positive after a recent presentation on inter-generational housing.
"Everyone was really interested. One woman was like 'Just sign me right up,'" said Rappos.
On the flip side, Rappos said she thinks there are young people who are willing to co-live with senior residents.
"I'm sure that there would be people out there who think that would be a cool opportunity," Rappos said.
Under different circumstances, Rappos said she might be willing to live in an inter-generational unit herself.
"If I wasn't already in a situation where I'm in a good spot or I didn't have a lot of people in Ottawa or friends, I would for sure consider it," Rappos said. "I think it's a great thing to do."
---
More Stories