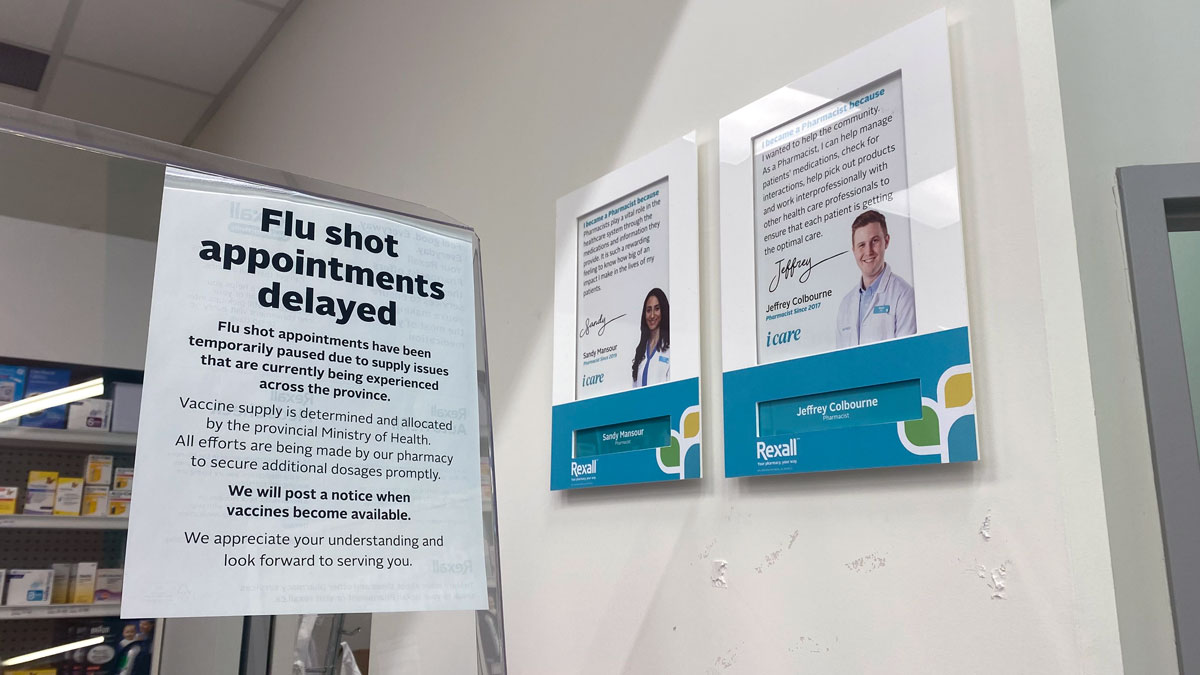 Frustration is growing in Ottawa as many people are having no luck getting their annual flu shot this year — a critical issue when health officials and politicians have warned of the risks of a "twindemic" of COVID-19 and seasonal influenza.
Many residents who had booked flu shot appointments at Rexall pharmacy outlets were surprised to find their appointments cancelled recently due to a supply shortage. 
In an automated message delivered on Nov. 2, Rexall informed those seeking a flu shot that their appointments had been cancelled and that they would be contacted at a later time when the pharmacy's supplies were replenished.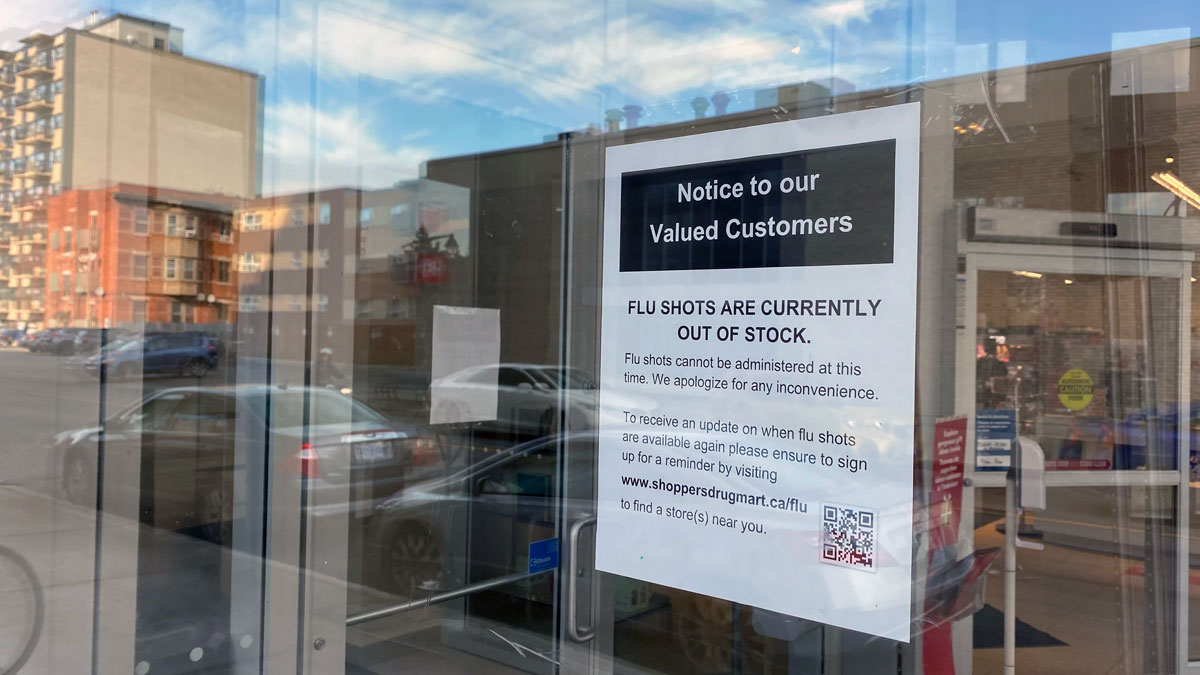 The shortage of flu shots is a sign that more people are innoculated, Premier Doug Ford said at a Nov. 2 news conference just hours after Rexall's announcement. He said he believed the significant uptake in vaccinations is a sign the province's seasonal flu campaign is working.
Ford also appeared to blame Rexall for mismanaging use of the supplies it had been issued. "Don't overbook people. … You knew exactly how many flu shots you had, so don't overbook," he said.
Public health officials have been urging more people to get a flu shot this year because of the elevated risks during the pandemic, and the Ontario government ordered enough doses to vaccinate 35 per cent of the population.
The province ordered 700,000 more flu doses than last year — a total of 5.1 million shots. It's Ontario's largest flu campaign ever, but it still leaves about nine million people out of the equation.
The recent cancellation by Rexall raised questions about when more flu shots would be available. Both physicians and pharmacists are reporting significantly increased numbers of Ontario residents lining up for a vaccination while having low to non-existent supplies.
Dr. Alykhan Abdulla, an Ottawa family doctor and chairman of the Ontario Medical Association, explained a concern with Ontario's flu vaccine numbers.
"Typically the number of people to get vaccinated in the province of Ontario or Ottawa is around 40 per cent," he said. "To truly have a benefit to a population, you need to get above 70 per cent and we have never come close to that. I think the best we have done is 45 per cent."
He added: "Remember our target is 70 per cent of the population. We typically get around 40 per cent of the population, that get vaccinated. You know there is higher demand (this year), but the Province of Ontario has only ordered (enough for) 35 per cent of the population to get vaccines. So then you wonder . . . what's going on here?"
Abdulla said his office is simultaneously experiencing shortages in vaccines and higher demand. "We typically get 1,500 doses over a month — and we got 110 doses," he said, adding that no supplier has been willing to guarantee delivery of additional doses.
As of Nov. 10, there were limited locations where Ottawa residents could get a flu shot. While some doctors offices' still have shots available, it's best to contact their offices directly to confirm.
Out of the 232 participating pharmacies that Ottawa Public Health lists on its website, only a handful have flu shot supplies.
Ottawa Public Health opened up six community flu shot clinics in various locations in preparation for this year's flu season. However, as of Nov. 10, all clinics were booked until Nov. 18.
Clinics have also run out of the higher-dose flu vaccine intended for seniors, and they were not expecting to be getting additional supplies.
Ottawa Public Health has consistently released new time slots for the standard flu shot, but slots are typically filled up within a couple of days, or even hours after being released.
This can be a challenge, in particular for those with limited internet access or those with children under four years of age, as they can only get vaccinated at physicians' offices or official OPH clinics.
The chaos surrounding this year's flu campaign poses concern about how the province and the federal government will handle the distribution of the much-anticipated COVID-19 vaccine expected next year. On that front, Moderna announced today that its vaccine candidate is proving to be 94 per cent effective in a large third stage trial.
That's the second candidate to report such results.
Canada has reserved millions doses of the COVID-19 vaccine produced by Moderna and the one created by pharmaceutical giant Pfizer and its partner BioNTech. The latter says they intend to deliver their vaccine in 2021.
Jesse Cressman-Dickinson, director of communications at local long-term and palliative care provider Bruyère Community Care, said she is particularly concerned with the provincial handling of this year's flu campaign and the barriers the public faces when attempting to get vaccinated.
"I really see this year's flu shot as an opportunity to get ready for that (COVID-19 vaccination) and to experiment, innovate and to come up with ways to make it really easy for people to get their flu vaccination, " said Cressman-Dickinson, currently on maternity leave. "And I don't think we succeeded doing that."