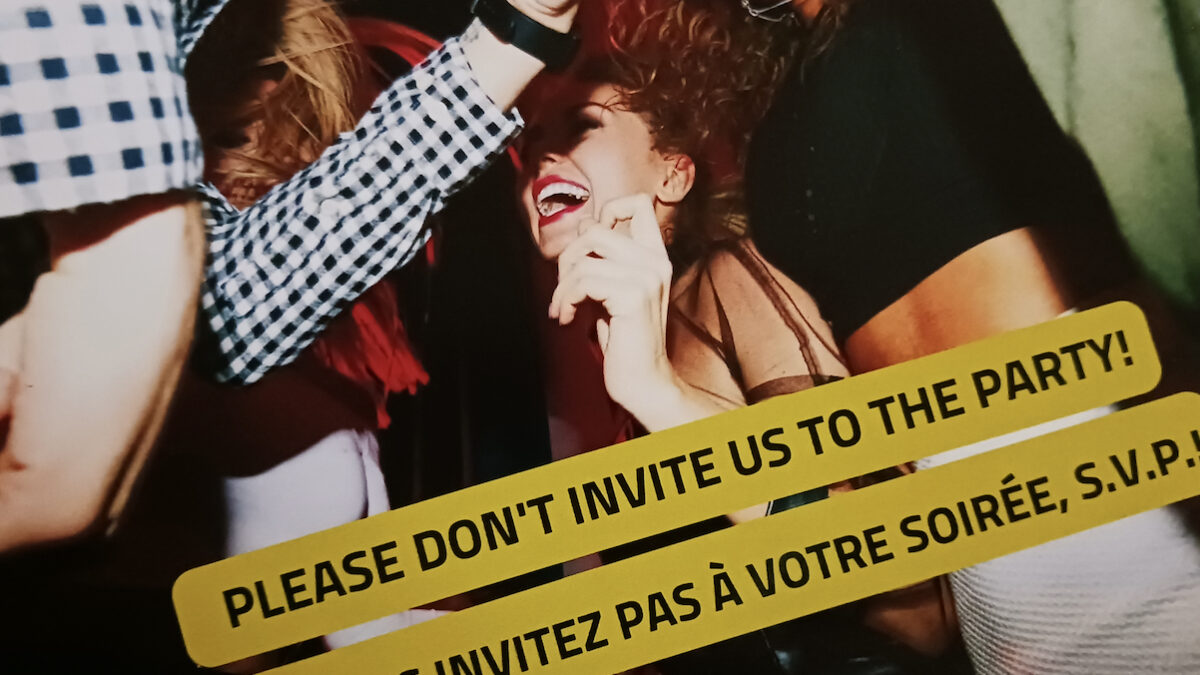 The Ottawa Police buckled down in three Ottawa neighbourhoods ahead of the city's celebration of all things Irish in an attempt to keep university students under control and safe during the St. Patrick's Day weekend.
Officers went door to door in Sandy Hill, near the University of Ottawa, handing out flyers to residents warning against excessive partying and about possible consequences. A similar, proactive information campaign was carried out before last fall's Panda Game and last spring's St. Patrick's Day.
"Public safety is always our first priority," said one police handout. "Officers will enforce the law, so please celebrate responsibly."
The handout warned police, bylaw officers and authorities from the Alcohol Gaming Commission of Ontario "will have an enhanced and sustained presence" in Ottawa neighbourhoods with high student populations during the period.
"Officers will be present to ensure safe and law-abiding behaviour," area residents were advised. "There will be strict enforcement."
The strategy was implemented in response to an October 2021 incident, when hundreds of uOttawa students attended a rowdy party on Russell Street in Sandy Hill after the iconic Panda football game between the Carleton Ravens and uOttawa Gee Gees.
A car was flipped and destroyed, seven people were sent to the hospital and there was an outcry from residents of Sandy Hill.
The police were criticized for not acting sooner to prevent mayhem. Since then, they have carried out the information blitzes ahead of the Panda Game and St. Patrick's Day to discourage out-of-control street parties.
Logan Leonard is a psychology and criminology student at uOttawa and has lived in Sandy Hill since 2018. He has received police flyers about both major events over the past two years.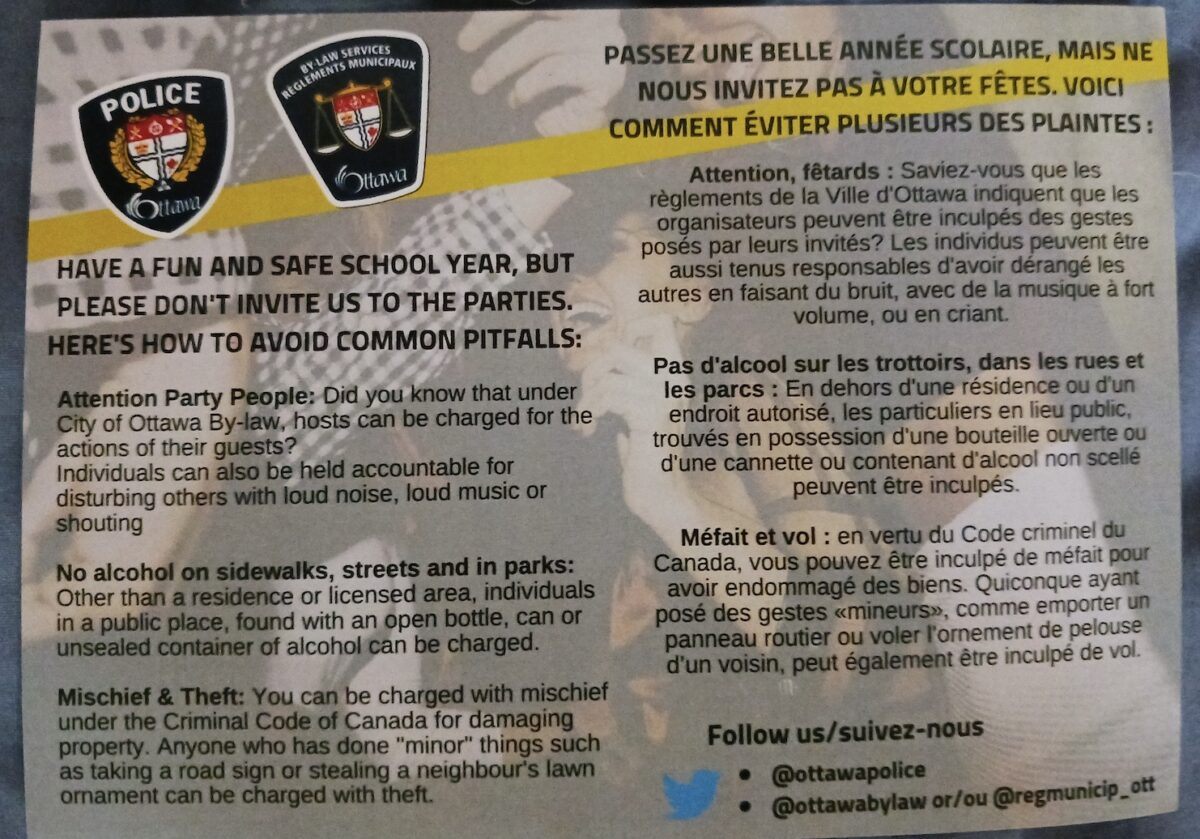 "I think the results (from the flyers) speak for themselves," said Leonard. "After that year when it was crazy with the car getting flipped and everything, things got pretty serious with the police," he said. "I think there was a little bit of a decrease in numbers, but you know, the streets were still pretty dirty and there was still a good amount of kids there."
Ottawa Police said Old Ottawa South near the Carleton campus, and Sandy Hill and the Byward Market near uOttawa would see increased police presence and strict enforcement of laws around the Liquor License and Control Act throughout the weekend.
Police have listed the 16 most common violations during such events, the major fines being $490 for noise disturbances, $615 for urinating on a highway, $305 for smoking cannabis in a prohibited place and $615 for throwing garbage on a highway.
'After that year when it was crazy with the car getting flipped and everything, things got pretty serious with the police.'

— Logan Leonard, uOttawa student and Sandy Hill resident
Last year around St. Patrick's Day, 135 tickets were issued as 12 major parties around the university neighbourhoods required emergency service response.
Ottawa is not the only city facing large street gatherings of partying students. The similar events have occurred near other Ontario universities, including Queen's in Kingston and Wilfrid Laurier in Waterloo.
The CBC recently reported Kingston Police were taking pro-active measures ahead of St. Patrick's Day and that "the annual party has a sobering effect on the police's bottom line, according to a recent budget report that showed the service incurred $83,000 in overtime in 2022 that hadn't been budgeted."
Kingston police have also been handing out pamphlets to students and fines in that city are set to reach $2,000 for the most severe forms of law-breaking.
The over-the-top social events have not only put an added burden on emergency services and city budgets in university communities, they have outraged other neighbourhood residents.
The Ottawa's bylaw services recently joined with the Ottawa Police Service in hosting a booth at Carleton University to discuss safe alternates to celebrate the occasion.
This came after Carleton issued information to students by email on how to practice safe substance use leading up to the March 17 weekend celebration, including a link to a document outlining Canada's new guide to weekly alcohol consumption.
The new guidelines suggest individuals should not drink more than two alcoholic beverages per week. It acknowledges that many people "save up" their weekly consumption allowances and "binge drink" during one occasion, such as St. Patrick's Day, which is worse and makes one more susceptible to health and social problems.
In the information distributed in Sandy Hill before March 17, the Ottawa Police's tagline for the weekend events reads: "Please don't invite us to the party!"
---
More Stories