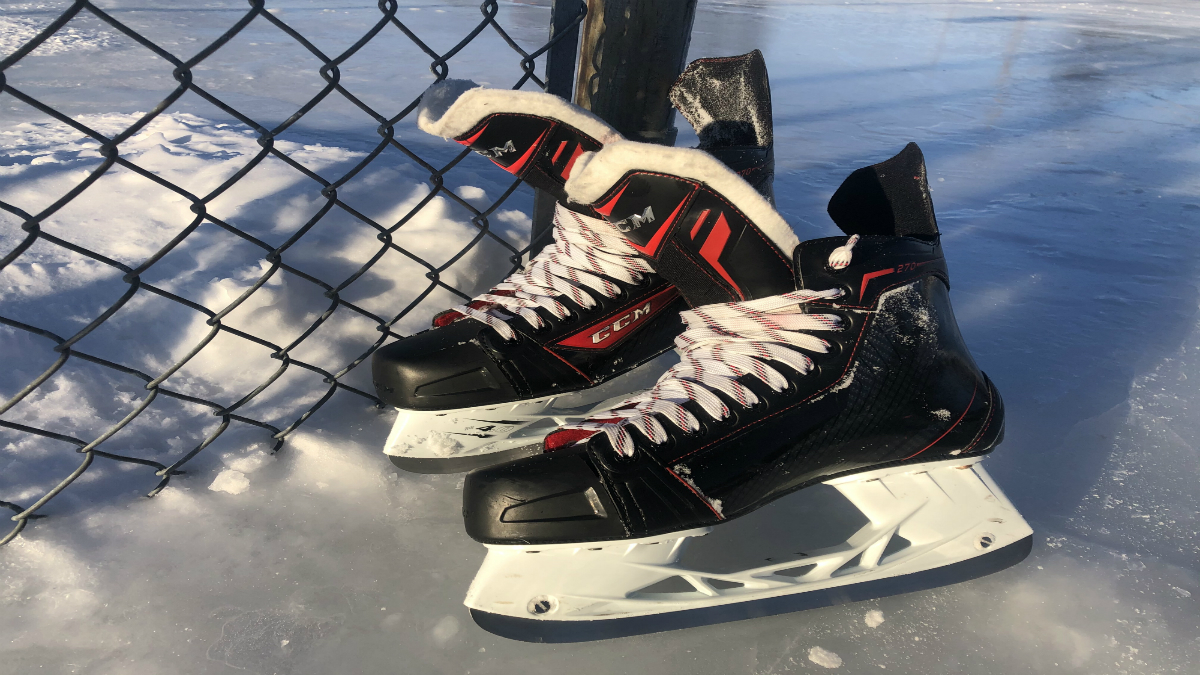 This winter has been a nightmare for outdoor rinks in Ottawa, says one rink operator in South Keys.
Marc Sarazin, a retired high school teacher, has operated the outdoor rink at Pushman Park on Albion Road near Bank and Hunt Club for the last three years. He says this season has been more problematic than usual for the ice surface.
"It snows, it's cold, it gets milder," Sarazin said. "This is a very different winter because we don't know what to expect."
The rink finally opened on Jan. 20, but Sarazin says he'd never seen the main rink out of commission so late into the season.
"This is very late now," said Sarazin. He added that the closing date for his rink is Feb. 28, which leaves just more than a month for skaters.
Sarazin said the first step towards a skateable ice surface is establishing solid base ice, but this year, the start date was delayed.
"We had to restart the base ice three times," he added, referring to the amount of slush that must be in place as a base before flooding of a smooth skating surface can begin. Skaters aren't allowed on the ice while this flooding process happens.
"This year, because of inclement weather, the city was delayed in asking operators to start the base ice," said Dan Chenier, the General Manager of Recreation, Cultural and Facility Services for the City of Ottawa.
According to Chenier, rink operators typically start the base ice on Dec. 15, but this year the request was first delayed until Dec. 27, then once more until Jan. 7.
The City of Ottawa has also asked that the public stay off the rink surfaces during milder weather to avoid damaging the ice.
Despite the advisory from the city, Blaine Miner was out carving up the ice at Pushman recently with his 13-year-old son, Jordan.
Miner and his family are visiting from Brisbane, Australia, and although Pushman Park's main rink wasn't officially open at the time, Miner said his son loves hockey, so he wanted to get out for a quick weekend skate.
"(Jordan) only saw snow probably four years ago," said Miner. "But he took to it immediately, he loves it."
Miner grew up in the South Keys neighbourhood and he said his family visits Ottawa every two or three years, normally during the winter. As a kid, Miner said he spent lots of time at the Pushman Park rink.
"Up until going to Australia 25 years ago, this was the local rink," said Miner. "It's always been a good rink compared to the other ones in the area too."
While the rink has now officially opened, Sarazin said he's still concerned the Pushman Park ice surface might not be in good condition going forward because of continued inclement weather.
"We have a carnival here on Family Day, so let's hope the ice is good," said Sarazin.
The Winterfest event kicks off on Feb. 17 and is hosted by the South Keys Greenboro Community Association. The carnival features sleigh rides, an open fire, hot refreshments and entertainment, according to the association's website.
Sarazin said the ice rink is a big attraction at the event, so it would be unfortunate if people aren't able to skate during Winterfest.
"It would be terrible, mostly for the kids," Sarazin said.
According to Sarazin, last year's event had around 300 attendees, a lot of them being families with small children.
In the end, Sarazin said the delayed start for outdoor rinks in Ottawa was frustrating because the weather has taken the situation out of his hands.
"It could be a long winter without rinks," Sarazin added.