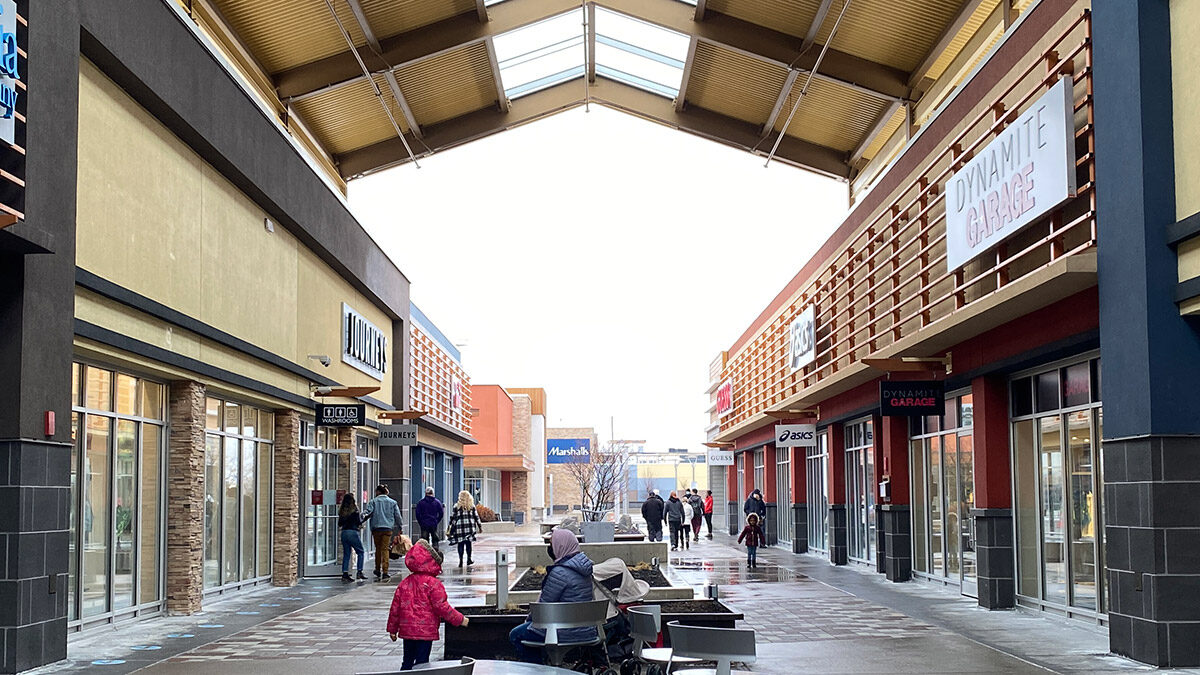 A few weeks after the Ontario government lifted mask mandates in most indoor environments retailers and shoppers are adapting to an uncovered world. Starting March 21, face coverings are no longer required in many places across the province, including restaurants, gyms, grocery stores and retail malls.
The new guidelines followed the cancellation of proof of vaccination requirements and capacity limits in indoor settings.
Ontario continues to take steps to ease public health measures despite a significant increase in COVID-19 cases in the sixth wave of infection which has begun since masking restrictions lifted.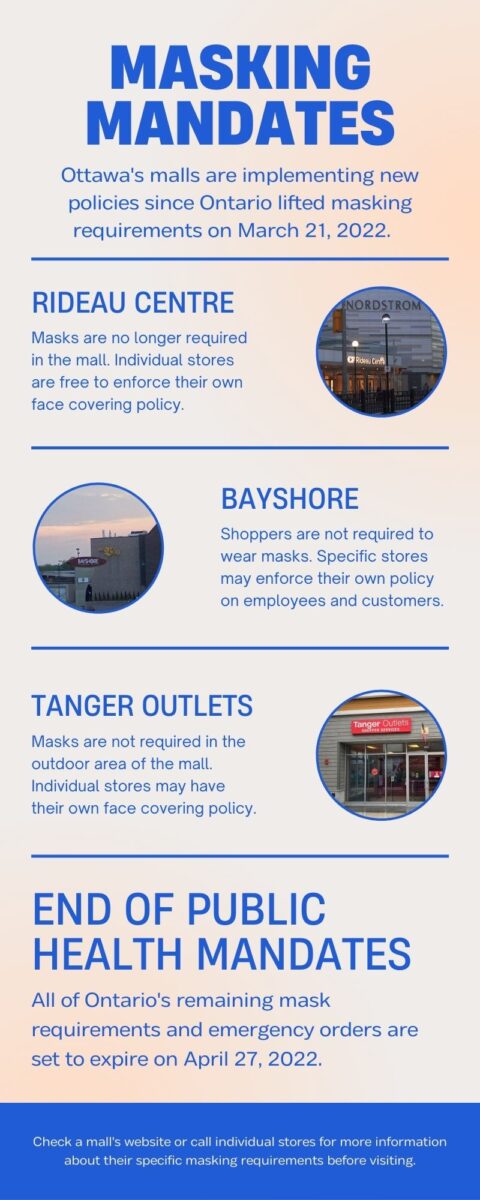 Individual businesses and organizations are able to implement their own masking rules.
In most cases, wearing a face covering is a personal choice for shoppers. Some stores, however, still require masks.
Face coverings are no longer mandatory when entering the Rideau Centre, but masking rules in each store vary.
Brian O'Hoski, general manager of CF Rideau Centre, said the mall hasn't changed much since implementing the province's new public health guidelines.
"It's too early to tell if the mask mandate removal will have an effect on business," he said. "But I have noticed that most customers are still wearing their masks."
Nathan Oram, a Nepean resident west of Ottawa's core, has been consistently visiting the Rideau Centre throughout the pandemic. He said he plans to visit more often now that masks are no longer required.
"I'm really excited," Oram said. "I think this was a long time coming and it's a really good thing that we're moving in this direction."
Oram said he's OK with wearing a mask in specific Rideau Centre stores that still require it.
"I'll probably tend to go to places where I don't have to do it," he said. "But it's not such a big deal where I'll storm out and go, 'Oh my God, how dare you!'"
Glebe resident Karrington Gordon has only visited the Rideau Centre a handful of times since the pandemic began.
"I'll go when I need to, but I won't go for leisure anymore," she said.
Gordon visited the downtown mall on March 22 for the first time since contracting COVID-19 in December.
"I'm still going to wear a mask," she said. "Part of me is quite afraid of getting sick again."
Rideau Centre is not the only mall in Ottawa to follow the province's mask mandate removal. A guest services representative for Bayshore Shopping Centre said visitors will no longer be required to wear face coverings at that west-end mall.
As with the Rideau Centre, individual Bayshore stores can choose whether to enforce their own mask policy on employees or customers.
Likewise, stores in Kanata's Tanger Outlets mall are free to implement their own mask mandates until the shopping centre's management comes to a consensus. A Tanger Outlets shopper services representative said shortly after the lifting of the mask mandate that the individual store policy approach is subject to change.
Brooklyn Bell, manager of Puma at Tanger Outlets, said masks will no longer be required in her store.
Bell said she has noticed a decline in business during the pandemic, but is unsure how the lifting of the province's mask mandate will affect sales.
"I think now that it's more of a choice for people, it's going to bring back our costumer base," she said. "If numbers start rising — like case numbers and people getting sick — then I could see a drop in our customer base again. So it's very fifty-fifty."
All remaining mask requirements and emergency orders in Ontario are set to expire on April 27.
In the meantime, masks will still be required in certain environments such as on public transportation, in health care settings and in long-term care homes.
Meanwhile, amid signs of a possible sixth wave of COVID-19 in the province, public health experts and mall patrons alike wait for further data to see if scrapping mask mandates was the right move for the province.
---
More Stories