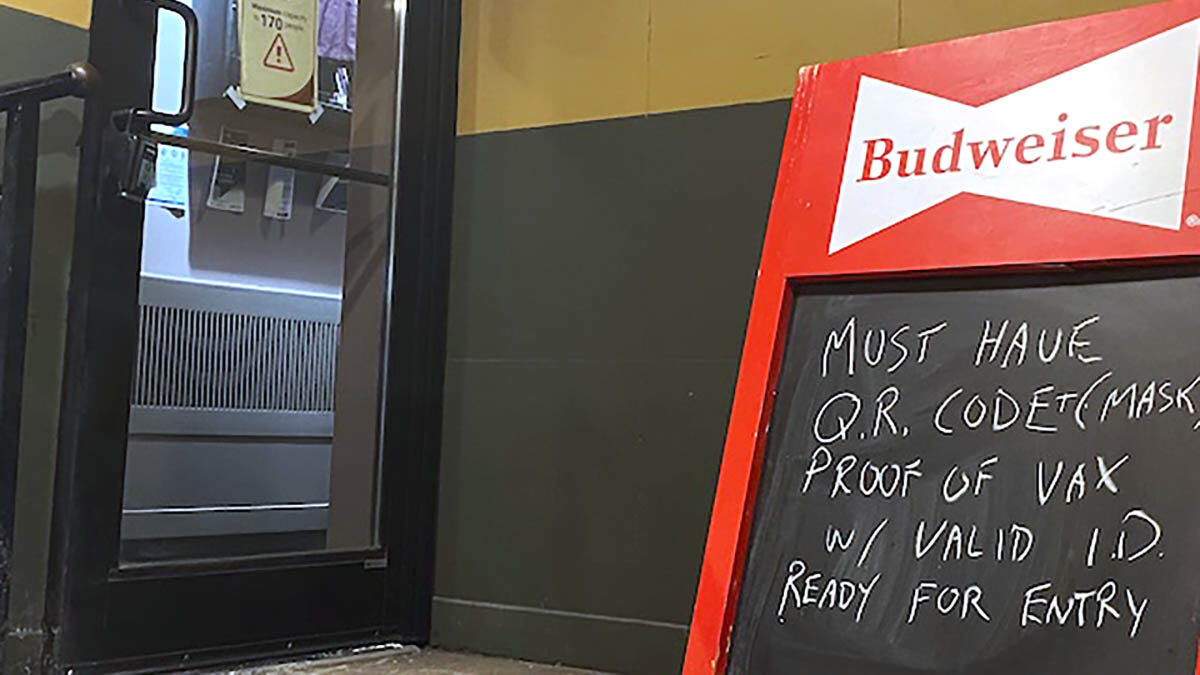 Ontario Premier Doug Ford announced Monday that the use of vaccine passports will end in the province on March 1.
The announcement, which is one of the main demands of protesters who have occupied Ottawa's downtown for three weeks and blockaded the key trade route over the Ambassador Bridge, was part of a speeding up of the lifting of pandemic restrictions.
These other restrictions will come into effect on Feb. 17. This brings forward the reopening by four days. On Thursday, all capacity limits in restaurants, bars, cinemas and gyms will end. Indoor gatherings will now be up to 50 people, with no limit outdoors. Capacity limits at sports arenas, concert venues and theatres meanwhile will be capped at 50 per cent.
One caveat on vaccine passports: businesses may "choose to require proof of vaccination," Ford said in a media release. And Ontario's long-term care facilities will keep these restrictions in place.
Ford told a press conference announcing the changes that the removal of these public health measures has "always been our objective." Chief Medical Officer of Health Dr. Kieran Moore said proof of vaccination has "served its purpose."
The president and CEO of the Ontario Chamber of Commerce, Rocco Rossi called the announcement "positive news" in a media release.
The vaccine passport system was implemented in September. It required all Ontarians or visitors to the province, to show proof they had received at least two doses of a COVID-19 vaccine along with government-issued identification. Ontario's long-term care facilities will still be keeping these restrictions in place.
The provincial mask mandate will remain in effect with no end date in sight.
"The lifting of the vaccine passport mandate is worrying to me," said Caroline Workman, a third-year student at Carleton University. "I think it's a good idea in theory, but I'm worried cases will spike if these mandates get dropped early." The 21 year said that despite her anxiety, her social habits will not change. "As a fully vaccinated person, I feel comfortable going out regardless of restrictions, but I know others may have opposing views."
Ontario has experienced some of the strictest COVID-19 regulations in the world, so many individuals and businesses are excited to feel some sense of normalcy.
Ford cautioned people that "it is important to stay vigilant, as we don't want to cause any further disruption to people's everyday lives. We must continue to prevent the transmission of COVID-19 in our communities by following the measures in place and by vaccinating those who have not yet received their doses."
Individuals aged 18 and over are eligible to receive a third dose of the COVID-19 vaccine, and Ford plans to increase this eligibility to individuals 12-17, starting on Feb. 18.
Ford said that his decision was difficult but "absolutely necessary," for the wellbeing of the province.
"We're moving in this direction because it's safe to do so," Ford said.
This move follows Alberta, Saskatchewan and Manitoba dropped their provincial vaccine passports.
Ford rejected the idea that he bent to the demands of protesters. He instead urged Ontarians to look at this measure as a hopeful sign that public health efforts have begun to pay off.
"I can still take comfort in knowing that there remains so much that unites us. There's so much that still holds us together. And I take comfort in knowing that this awful pandemic will soon be behind us," he said.
---
More Stories