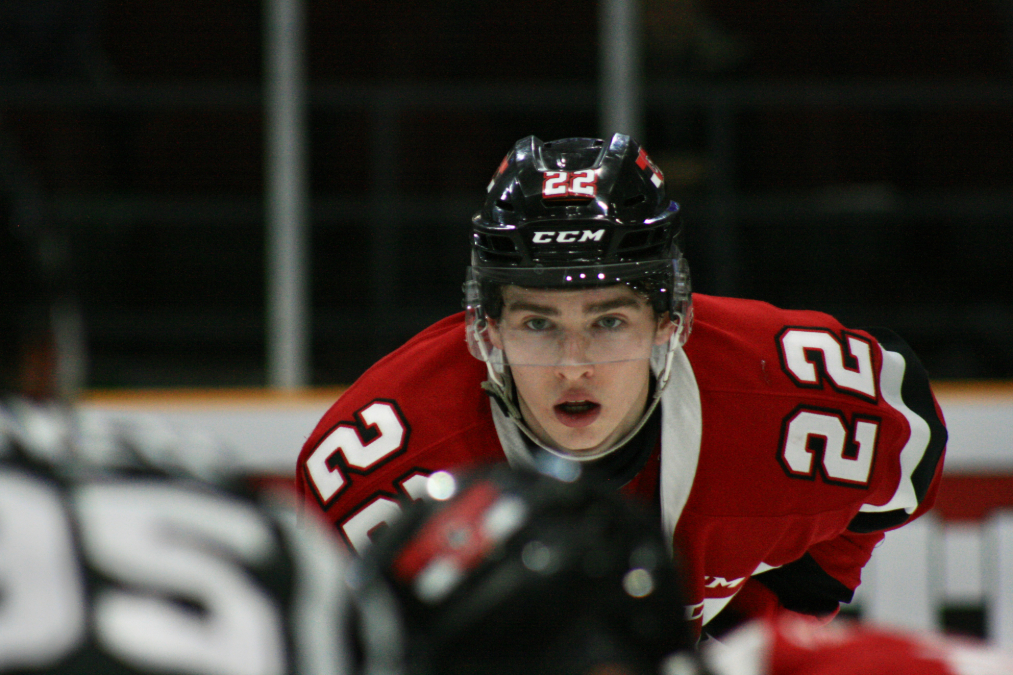 It didn't take long for things to start clicking for Ottawa 67's forward Jack Quinn at the start of the 2019-20 Ontario Hockey League season.
"I'd say four or five games," Quinn said, following a 9-1 victory in which he notched a goal and an assist to help the 67's capture their league-leading 50th win of the season.
It would be the last game of the season for the 67's, as the Canadian Hockey League — the governing body of major junior hockey in Canada — cancelled the rest of the regular season because of the COVID-19 pandemic. Just 11 days later, the playoffs and Memorial Cup tournament were abandoned as well.
Quinn however, had had enough time to boost his draft stock beforehand.
After posting just one goal and an assist through the team's first four games last fall, Quinn started to fill the stat sheet on a subsequent road trip through southwestern Ontario. The winger posted three goals and two assists during the next three games, showcasing his scoring prowess — a preview of what was to come from the 18-year-old.
Fast-forward five months — 61 games into the season — and the Ottawa Valley native became just the seventh player in 20 years to score 50 or more goals in the OHL during their draft year — a list including first-overall draft picks John Tavares, Steven Stamkos and Patrick Kane.
But, scoring 50 goals was just one highlight in the season that the draft-eligible sophomore put together.
Quinn has shot up the NHL draft rankings. In November, the NHL Central Scouting Bureau upgraded Quinn to an A-level prospect from a B-level prospect, a rating he had been given just one month earlier. In early March, NHL.com ranked him as the 12th-best player available for the 2020 draft. Quinn also competed in the Canadian Hockey League/NHL Top Prospects Game alongside 67's teammate Marco Rossi in January. Quinn notched a goal for Team Red — assisted by Rossi — before being named player of the game for his side.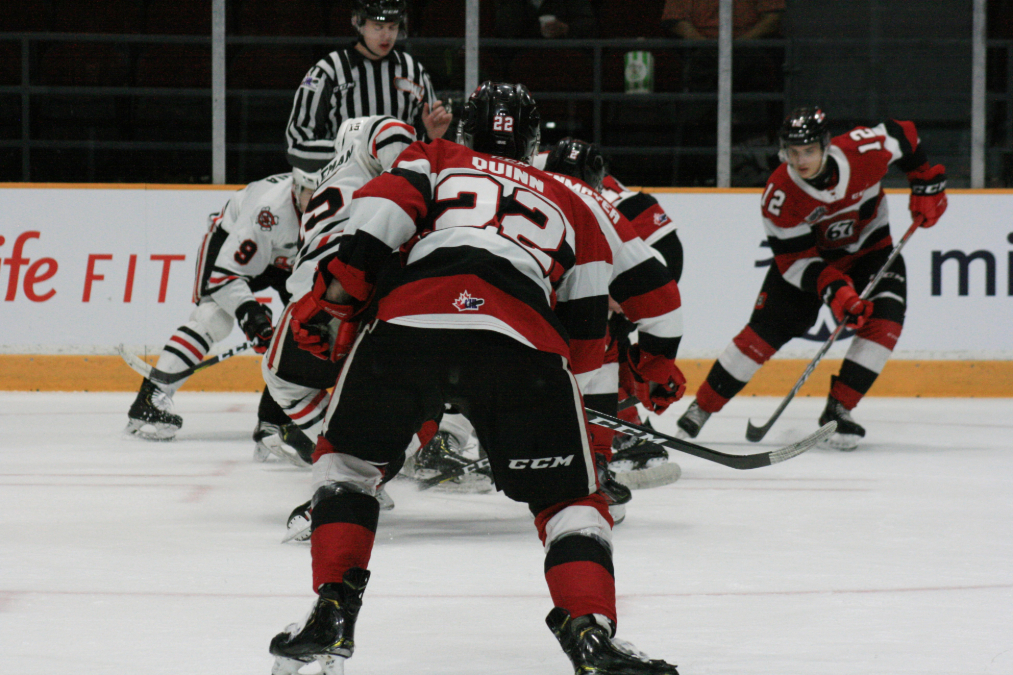 "He's a guy who will always play a lot because he does everything on the ice. He can skate, he can hit, he can get inside, he defends, he plays really well defensively, he can forecheck and backcheck," said 67's head coach André Tourigny. "And he's strong in his battles," Tourigny said. "He will play with a lot of good players so he will be a really successful guy I think, sky's the limit."
"For me he's a first-line player in the NHL in the future."
Quinn wasn't always a star for the 67's. He posted 32 points in 61 games in his rookie season, placing him ninth amongst forwards in point production on a team that finished first in the OHL regular season standings. He took it as a learning opportunity.
"I think just every year the older guys lead the younger guys and they did a great job of that," Quinn said. "I can't say too many specific things to put a finger on, but just little things and everyday showing up. There's no days off in this league and if you want to be a good scorer you can't take any nights off," he said.
Those lessons followed Quinn into the offseason, where he focused on improving his shot and finishing ability, as well as physical conditioning.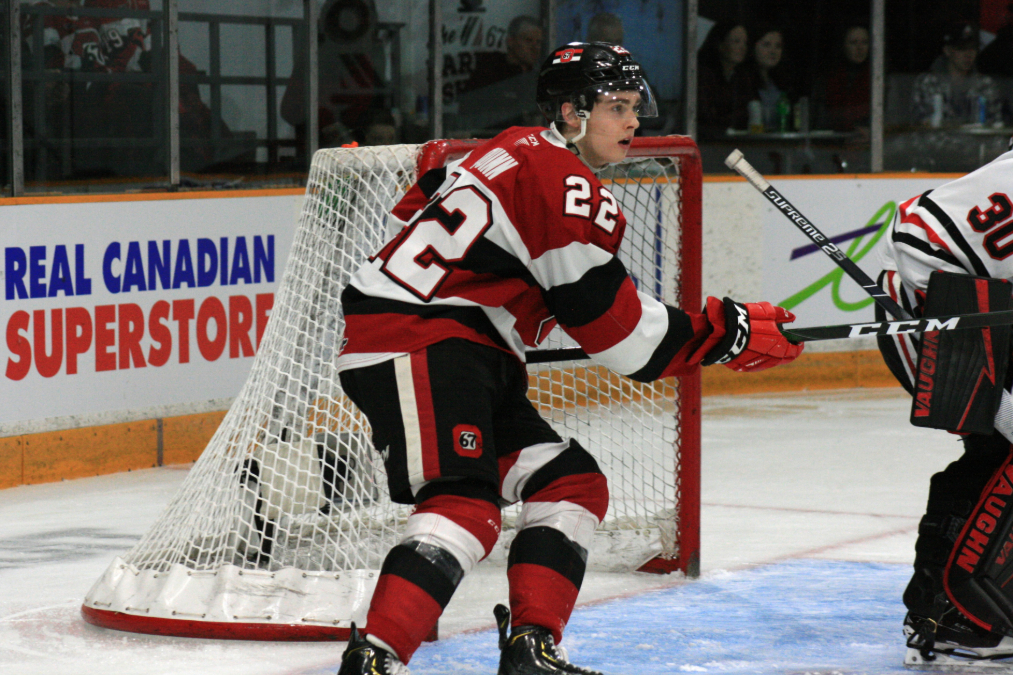 Getting to the net certainly paid off for Quinn, who consistently was among the OHL leaders in goals throughout the season. Tourigny noted that along with getting to the dirty areas, he saw an overall change in Quinn's playing style.
"Last year his mindset was every time he had the puck, he didn't want to make a play, he had more of a pass-first mentality. I think he changed that this year to have a shooting, go at the net, and get in the dirty areas [mentality]."
"And with the skill he has and the scoring touch he has, it translates by a lot of goals," he said.
The 67's needed the goals after losing their four-highest point-producing players from the 2019 playoffs ahead of this season. Tourigny said that he knew Quinn would be someone he would have to rely on if his team were to contend for the OHL championship once again.
Close to home
Stacey McGregor, on-ice Instructor for the Hockey Canada Skills Academy and head coach for the varsity boy's hockey team at St. Joseph's High School — a joint program in Renfrew, ON — had the opportunity to work with Quinn during his early high school years.
"Jack was very coachable," he said "He was very receptive to trying new things and to working on inefficiencies. If Jack found something that he was being challenged with … you would see him later on trying to work on it."
But Quinn's contributions at the high school went beyond what he did for his team on the ice. McGregor — who is also a math teacher at St. Joseph's — often saw Quinn working with his peers, helping them become the best versions of themselves.
"I would run a hockey school in the summertime, Jack would come out and volunteer. He came back to the hockey program to skate with the new kids, I think it was last year, at Christmas time. He just asked if he could come out to the hockey program and go for a skate with the students that were in it," McGregor said. "In school last year he came back and worked in my math class," he said. "He volunteered as a peer helper there. Just aside from the hockey, he was so dependable in the classroom. If a kid was struggling, he would go over and try to help that kid."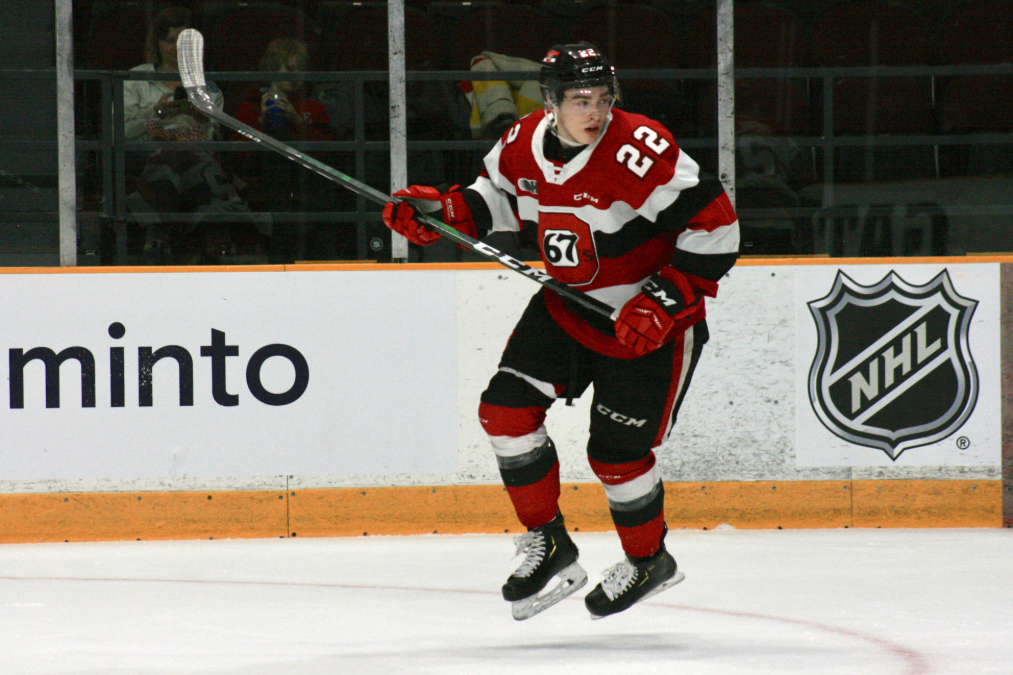 Playing for the 67's has been a natural fit for Quinn who hails from nearby Cobden — just over an hour away from downtown Ottawa — allowing him to keep friends and family close by. "It's really special to be that close to home and have my parents here all the time and not too far from them, and friends too," he said.
And while Quinn is quiet, it didn't stop him from becoming a leader in the 67's locker room. "He's really smart, he's not a guy who will talk just to talk," said Tourigny. "When he talks, he has a meaning, a sense of what he's saying and he's really, really smart, so he brings a lot in terms of leadership to our team."
Although Quinn won't have the opportunity to compete for any championships this season, he may well be back in the OHL next year. If the team that selects him in the NHL draft elects to send him back to major junior for 2020-21, Quinn will once again work towards bringing a title to Ottawa.
"Being able to have the chance to try to win and bring that back would be that much more special, knowing that the fans are so close to home," Quinn said.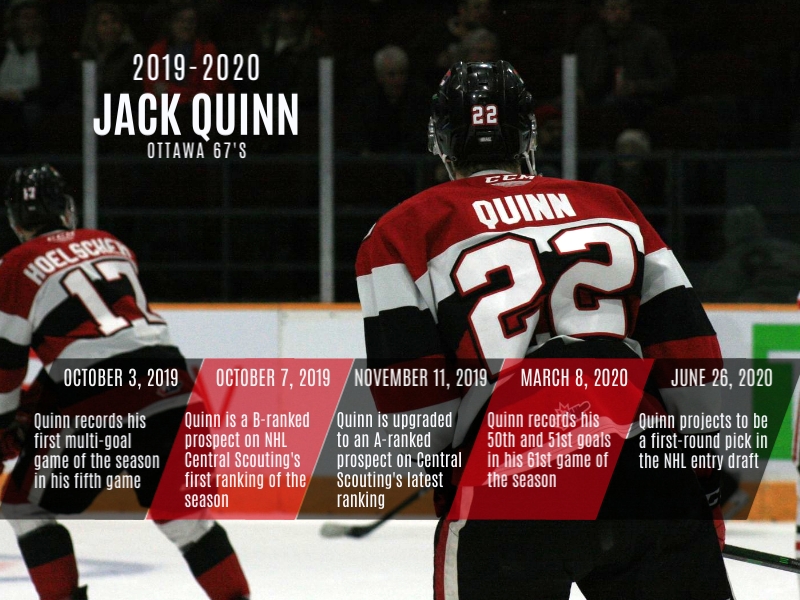 ---
More Stories