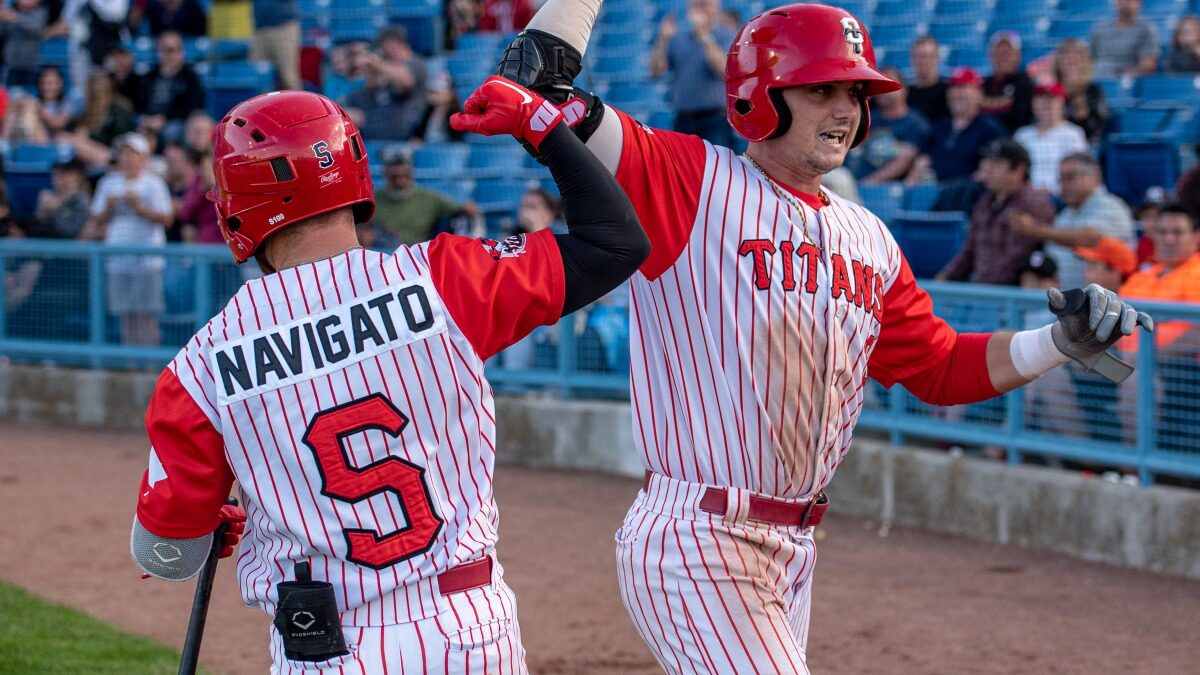 Since May 17, Jacob Sanford has been laying low.
The one-time top draft pick of the New York Yankees was released by his former team for allegedly stealing equipment from teammates and selling it online. Since signing with the Ottawa Titans nearly a month ago, the 24-year-old has kept a quiet profile.
He hasn't done interviews. He's kept off social media. But at Ottawa Stadium on Saturday, everyone knew his name.
Sanford hit two home runs, a bases-clearing triple and an RBI single in a performance the likes of which have almost never been seen in Frontier League history. Sanford collected 10 RBI, tying the all-time record and becoming only the second player in the 30-year history of the league to do so.
The Titans defeated the league-worst Empire State Greys 13-0 to extend their winning streak to nine games. But on a night when all eyes were on Sanford — as they were a month ago, when he was making international headlines — the score was almost an afterthought.
Sanford could have had more, too. His triple in the eighth was only feet away from clearing the outfield wall in right centre field. The grand slam would have given him 11 RBI on the night and a new league record.
"I gotta get a couple extra push-ups next time," Sanford joked.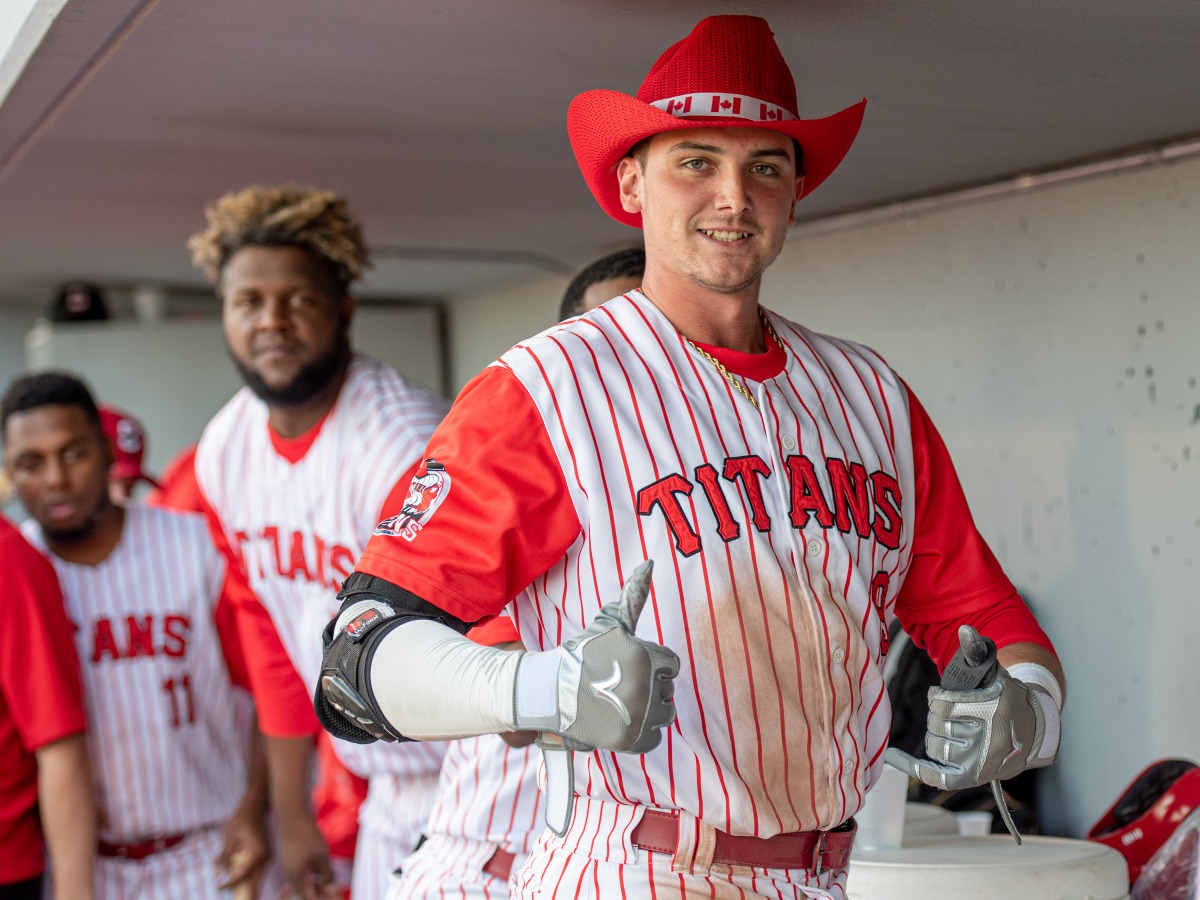 Sanford said he once hit three home runs and collected 13 RBI in a game in college, but Saturday's game was a close second on his list of career performances.
"It's pretty awesome," Sanford said. "I just like to get out there and win the ball game for the boys. We just want to keep winning, keep this hot streak going and make it to the playoffs."
The right fielder is hitting .350 with 26 RBI — good for third in the league. He's also third in slugging percentage at .750.
It's all part of Sanford's search for redemption. He says he's trying to put what happened behind him and Saturday is a "pretty big step" towards doing that.
"I feel fans and stuff chirping, but you gotta block that stuff out," Sanford said. "You just gotta be ready to play your game and take your at-bats all the same and everything."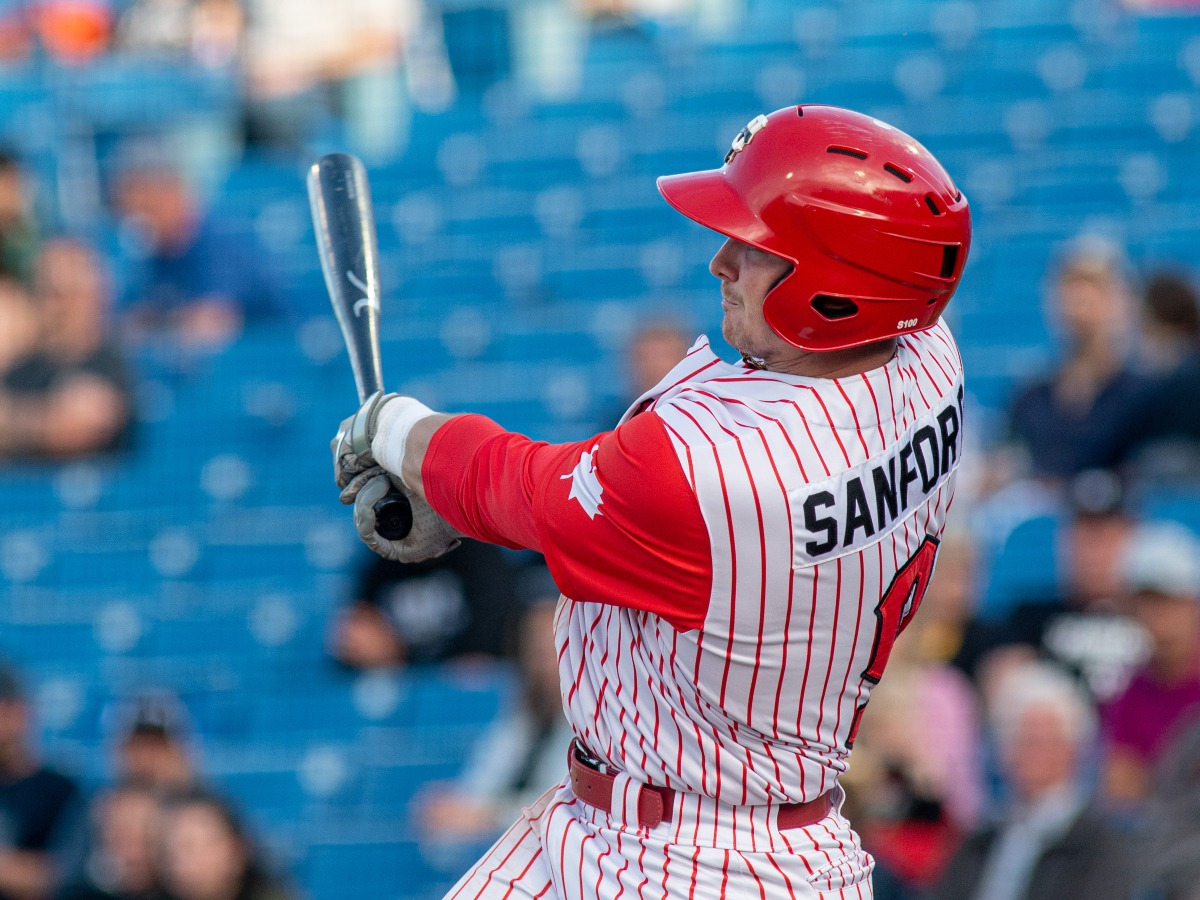 For the Titans, the good times keep rolling. Now officially past the quarter mark of the 96-game season, Ottawa is on pace for 72 wins and 24 losses. The Greys, who will conclude their three-game set against the Titans on Sunday, have already lost 25 straight games.
Empire State, a travelling club formed by the league to replace a team that folded before the season, has yet to win a game and is proving to be easy competition for Ottawa — although the Greys nearly pulled out an improbable comeback in the ninth inning of Friday's game.
They didn't have the same luck against Sanford and the Titans on Saturday. Ottawa's Neil Lang pitched 5.2 innings and allowed just four baserunners, while opener Gavin Sonnier and the rest of the bullpen combined to pitch 3.1 innings of two-hit ball.
Offensively, the three runs not scored by Sanford came from AJ Wright, who dashed home on an error in the seventh inning, and Jason Dicochea, who doubled in the eighth.
But the story of Saturday is all Sanford — how a Yankees prospect turned indie ballplayer is trying to earn a second chance with his bat, one 10 RBI game at a time.
"If he did that every day, he'd have 2,000 RBI," manager Bobby Brown said.
---
More Stories