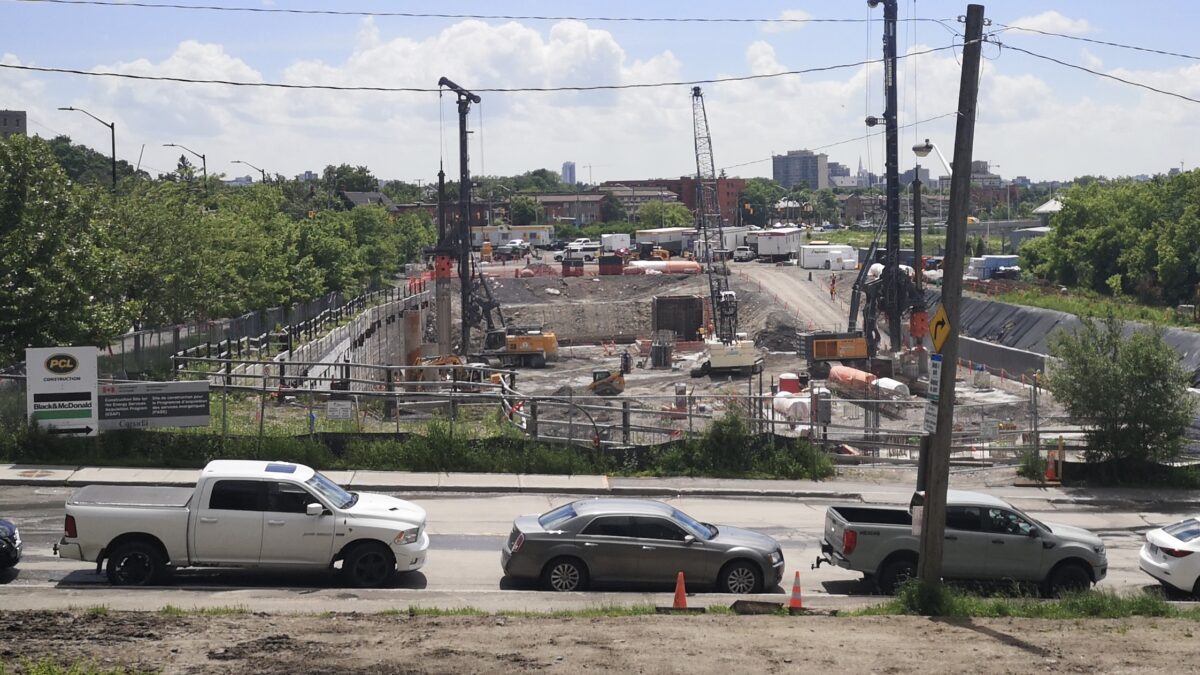 There's a huge hole in the ground near the intersection of Bronson Avenue and Albert Street at the eastern edge of LeBreton Flats. The hollowed-out land lies within a sprawling construction site the size of three football fields.
Along the north side, dump trucks climb a ramp of dirt, removing mounds of earth. Elsewhere, the dust of excavation and noise of drilling fill the air – early signs of one of Ottawa's signature public works projects taking shape.
Ādisōke Library – the name is derived from the Anishinābemowin word for the "telling of stories" – is a partnership between the Ottawa Public Library and Library and Archives Canada (LAC).
Promised for two decades, a much-anticipated solution to the city's cramped and uninspiring main library branch on Metcalfe Street, the showcase facility is under construction after years of delays and a labour dispute in May that briefly halted excavation and other preliminary work. A three-year agreement, which notably provides a total wage increase of $9 per hour from 2022 to 2025, was ratified by members of the International Union of Operating Engineers, members on May 20, ending just the third strike by the union in 25 years. 
What's taking shape along the north side of Albert west of Bronson was initially slammed by some as a big mistake. Critics including Somerset Coun. Catherine McKenney — who cast the lone vote at city council in 2017 against the proposed location — and "Bookmark the Core" proponent Emilie Taman pleaded with city and federal officials not to erect the new community landmark so far west of downtown.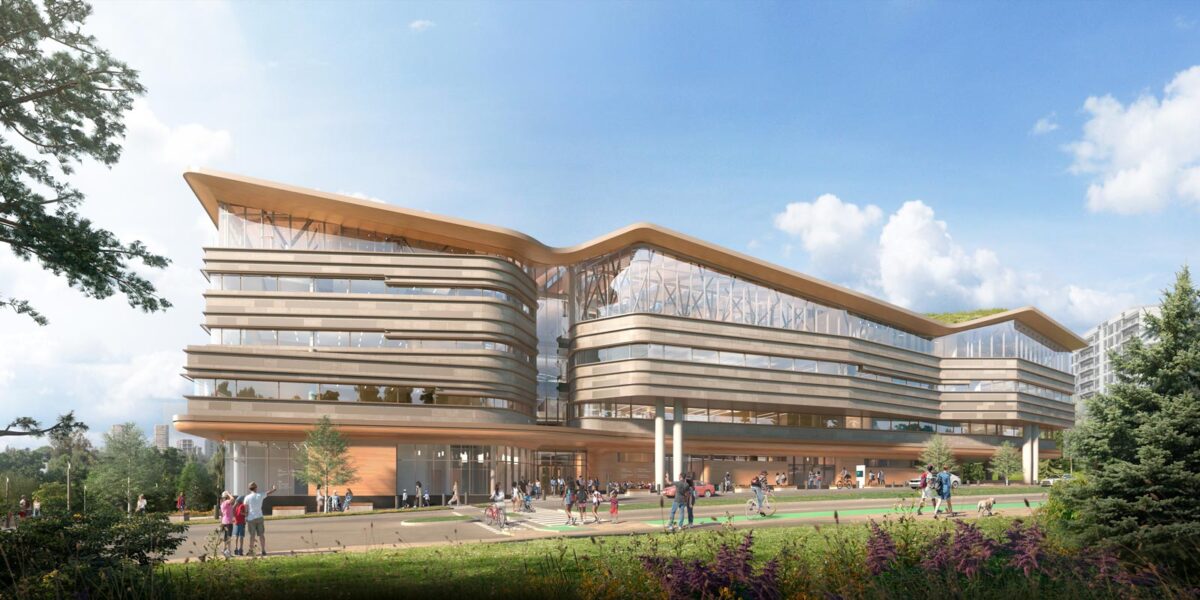 But proponents say the library site just east of the Pimisi LRT station and immediately south of a growing condo community — the first wave of new homes in a massive, multi-phase residential-commercial-institutional development planned for LeBreton Flats by the National Capital Commission — is part of a westward shift of the city's centre of gravity.
Ādisōke, says OPL project manager Craig Ginther, will be an "anchor" and "catalyst" for the development of the Flats for decades to come.
Since the first announcement of a planned new central library for the city in 2012, it has been expected to be one of Ottawa's main architectural attractions. It has been favourably compared to the prestigious new central libraries in Calgary and Montreal. But there have been challenges.
Over the years, the planned size, location and design of the project have drawn scorching criticism from some experts and local residents. Still, its supporters are confident that the library will be a great success when it opens (at least a year later than originally expected) in 2026.
"I think each library is really informed by its community. … And when you bring in an institution like ours, that's both a national library and a national archive, that will create a unique experience," says Leslie Weir, the head of LAC as Canada's chief librarian and archivist.
Located at 395 Wellington St., LAC was a gift to Canada in 1967. The institution is primarily a research library and mostly attracts historians and other scholars. However, Weir says she's looking forward to the expanded opportunities provided by the new library to engage with Canadians, especially youth and newcomers to the country.
"We're probably going to go from about 30,000 visitors a year to maybe 1.5 million visitors coming into the new building," she explained excitedly.
With more than two million books and thousands of maps, films and pages of sheet music, fitting all of the LAC's archives into one building is impossible. Instead, Weir says LAC will rotate collections annually in special exhibits.
Although OPL and LAC are to have their own areas in the building, they will also combine resources to create shared spaces.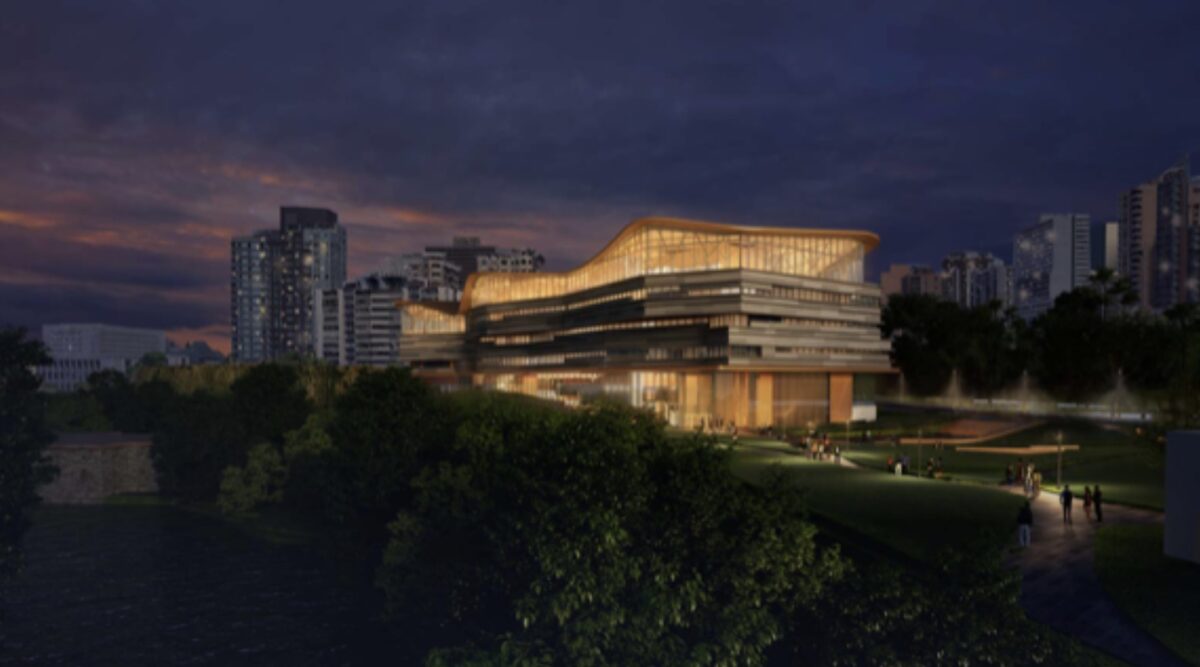 The building is to be about 216,000 square feet and the LAC will occupy a little less than half of the space. That places the plan into perspective.
Calgary's new facility has some 240,000 square feet dedicated to the city's public library needs. Montreal's La Grande Bibliothèque is on a similar scale.
Considering both OPL and LAC are contributing to the new space and sharing the square footage, some feel the collaboration was the City of Ottawa's way of attempting to get more bang for local taxpayers.
"This is the bottom line: public buildings cost money, and you get what you pay for," architecture critic Alex Bozikovic wrote in 2018. "Ottawa, under Mayor Jim Watson, has taken a cheapskate attitude towards its public places."
Considering the design relies on high quality materials and fine detailing to achieve the desired look, Bozikovic said he strongly suspects the architecture of the building will not be as appealing as artists' renderings suggest.
He remains skeptical four years after his original criticisms. Bozikovic also reiterates two factors he believes will continue to undermine the library's potential: Canada's tendency to "build cheap and maintain expensive," as well as the project's location.
"Mockups of the building … reveal what looks like an IKEA on steroids," argued freelance journalist Tracy Lindeman in an April Ottawa Magazine article about the project. She called Ādisōke "a melamine monument to a broken procurement process where the lowest price is the law."
In a January essay in The Walrus titled 'Why is Canadian architecture so bad?', Lindeman attributes what she sees as widespread failure to choosing the bare minimum to make a building functional, rather than spending more for originality.
"We have become so devoted to frugality and bureaucracy … that we have lost the fortitude to take and demand risks, even if the outcome could be the most beautiful thing we've ever seen," she argued.
After looking Ādisōke's architectural renderings, Peter Coffman, a Carleton University professor of history and theory of architecture, said that whatever the library's apparent attractiveness, it all comes down to execution.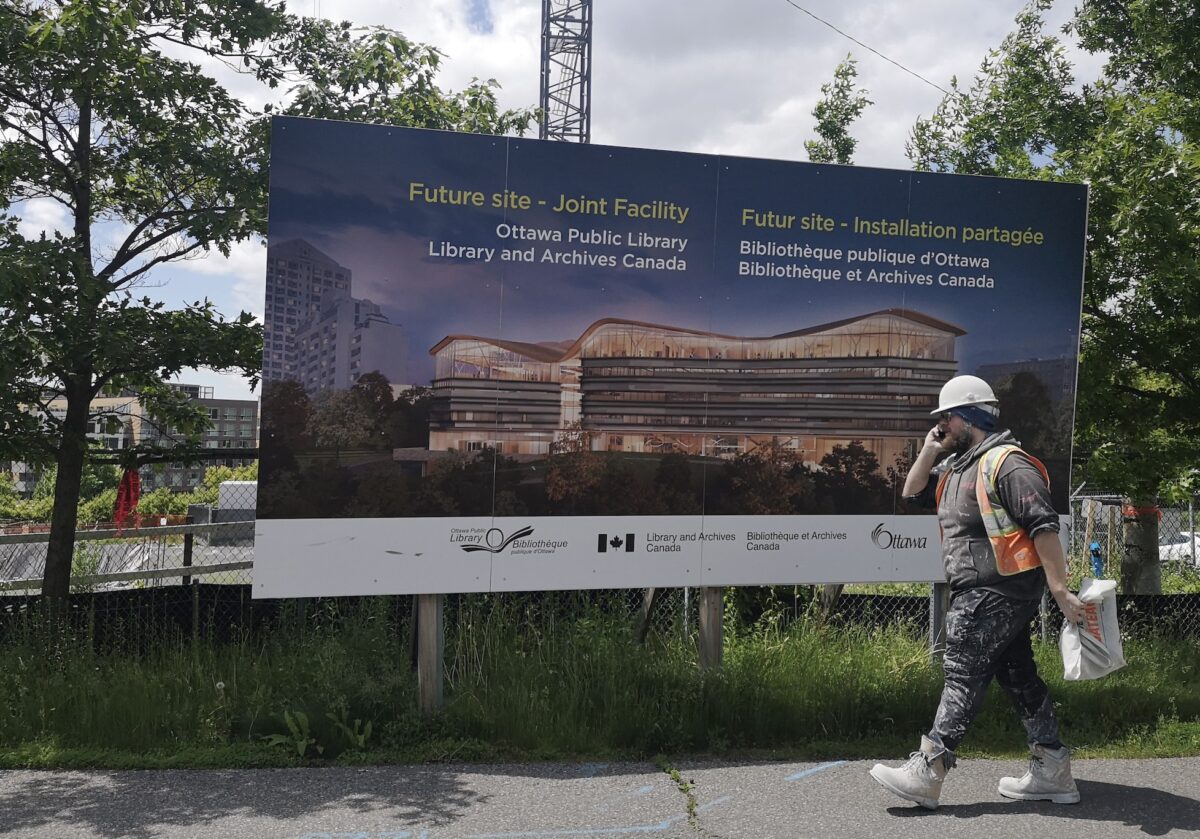 "That's always a bit scary because execution is always expensive," he said. "Whereas lousy execution is cheaper."
Coffman agrees that Canada's architectural downfall comes from the practice of looking for the cheapest thing to satisfy the job. If we add in that Canadians are often not willing to pay for quality, Coffman says the result is always a hefty cost anyway — "the LRT is a great example," he adds with a laugh.
"If I wanted to go out and buy a car, I wouldn't go out and buy the cheapest car on the market," he says. "I would buy the best car I could afford.
At first, the city-run OPL and federal LAC estimated Ādisōke would cost $175 million. However, pandemic supply chains and soaring construction costs have pushed the estimated total up to $334 million — essentially doubling the original estimate.
Bozikovic said he remains concerned the library will not live up to the prestigious architecture of other Canadian libraries, such as Calgary's.
Unlike in Ottawa, Calgary challenged architects to create a bold vision in a design competition. The result was an award-winning library in the city's East Village. It's a gem that, for a price of $245 million, has been recognized in Architectural Digest.
When looking at the architectural firms involved in the Ottawa project, Bozikovic said he was surprised to see Diamond and Schmitt of Toronto, as well as KWC Architects of Ottawa. He said Diamond and Schmitt are "known for being decidedly unflashy."
"If Ottawa Public Library wants an 'iconic' building, they've chosen the least likely candidates," he argues.
Ginther disagrees.
"This is not some Johnny-come-lately architecture firm," says Ginther, manager of the Ādisōke project since 2018. "They are internationally recognized and awarded."
By the time Ginther moved into his current role, the library had been approved by OPL and city council. With construction underway, Ginther serves as OPL's primary representative to oversee internal operations of the building, as well as its design elements.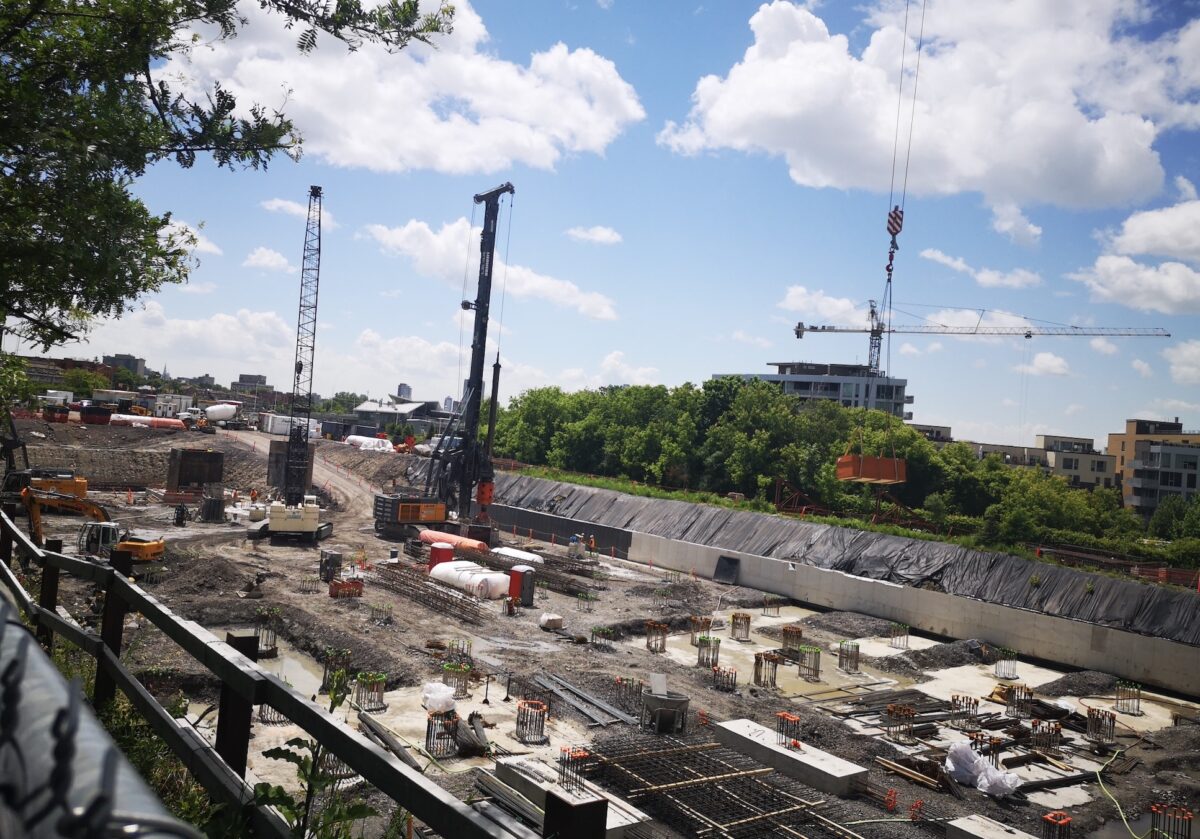 Ginther says the decision not to hold a design competition was intentional. Although there are benefits, one runs the risk of having a building that prioritizes form over function. That's an issue that he says persists in Calgary.
"It's a beautiful building, but functionally it can be challenging," he says. "It's not the most user-friendly."
Calgary has run into accessibility issues since its grand opening in November 2018 including a lack of handrails, as well as the requirement for visitors with wheelchairs and mobility issues to use the back door instead of the main entrance.
As a result, the Ottawa Public Library Board took a different approach. It initiated a consultation process Ginther refers to as a project being "co-created" with the community.
Greg McCluskie, principal architect from Diamond and Schmitt, said he found the community consultation and collaboration with Indigenous representatives to be a fascinating way to design the library.
McCluskie says common themes generated by public participants, as well as both OPL and LAC, became foundational ideas that were woven throughout the design.
"We did four series of meetings," he explains. "Each (series) was three meetings, with a couple hundred people at every one. The opportunities for reading rooms and access to spaces high enough in the building were common themes. After all, it's a pretty amazing location."
Despite the views being one of the selling points, the location remains a concern to some. There was a strong push to place Ādisōke in the heart of downtown Ottawa. Instead, it ended up a considerable way to the west at LeBreton Flats – a still-undeveloped neighbourhood not traditionally viewed as part of the downtown core.
Insisting LeBreton Flats sits on the edge of downtown, Ginther says the plan was to extend the idea of "what is considered downtown Ottawa," into the Flats.
When considering sites for grand projects, Ginther says there's a practice of "putting something where people are going to go, and things will start popping up around it." It's a strategy many cities have used to increase economic activity, and Calgary was no exception.
Ginther says the area where the Calgary Central Library was built was nothing more than a wasteland on the eastern edge of that city's downtown core. It wasn't until the library was completed that condos and other mixed-use developments started popping up.
Now, it's LeBreton's turn, he says.
"With respect to LeBreton, we're seeing them starting to take off," he explained. "But this library is being an anchor, a catalyst, for future development in that area."
The National Capital Commission is expected to make further announcements this year about other major developments in the area.
However, Bozikovic maintains that the location selected for Ādisōke is a mistake. He says the facility will be isolated from the street life of downtown Ottawa for years — a huge problem for a public building.
Although Coffman shares this concern, he admits that sometimes you have to take the risk.
"Wayne Gretzky always used to say, 'I don't skate to where the puck is, I skate to where the puck is going to be,' and I think that's what they've done with this library," he says.
David Gordon, the director of the School of Urban and Regional Planning at Queen's University, served as an external expert on site evaluation for the project. Gordon not only confirmed Ginther's explanation, but says it's a common pattern that has been used in Calgary, Montreal, Vancouver and even Amsterdam.
When planning an expansion for any city, Gordon emphasized the importance of visualizing how the area will look in the future. For Ottawa, he said, the future includes stretching the downtown core from Preston Street — which ends at LeBreton Flats — to the Rideau Canal on the east side of the downtown core.
An expanded urban core couldn't happen to the north, because it would run into the Parliamentary precinct and the Ottawa River. On the east side, there's the Rideau Canal and existing residential areas.
All that was left was LeBreton Flats: a former residential community west of downtown, demolished in the 1960s as part of a controversial urban renewal project, which then sat undeveloped for decades as a large brownfield.
Gordon says he's confident the library will be a success — especially considering its proximity to the O Train's Confederation Line. Pimisi Station is only about a three-minute walk to the library.
However, the estimate is contentious. Lindeman, for instance, described the walk as seven minutes long in Ottawa Magazine. The distance between the library and LRT station was also highlighted by critics of the location five years ago.
An alternate solution would have been to run an LRT station directly into the library, similar to La Grande Bibliothèque in Montreal. Not only would this have guaranteed a set travel time between the station and the library, but it would have improved accessibility, as well.
But the ongoing construction near Albert and Bronson makes it clear that the time for considering alternative scenarios — or different locations — has passed. Ādisōke is rising.
---
More Stories