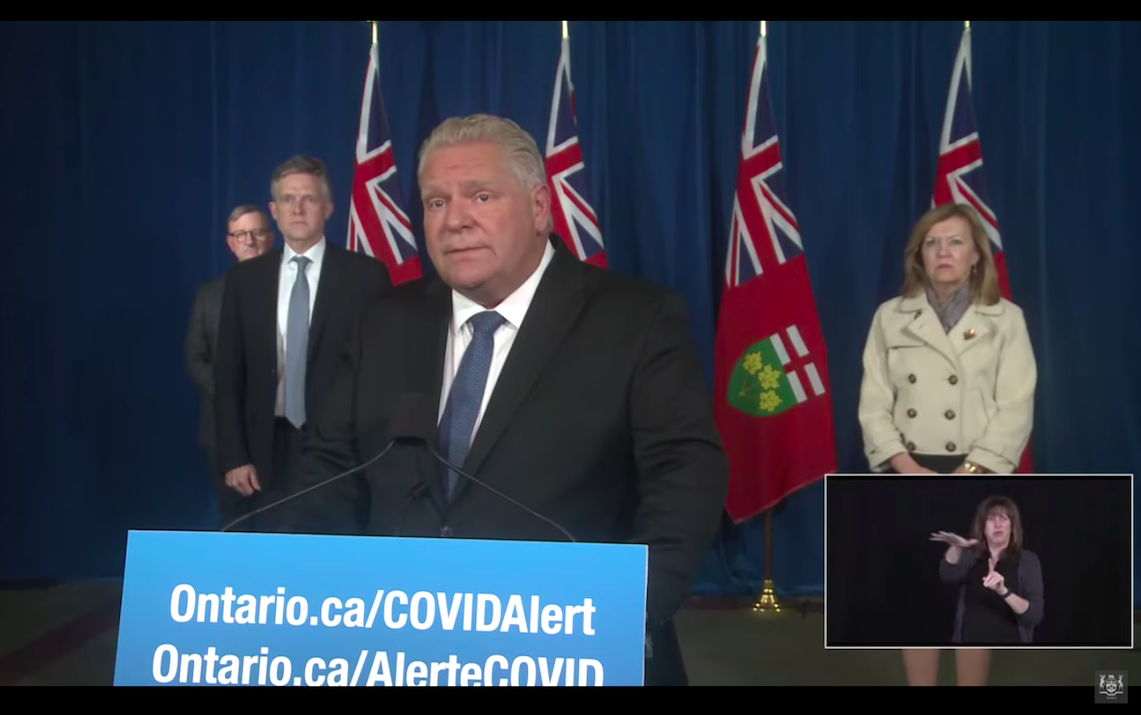 Ontario will move to Step 3 of reopening at 12:01 a.m. on Friday — five days ahead of schedule.
The government's announcement means that many indoor services can open to more people. Indoor dining is back and so are indoor gym workouts.
The province is also allowing sports venues to open to fans and museums, cinemas and galleries to welcome visitors again.
"Thanks to the tireless efforts of our frontline heroes, and the ongoing commitment of Ontarians to get vaccinated, we have surpassed the targets we set in order to enter Step Three of our Roadmap," Premier Doug Ford said in a media release.
Moving into Step 3 required that up to 80 per cent of adults having their first dose of a COVID-19 vaccine and 25 per cent fully vaccinated with two shots and sustained for at least two weeks. On July 8, more than 77 per cent of people aged 12 and up had one dose and more than 50 per cent had their second. The only region in Ontario that will not move forward is Kitchener-Waterloo where a surge in cases of the Delta variant continues to be of concern.
Ottawa Mayor Jim Watson welcomed the news with a tweet that said the city had reached 50 per cent of residents 18 and up with a second vaccination.
Today we reached 50% of residents 18+ with a 2nd dose 💉

Thank you for all our incredible community clinic volunteers and staff. We can be proud of our city's enthusiasm for getting vaccinated and beating COVID!

Let's keep it going, encourage a friend to get vaccinated today! pic.twitter.com/VMTpbYyNJa

— Jim Watson (@JimWatsonOttawa) July 8, 2021
"While this is welcome news for everyone who wants a return to normal, we will not slow down our efforts to fully vaccinate everyone who wants to be and put this pandemic behind us once and for all," Ford stated.
Outdoor social gatherings will have a maximum limit of 100 people while up to 25 people are allowed for indoor social gatherings while following physical distancing guidelines.
Retailers, restaurants, and personal care services will have no capacity restrictions other than the ability to keep all patrons at a distance of two meters. Restaurants will also have no limit as to how many people can sit together at a table.
Indoor religious services, rites or ceremonies which include weddings and funerals, are allowed with physical distancing.
Gyms, museums, galleries, zoos, casinos, amusement parks, fairs, and festivals can operate with a 50 per cent capacity.
Sports venues will allow spectators up to 50 per cent capacity or 1,000 people indoors and 75 per cent capacity or 15,000 people outdoors will have a 75 per cent capacity or 15,000 people.
Similarly, indoor and outdoor events, including concerts, can operate at 50 per cent capacity with a maximum of 1,000 people indoors while outdoor events will have a 75 per cent capacity with a maximum of 5,000 people not seated and 15,000 seated.
Face masks are still required indoors and where physical distancing isn't possible.
Christine Elliott, Deputy Premier and Minister of Health, says in the statement that Ontario has seen key improvements which is why Step Three can commence but "we must continue to follow the public health measures," she added.
"Vaccines remain our ticket out of the pandemic so if you haven't booked your appointment yet, please do so today," Elliott said.
Ontario will remain in Step Three for at least 21 days or until 80 per cent of the eligible population has received one dose of a vaccine and 75 per cent have received their second. There must also be no public health unit having less than 70 per cent of their eligible population fully vaccinated.