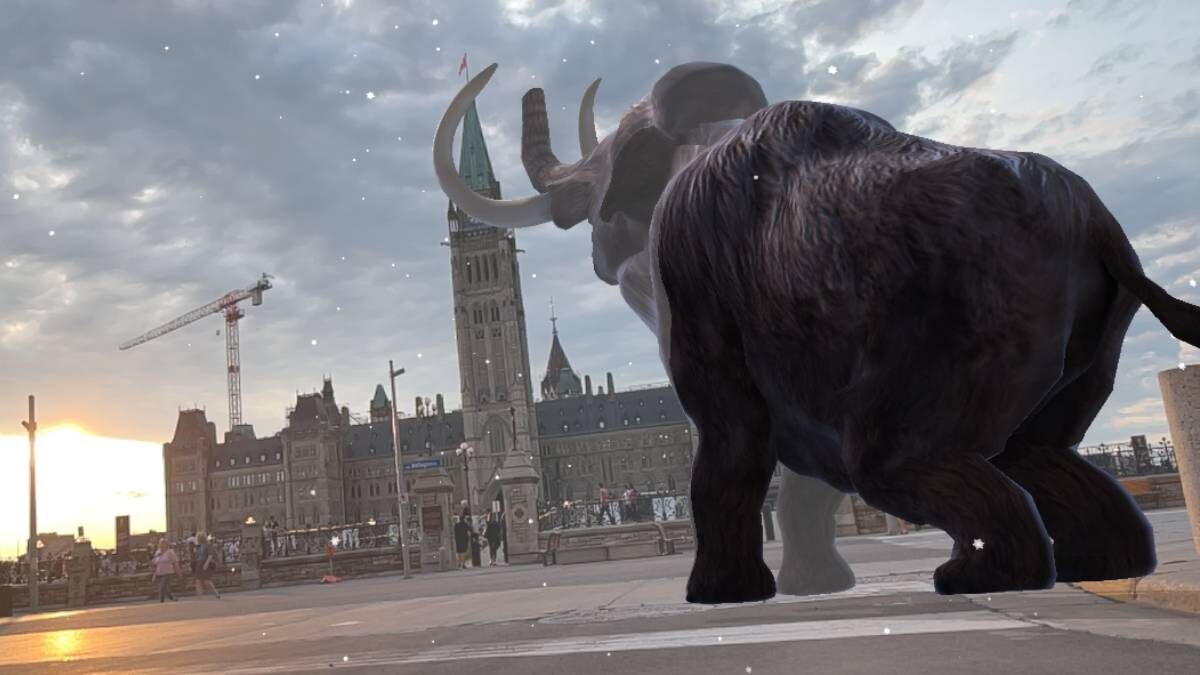 Virtual mammoths, vintage cars and nuclear emergencies: a trio of Ottawa museums are turning to augmented and virtual reality as a way to engage visitors and a wider audience of connected viewers.
The Canadian Museum of Nature is using augmented reality to promote its summer exhibit on the Ice Age. Over at the Science and Technology Museum, part of the Ingenium Canada group of museums, augmented reality is enhancing artifacts, while the Diefenbunker plans to immerse visitors in a virtual Cold War emergency later this year.
Augmented or virtual reality experiences are becoming more common in museums as the institutions compete for eyeballs.
Ryan Dodge, chief digital officer of Ingenium, says smartphone users have grown accustomed to AR technology starting from the viral release of the Pokemon Go app six years ago.
"It's a really great way to engage people through their devices to learn more about the objects that are on display," said Dodge, whose Ingenium brand represents three museums, including the Science and Technology museum.
The Canadian Museum of Nature's Planet Ice AR app launched on June 28. The app allows users to take pictures with ice age animals in different environments and weather effects. Some of the animals include, a mammoth and a sabre-tooth tiger.
From 2016 to 2019, the Nature museum released people in costumes matching its temporary exhibit, whether it be inflatable dinosaur costumes, Einstein setups, polar bears or flying prehistoric reptiles, said Laurence de Montigny St-Onge, the acting head of marketing at the museum.
The marketing team decided to take the stunt to tourists, wherever they live with the virtual animals. The museum also launched a weekly summer contest to potentially award those who share their photos on social media with a free hotel stay. Engagement is good with about 1,000 app downloads, St-Onge said.
"This is our way of continuing with our stunt by having visitors or by having potential visitors or tourists be involved in creating our stunt by bringing these friendly ice age animals around town for us and capturing photos of themselves," St-Onge said.
"We always like to be up to date with the trends whether it's the trends within our own walls of the museum on how people interact with exhibits, how people consume information, and also outside the museum," St-Onge said.
This year's special exhibit is called "Planet Ice: Mysteries of the Ice Ages" and runs until Labour Day. It is action oriented and teaches the importance of ice and why it shouldn't be taken for granted as climate change continues to melt glaciers at the north and south poles, she said.
"It's a really great way to engage people through their devices to learn more about the objects that are on display."

Ryan Dodge, chief digital officer at Ingenium, on augmented reality
Diefenbunker's virtual reality simulation will deal with a different kind of cold.
Visitors will be taken to the Cold War in 1962 in a virtual hazmat suit, said Sean Campbell, research and collections lead at the Diefenbunker in Carp, Ont.
The Cuban Missile Crisis was one of the closest the world has come to a nuclear war but it was averted at the last minute. In the Diefenbunker's simulation, the Soviets launched a nuclear missile on Ottawa, Campbell said.
The visitor will digitally experience heading outside through one of the bunker's two escape hatches after being underground for a 30-day nuclear fallout period, Campbell said.
"Because our site is one of those places where a lot of things are based off of a 'what-if' scenario, I want people to come away from the emergency escape hatch and I want them to see things come to life that normally don't," Campbell said.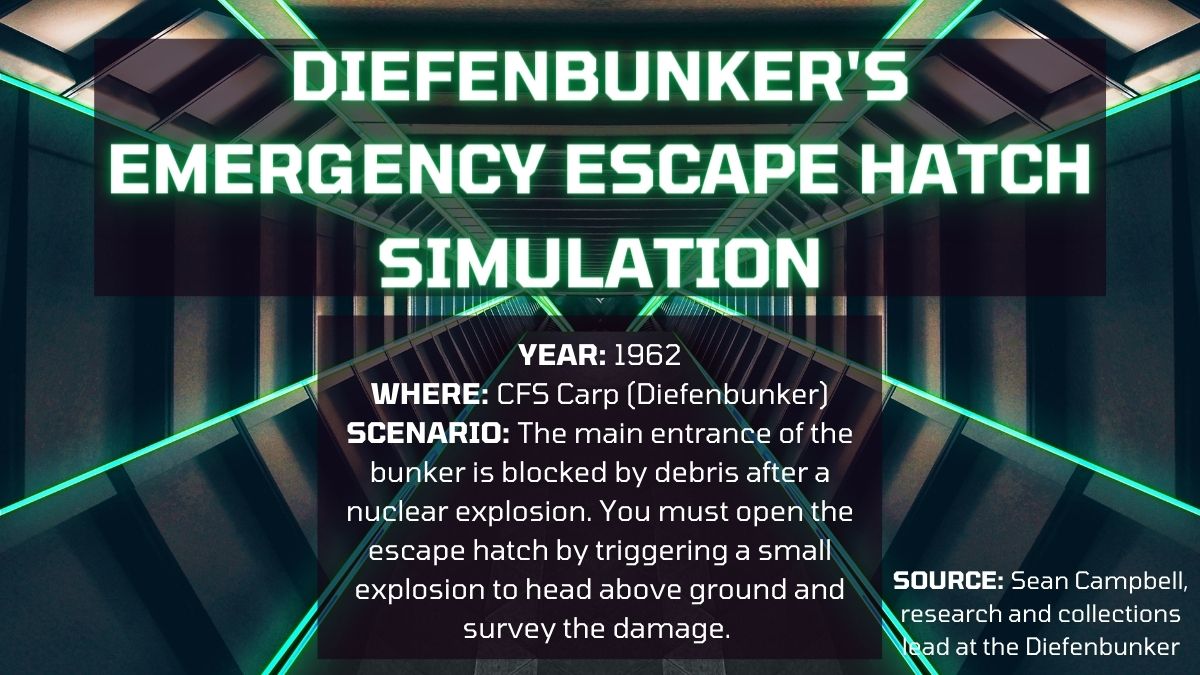 Campbell said turning a static room into an immersive situation forces people to think differently about the Cold War.
"That can inspire a whole host of emotions, a whole host of thoughts," he said. "It really makes you think about, 'Would I come down to a place like this? Would I want to leave a place like this to go somewhere where my home might be gone?'"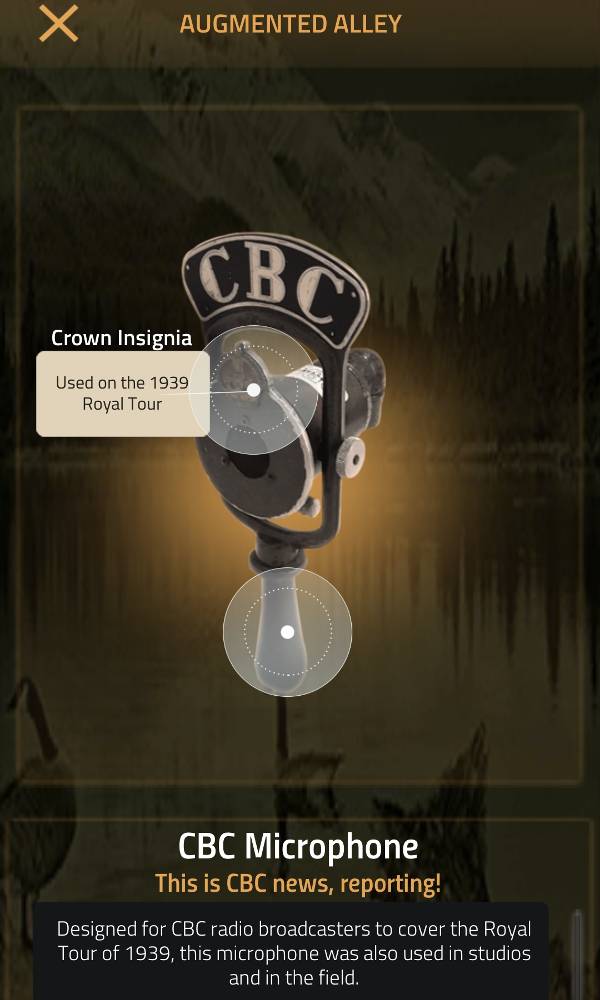 The simulation is currently being developed by Asylum Entertainment in Kanata North. The Diefenbunker received $600,000 in funding from FedDev Ontario for upgrades, making the simulation possible, according to a Government of Canada news release.
The museum plans to launch the virtual reality experience in December.
The Canada Science and Technology Museum has already turned static artifacts into a digital experience since its Augmented Alley app launched in 2020.
The app opens a virtual scavenger hunt encouraging users to find specific artifacts in the museum, Dodge said. The artifact acts as the augmented reality marker instead of having users scan a nearby QR code or turn to a page in a brochure for more information.
A digital version of the object pops up on the phone with content. Scanning a 1920s gas pump makes a vintage car pull up beside it, according to an Ingenium blog post.
Augmented reality is easier to create as online platforms let users develop an experience without costing as much as it used to, Dodge said.
The challenge now is to keep telling stories with content while expanding the museum's reach across Canada. Ingenium's mission "is to ignite ingenuity in all Canadians," Dodge said.
"Innovation doesn't just happen in a lab somewhere at a fortune 500 company," he said. "People are developing innovative things everyday in their garage, in their backyard, in their basement, wherever they can."
"That for me is really interesting and then, how do we do that and how do we get that not just in front of people who physically visit our museums, but people on the street in Vancouver or out in Halifax looking at the harbour and seeing ships go by," Dodge added.
---
More Stories