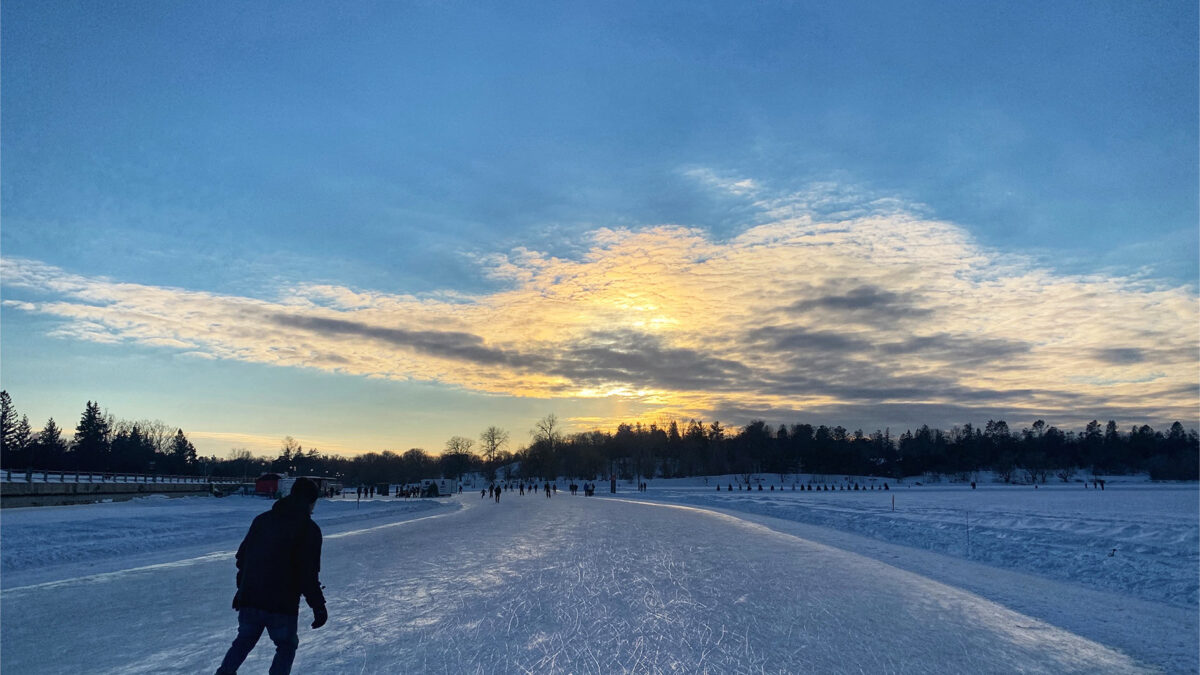 Lockdowns and restrictions on indoor activities during the Omicron wave of the pandemic have curbed access to fitness centres, running tracks, and other traditional exercise options.
So many Ottawa residents have again turned to the great outdoors to stay active this winter, keeping their blood pumping and finding solace through the open-air recreational activities the city has to offer.
No winter exercise spot is more popular than the Rideau Canal Skateway. The National Capital Commission opened the 7.8 kilometre skating surface to the public on Jan. 14, and it remained open until warmer, wet weather prompted an indefinite closure nearly a month later.
NCC communications advisor Maryam El-Akhrass said special measures have been put into place this year to ensure the skateway is as COVID-19 safe as possible.  Skaters are encouraged to wear masks at all times, and must wear them when using washrooms or lining up at concession stands, which have a 50-per-cent capacity limit. 
Having recently moved to the city, El-Akhrass said she was surprised by the popularity of the skateway.
"I think the skateway is something that triggers a lot of excitement in the region," said El-Akhrass. "I'm kind of new to Ottawa, and I was shocked at just how much people (had been) waiting for this skateway to open."
The skateway was first opened during the 1970-1971 season, and has an average skating season of 50 days per winter.
This season, the skateway was open for 27 consecutive skating days before its closure on Feb. 9.  According to the NCC, as of Feb. 6, total visits to the skateway this season were more than 350,000. This is slightly lower compared with previous years. 
The 2020-2021 skating season saw 508,299 visits, and numbers were even higher in the years before the pandemic began.
El-Akhrass said the novelty of the attraction, paired with its ability to bring people together, is why the skateway is so essential to the community.
"For our brain function and mental well-being, we need to move our bodies. In addition to supplying oxygen to the brain, exercise leads to a release of feel-good endorphins and the feel-good neurotransmitters dopamine, serotonin and oxytocin."

— Elyse Dubo, Toronto-based psychiatrist
"I think it's just a great asset … an icon of the city," she said. "It's a great setting for a family outing, for an outing with friends.  It's different and it's special."
While it may stand out for popularity, the skateway does have an expiration date each season, as its functioning depends heavily on weather conditions. However, it is just one of many outdoor winter exercise options to be found in the city.
Dovercourt Recreation Association, a not-for-profit recreational organization in Westboro, has managed the Dovercourt Recreation Centre on behalf of the City of Ottawa since 1987.  The DRA chooses what programs are offered and how they want the centre to serve the community.
Kathleen Finn, one of Dovercourt's program directors, said in early February that the centre had experienced a big increase in the number of people using its two outdoor rinks, which operate at a 25-person capacity. 
The Dovercourt rinks are carefully maintained by a group of volunteers.
"The ice is beautiful — but it's beautiful every year," said Finn. "So it is a well-used community asset." 
Dovercourt is also responsible for running various recreational programs and activities in the city, the most popular of which is the Kichi Sibi Winter Trail. The trail runs along the Ottawa River Capital Pathway, and is open to skiers, joggers, walkers, snowshoers and more.
"(The Kichi Sibi Winter Trail) is probably the most well-used per capita," said Finn. "And that's got progressively busier the last few years with COVID-19."
A chilly winter trail isn't everyone's first choice for a fitness option. But while it would be easy to put a pause on physical activity when restrictions are in place, experts argue that keeping active remains an essential aspect of a healthy life.
Toronto-based psychiatrist Elyse Dubo said that as Canadians navigate through the latest stage of the pandemic, we need to continue to prioritize both our physical and mental health.
"For our brain function and mental well-being, we need to move our bodies," said Dubo. " In addition to supplying oxygen to the brain, exercise leads to a release of feel-good endorphins and the feel-good neurotransmitters dopamine, serotonin and oxytocin."
According to Dubo, keeping our bodies in motion has a direct positive impact on our mental health and acuity.
"After exercise, we have a greater sense of well-being, and our minds are open to new ideas and creative problem solving," she said.
As of Jan. 31, gyms across Ontario had reopened at 50-per-cent capacity, giving Ottawa residents the option of escaping the mid-winter cold and working out indoors, or continuing to enjoy the multitude of outdoor recreation options that can be found across the city.
---
More Stories