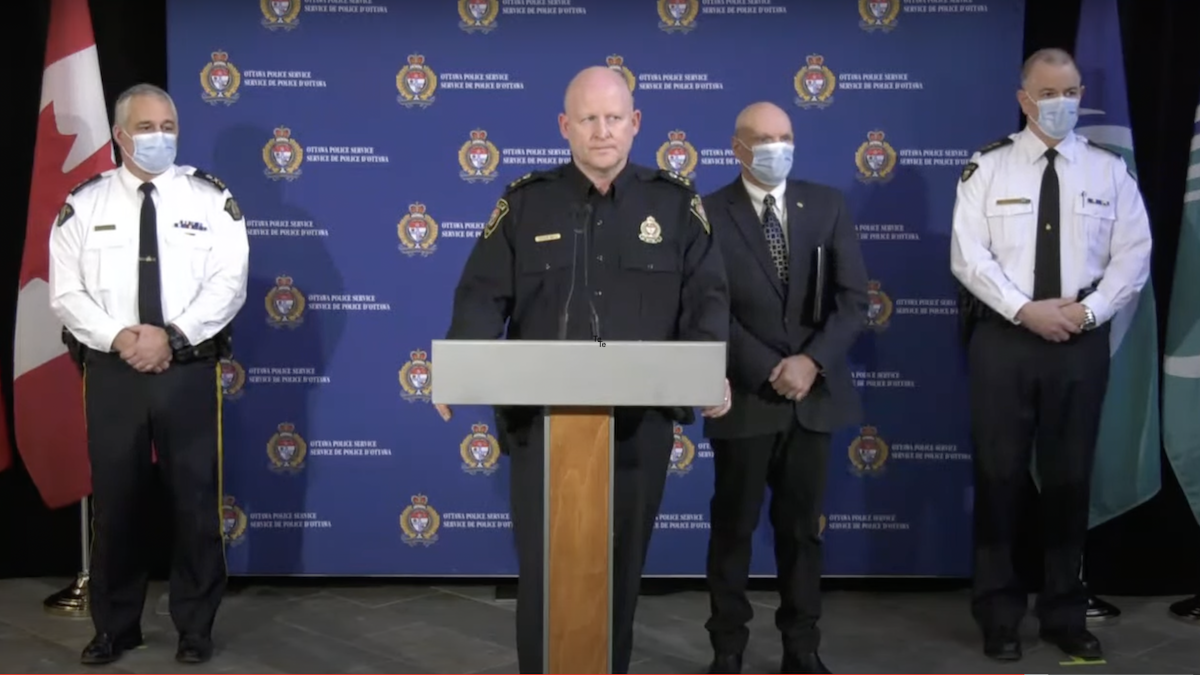 After most of two days of police action, downtown Ottawa is now clear of the big rigs and most of the protesters who, for the past three weeks, occupied the core of the city and made life a misery for the residents of this part of Centretown.
Police said Saturday afternoon that they have arrested 170 people, including four of the leaders of the so-called Freedom Convoy during the police action that began Friday. Alongside the arrests, 53 vehicles have been towed and 22 licences seized. Many other trucks left before being hauled away.
As the sun set, a line of police were confronting a crowd of about 400 protesters south of the intersection of Bank and Wellington Streets.
At an afternoon media conference, Interim Ottawa Police Chief Steve Bell said that police from across the country showed "the strength of our democracy."
Bell commended officers' work to clear protesters.
"I am proud of them and all the members of our police service that have contributed to this operation" says Bell.
"We have officers from across the province and country here to help us. Every person supporting this effort is proud to be here. Police have a vital role in our democracy and this operation shows our institutions' commitment and ability to maintain a lawful society" says Bell. He added that, along with clearing the streets, the main focus of police was the safety of residents.
After confrontations with more aggressive protesters, police were armed with helmets and batons Saturday The officers did occasionally also use pepper spray to move the crowd back along Wellington Street and down O'Connor and Bank Streets.
"Our officers continued to face resistance. At one point a flare was ignited by a protester. Officers used a chemical irritant also known as pepper spray to disperse unlawful demonstrators who were resisting police orders" said Bell.
Police also faced disinformation on social media including claims that a women had been killed by a police horse yesterday as well as the belief that tear gas had been deployed. Neither claim was true. Ottawa police say they are combating disinformation by frequently posting updates on social media and holding press conferences to ensure full transparency.
With the downtown core cleared of trucks, other encampments appear to be on the verge of shutting down including the large encampment on Coventry Road where most of the supplies were kept to help the occupiers keeps the trucks idling and the protesters fed.
However, "this operation is still moving forward, it is not over and will take more time until we have achieved our goals," Bell said without giving a deadline for its end.
Meanwhile in the House of Commons, MPs debated the invoking of the Emergencies Act where a vote is expected Monday evening. Over at the Ottawa court, a judge has reserved, until Tuesday, a decision on bail for one of the convoy organizers Tamara Lich, who will spend the weekend in jail. A bail hearing for another organizer, Pat King, is also set to happen on Tuesday.
As well, a large protest is now underway in Quebec City where trucks are travelling through city streets obeying rules laid down by the mayor of a time limit of the noise and an end to the protest Sunday evening.
In Surrey, B.C., a large and vocal crowd of protesters is once again blocking access to a border crossing.
---
More Stories