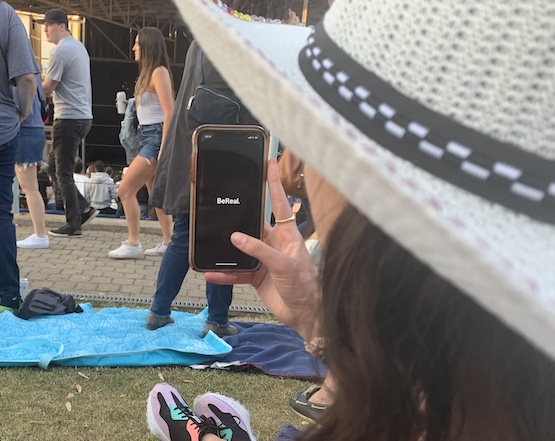 As the internet era rolls on, app developers are in a hurry to create the next Facebook, Twitter or whatever will get users on their screens taking in content.
BeReal is one such venture. The social media app was released in March and is making its way up the ranks to becoming the next popular social media app with a twist. BeReal, based in France, is top 20 on the Apple App Store's free apps list this month and fourth in social networking, behind Facebook's main three apps.
Unlike Instagram, Tik Tok, Facebook or Twitter, users can't edit, airbrush or face-tune the content they share on BeReal.
"I just like seeing what everyone is doing, but not in the way Snapchat or Instagram displays it. BeReal is more exciting cause it feels genuinely random, and I anticipate it all day," says Raquell Fernando, a 20-year-old Carleton University student and an early user of BeReal.
Here's how it works: Once a day users will get a notification from the app telling them it's time to BeReal. Users then have two minutes to capture what they're doing with their front and back-facing cameras. Users can then add comments or reactions to their friends BeReal's as they show up on their feed.
Users seem to be drawn to the app because of its emphasis on "being real" or "being in the moment."
"I feel like Instagram is for curating a fake image — it's only ever the best moment that people share on their stories or the best picture they end up posting," Tiana Rangoussis, a fourth-year university student at uOttawa, says.
"There's this unspoken expectation that what you share is interesting [or] exciting, it creates this need to always be doing something. BeReal is different, most days everyone's just doing normal stuff, so you feel less bad about your own life."
It could be that, with BeReal and campaigns such as Dove's #DetoxYourFeed, society is starting to push away from the tendency of popular social media apps to cultivate a unreal image of real life.
"It's the overwhelming desire of being a celebrity, this is something which is endemic to our society," says Diane Pacom, a social sciences professor at uOttawa who specializes in youth culture and social trends.
By posting and documenting your life constantly on Snapchat, TikTok, Instagram and Twitter, young, insecure individuals may feel a sense of belonging in this virtual space, she says.
"People have the right to be a member of a group of people who think like them [and] are like them. They are seeking a sense of belonging as all the traditional ways of belonging are gone," says Pacom.
"People just want to have an identity, they want to display this identity, it's done in an extremely blatant way," she says.
---
More Stories