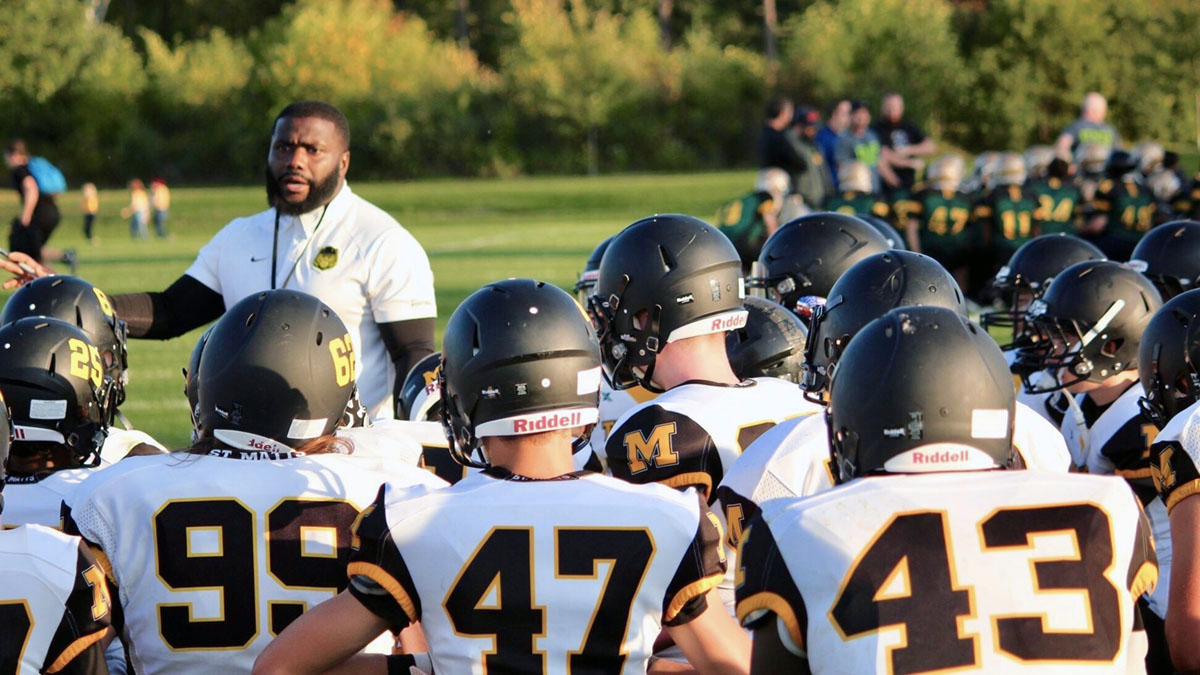 Passionate. Caring. Altruistic. Leader. Saviour. GOAT — "Greatest of All Time".
These are some of the ways that former players and peers describe Ottawa football coach Jean-Sorphia Guillaume, the winner of the 2020 City of Ottawa Brian Kilrea Award for Excellence in Coaching.
"I really didn't expect it," said Guillaume, 40, over a Zoom call. "Being recognized for what I do is amazing because there are a lot of people part of what I do, so it's almost like recognizing those people."
Guillaume was awarded the city's top amateur coaching prize for his leadership of the St. Matthew High School football team in Orleans, but especially for his work providing off-the-field support and mentoring youth in the community.
"When you play under him, he cares about you not only on the field, but off it, too," said former Orleans resident Katley Joseph, who is now a 5-foot-11, 175-pound cornerback for the University of Maine Black Bears.
Joseph, 21, was playing for the Orleans Bengals when he met Guillaume who was coaching the running backs for the Bengals. In 2015, Guillaume became the head coach of the Tigers. To help achieve his dream of playing football at the post-secondary level, Joseph instantly opted to play for his school. At St. Matthew, Guillaume mentored the young man, providing extra hours of training, helping with his recruiting and gave him academic support.
"I was a guy that just thought that sports was going to get me out," said Joseph, describing his bid for a better life. "But when Coach Jean came into the picture, he made me realize that if I don't secure 'the bag' in terms of classes there was no way of me going to the States and playing at a Division 1 level."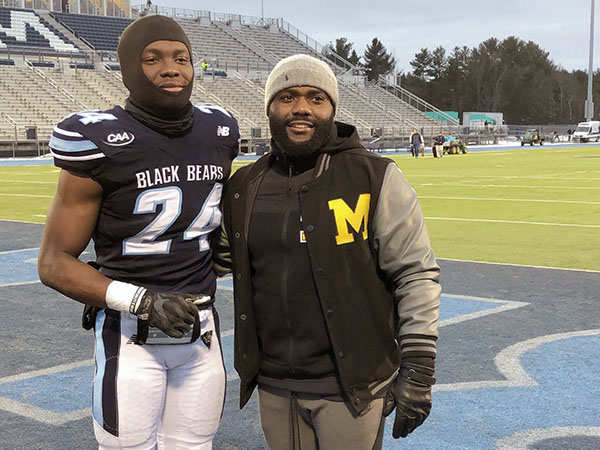 Guillaume was born in Haiti. He was five when his family immigrated to Montreal — thanks to a pastor who met his father and helped them move.
Guillaume recalled the tough years that he and his family went through, but credits his parents for never giving up and always working hard in the face of tight financial circumstances.
They sometimes needed to use food banks, he said, and there was a time when his mother would have no bus fare and would ask bus drivers to let them on for free.
"Most would say no, but some would let us on," he said. "I remember the looks you would get on that bus."
Despite the struggles at home, Guillaume excelled at football. Playing in the Sun Youth system — a top-tier football program in Montreal — he attracted interest from various colleges, but his coach at the time, the late Earl De La Perralle, pushed him into going to an English college.
It was a big step for Guillaume, since he took pride in being a francophone, but De La Perralle stood firm, knowing the benefits of being bilingual.
Guillaume would be the first in his family to attend post-secondary, going to the CEGEP, Vanier College, in suburban Montreal.
"It was a challenge, but that was the best decision of my life," said Guillaume.
Guillaume would be recruited over the next year by universities such as Maryland, Michigan, Boston College and Kentucky. "Looking back, that's when I said football can bring that to other kids if it worked for me," he said.
Guillaume would complete a Bachelor's degree in sociology before going to the University of Montreal to complete another degree, this time in social work. He said he wanted to start fixing the problems in society that he'd studied in his sociology degree.
He also realized he needed to reach the supervisor level to be able to create the changes he wanted to see, which also led him to the Master's degree and work in prisoner rehabilitation.
'It's better to prevent'
"I realized it's good to repair, but it's better to prevent," said Guillaume, noting how difficult it is for released prisoners to reintegrate into society.
He was also working in schools helping to coach and educate students. That's how Alain Cimankinda — now 24 and a highly rated 2021 CFL prospect — met Guillaume.
"Coach Jean used to coach my brothers (Jonathan and Joel), but he would be helping me and the other guys out with homework and training," said Cimankinda, a defensive lineman with the University of Guelph Gryphons.
Sessions with Guillaume were long and demanding, sometimes lasting from 3 p.m. to 11 p.m., Cimankinda said.
"He's a man of action. His actions speak louder than words," Cimankinda said.
When he was about 30, Guillaume decided to make a career change from social work to teaching.
"I find the best social workers are teachers," he said about the profession switch.
He completed one year in teacher's college, but entered the field with no connections in the Ottawa school boards.
One day, when he was planning to go to the employment centre to distribute his resume, one of his player's parents asked if he could help register their son at St. Matthew's in Orleans.
At the school office, the player introduced Guillaume as a coach, and in the ensuing conversation Guillaume explained that he'd just finished teacher's college.
"They told me bring your resume in, we're always looking for French teachers," he said. He returned with his resume and was hired soon after.
"All I needed was the support of the kids."

Jean-Sorphia Guillaume, the winner of the 2020 City of Ottawa Brian Kilrea Award for Excellence in Coaching.
The school's football coach later resigned, and Guillaume was given the keys to the program. The St. Matthew's football team, until that point, had not been very successful, with no provincial championships in its history or players attending post-secondary in the U.S. for football.
"One thing I did believe is what I had to offer and what I could create and bring to a school," said Guillaume.
Guillaume did extensive background research on the pros and cons of sports during his time in university. This gave him the knowledge he needed to run the program. He combined this with his experience playing and coaching outside of school to elevate the program.
"All I needed was the support of the kids," said Guillaume. He would gather players from all over the school and started building his program.
He started by fundraising for equipment.
"They had archaic equipment," said Aldege Bellefeuille, a federal public servant and volunteer manager of football operations at the University of Ottawa. "Jean calls me up and we start fundraising to get some equipment."
However, Guillaume's efforts went beyond the field, said Bellefeuille. "What they don't tell you is how he was essentially providing a school meal program without support of the government," he said.
Serving his players
Guillaume would fill the fridge in his office with groceries for players who were without lunches, and they would spend their lunch breaks in his office.
"A lot of the kids in the area come from a single parent home and don't come from the most affluent background," said Bellefeuille. "Kids who weren't even on his team would come to his office at lunch hour and hang out there."
Guillaume also set up study sessions with his players, which created an academic atmosphere that players valued and respected.
"I'm not expecting straight As from all my players, all I demand is that you get better," he said about his standards. "If you're a B student, why not a B+? If you get Cs why not get to a B-?"
"It's until you haven't had Coach Jean – like you have really bad teachers and really bad coaches – that's when you realize what a good teacher is, or what a really good coach is," said Geri Theodore, 19, a defensive end for the University of Toledo these days. "Like he really cares about the little details."
Theodore spent Grade 11 year at St. Matthew before transferring to a prep school in Clearwater, Florida. He credits his time at St. Matt's with Coach Jean for getting him on the university path.
It was in his second season as a coach when Guillaume began to see success on the field.
"I was a bit of an unknown going into that season," he recalled. "It was not normal that this guy shows up and every kid wants to play for him."
Players saw Guillaume as someone who was serious about helping them reach the next level of football.
The domino effect was huge for getting guys on his teams.
"They want to be part of something," he said. "It's why kids join gangs."
Craving an opportunity
Guillaume would take players no matter their track record in football. "We had a team composed of players that had been given up on. Players who people said, 'Oh, he's uncoachable,'" said Guillaume. "We had guys who were craving for an opportunity."
"Coach Jean is one of the few guys that can take kids that have those issues and help them," said A.J. Larin, former star linebacker for St. Patrick's High School.
Larin, 24, was one of the misunderstood. Raised by a single mom, Larin grew up in various projects in Ottawa South and spent some time at the Carling Family Shelter.
Surrounded by drugs and gangs, football was an escape, he said.
"Coach Jean was able to help me guide that passion and that energy into the right place, because if it wasn't for that man, I would be dead or in jail," said Larin.
He met Guillaume in 2012, when he would come to train with a club team and get help with his homework. He wouldn't see Guillaume for a few years when he left to complete his education.
Later, during Guillaume's completion of teacher's college at the University of Ottawa, he would bike between his classes to St. Patrick's High School to volunteer as a defensive secondary coach with the football team.
In his final year with St. Patrick's, Larin suffered a terrible injury, tearing all the ligaments in his knee and breaking his tibia.
"I thought I was done," he said. "When I got injured, every coach in the city left me. People didn't check up on me."
Guillaume never left. He would help Larin rehabilitate physically and mentally over the next five years, seeing him through seven surgeries with three different surgeons.
"He doesn't judge you. He doesn't care about your lack of knowledge, all he wants to do is help you and love you," said Larin.
That love and passion led St. Matthew to a city championship and a Metro Bowl AAA provincial championship in 2016.
"The chemistry on that team was incredible — something I'll never forget," said Joseph, who was the team's Most Valuable Player that season.
The Tigers' performance was strong enough for Guillaume to be named runner-up high school Coach of the Year, voted on by Canadian universities.
"My goal was not winning," Guillaume said about that season. "But I wanted them to understand that if you put your head at something, if you dedicate yourself to something, the result will come. Nowadays, the kids want to see the results right away."
One example of Guillaume's dedication being rewarded was having women playing varsity football for his teams.
It started when Michaela Wellman and a friend came to Guillaume to ask to play on the boys' varsity football team. He surprised them when he said yes, but he said he made sure to treat them the same as the boys.
Seamless transition
Wellman was a skilled rugby player before joining, so the transition was seamless.
"One thing I loved was having the presence of a woman on a team," he said. "It's not taboo anymore to tell them, 'Hey, respect women in your lives' because you have one among you.' "
Guillaume wanted to do something more special than having girls on his team. He wanted to have one score a touchdown.
"I vowed that if I ever got a girl who played offence, I would get her a touchdown," he said.
In 2019, that opportunity came. Mya Sluban was the first Grade 9 athlete to approach him about playing. Her mother was a bit hesitant, but her father, Mark, was all in, recalled Guillaume.
"She was brave," Guillaume said of Mya. "She was never hesitant in anything… She taught me to never hesitate."
Guillaume told Sluban that he would create an opportunity for her to score a touchdown. The other players on the team overheard and made sure to remind him in their last game of the season in a blowout win over St. Joseph High School.
"They wanted to do it," he said. "I told them to stop just short of the end zone so that we could run the play for Mya."
The first play failed, but Mya made it into the end zone the second time, becoming the first girl to score a touchdown in varsity or senior boys' football in the city.
"So many of my teammates and coaches worked together to set that play up, make their blocks and help clear a path for me to the end zone", Sluban told CTV News at the time.
"I don't know if I've ever seen her that happy," Mark Sluban said to CTV.
Greg Brookey, director of the coaching and personnel division for the U.S.-based Dynamic Sports Group, has known Guillaume since 2015, when the Ottawa coach brought some players to Brookey's football camp in Indiana.
Brookey has more than 30 years of experience in the sport, playing at every level, coaching, and scouting. He said Guillaume's passion and desire to always help create a difference in youths' lives make him special.
"There are so many people who want to sit and wait for something to happen, they're just waiting on an opportunity," he said. "Whereas you just have to take the opportunity to be the difference and create the opportunity, and that's what he's doing with these kids."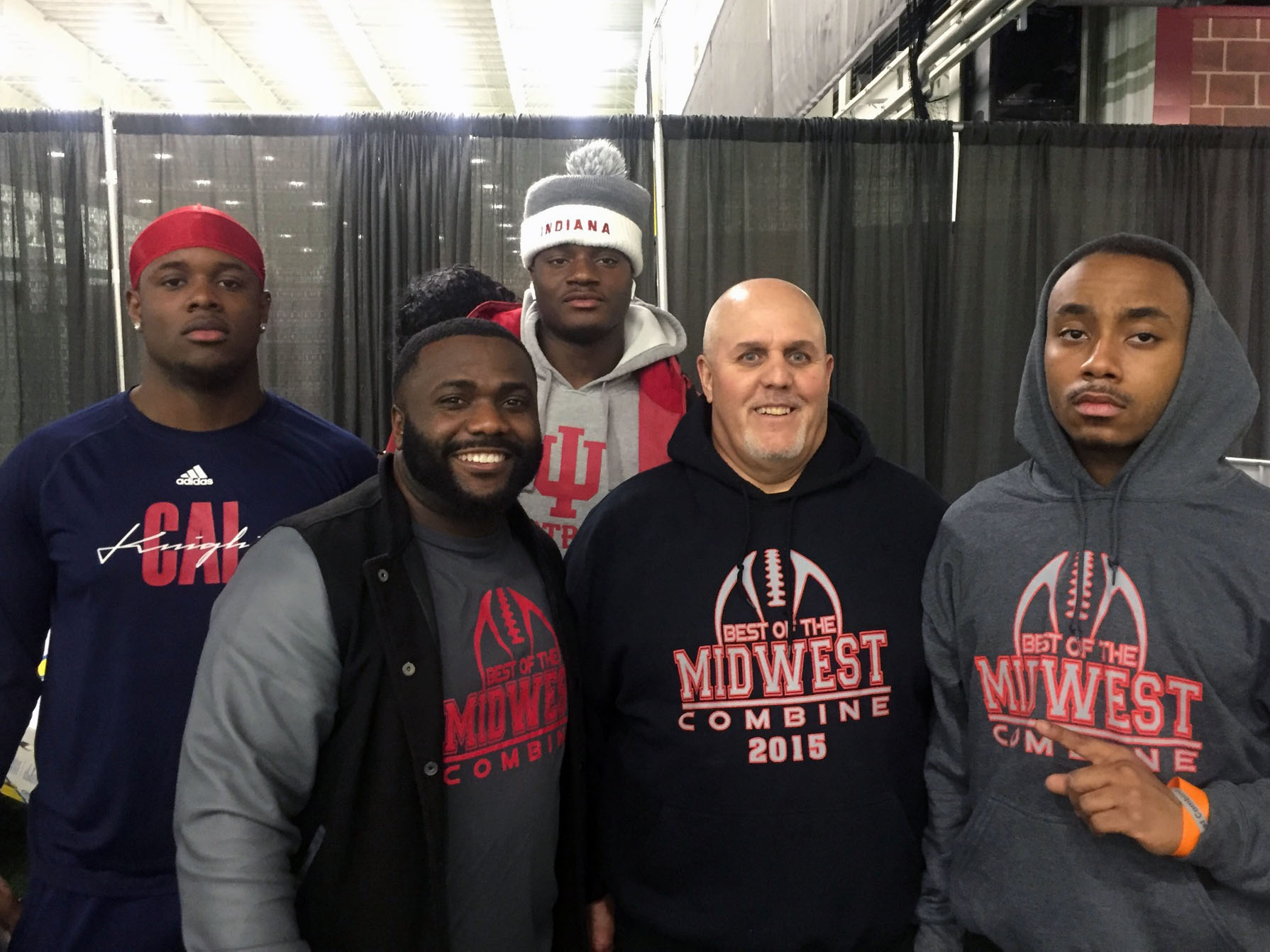 Guillaume has been an inspiration for many, especially Larin — who retired from football to help in the community with his Elevate Academy. EV Academy works with underprivileged youth to provide them leadership and mentorship in sports — particularly football and basketball — and in life.
"Sports is such a minuscule part of your life, but we use it because we can bring youth together and we can use that as an incentive to learn how to be better," said Larin, explaining he learned the philosophy from Guillaume.
"I fell in love with it. I realized the kids back home needed me… I have a more important purpose here," he said.
When asked what word they would use to describe Guillaume, everyone had different responses.
"A leader," said Benjamin Chombe, 21, a defensive back with Florida's Bethune-Cookman University Wildcats. "Because he accepts the responsibility, he doesn't shy away from it at all. He sets the example and follows it. He stays true to who he is."
"Caring," said Theodore, "because every time I think about the little things he does for kids and us, like giving a ride, he knows how it feels to have to walk home. You're supposed to help the kids that don't have much."
"Selfless," said Joseph. "He will take anyone over himself. I've seen so many times when he hasn't eaten lunch because guys wanted to lift in the weight room."
"Passionate," said Brookey, "because you can tell he loves those kids, he loves what he's doing and he's passionate about changing other people's lives."
To Larin, Guillaume is a "saviour".
The GOAT
Said Bellefeuille: "Altruistic. He's always giving."
Cimankinda suggested "GOAT" as the right descriptor "because he covers so much. He does so much for the community. He's not only a coach —he's a mentor, a big brother, a father figure. … He'll always be there to help."
It was inevitable that Guillaume would eventually win the city's top coaching award, added Cimankinda.
"The accolade officializes everything, but his players and those around him knew these things before the accolades," he said.
Bellefeiulle, along with former city councillor Stephen Blais — now Liberal MPP for Orleans — nominated Guillaume for the award to encourage others to follow his example.
"I want there to be hundreds of Jean Guillaumes, because if we're encouraging this, then the society we live in will be a far better place than it is today," said Bellefeuille.
According to Larin, though, that goal wouldn't be good enough for Guillaume.
"Anytime we would tell coach, 'Coach, we want to be like you,' he's always like, 'Nah — be better than me.' "
---
More Stories