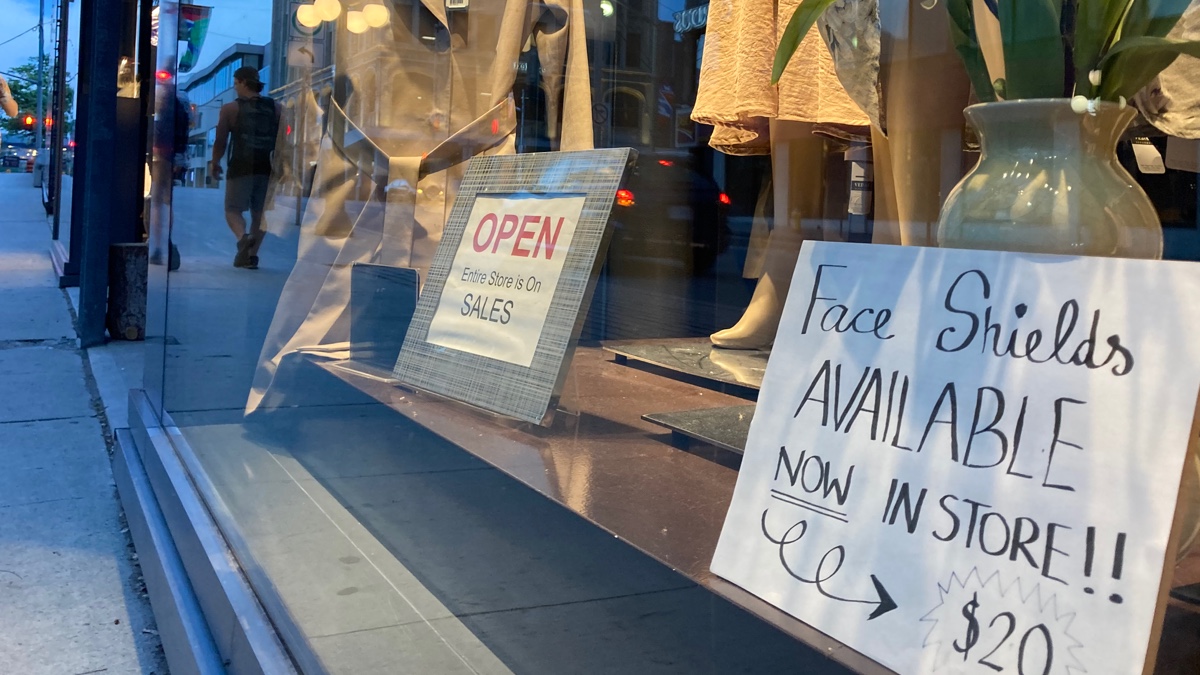 The provincial government is preparing legislation that would freeze some commercial evictions, but some Ottawa business owners already struggling to pay their bills say that move is likely not enough.
The proposed changes to the Commercial Tenancies Act would, when passed, temporarily halt evictions of businesses that are eligible for federal and provincial rent assistance until Aug. 31. It would also reverse evictions that occurred on or after June 3.
With the federal government, Ontario has committed $241 million to the Canada Emergency Commercial Rent Assistance (CECRA) program for small businesses which is providing more than $900 million in support nationally. So far, few landlords have taken advantage of this support. Some estimates say only about $40 million has been accessed.
Semiha Cantas, owner of Cantas Fashion in the ByWard Market, is thankful for the help but she worries about the future after Aug. 31.
"It's good because we know we'll be here until the end of August," she said. "But how much is that really going to help in the long-term?"
Cantas reopened May 19 and has started selling face masks for extra money, but the pandemic struck at the worst possible time for her business.
"For retailers, this is the season where we make money so we can be ready for winter," she said. "We're not a mall, so for a small business like us, we have to make all our profits in the spring and summer."
Consumers are still cautious about going shopping, said Mavis Finnamore, former chair of ACORN Ottawa-South. As long as customers are scarce, many businesses will be unable to pay their bills, a struggle that will likely extend well beyond August.
"I don't know what universe that's going to be helpful in," said Finnamore.
According to the Canadian Federation of Independent Business (CFIB), 44 per cent of small businesses are now fully open, but only 15 per cent have seen sales return to normal.
For example, restaurant sales have dropped to five per cent of pre-pandemic numbers, according to CFIB, with revenue from gyms and recreation facilities falling to three per cent of normal rates. Retail sales over all are 22 per cent of where they were prior to the pandemic.
This has led many businesses to the brink of closure. Fifty-one small businesses in the Ottawa-Gatineau are on the verge of shutting down, half of which are at high risk, according to smallbusinessincrisis.ca.
A shoe store in Gatineau and a shawarma restaurant in Orléans have shut their doors, with 68 years of business and 69 employees between the two them.
Anton Ejov, manager at Piccolo Grande, a gelato store in the ByWard Market, said he's gotten used to the uncertainty of business during the pandemic.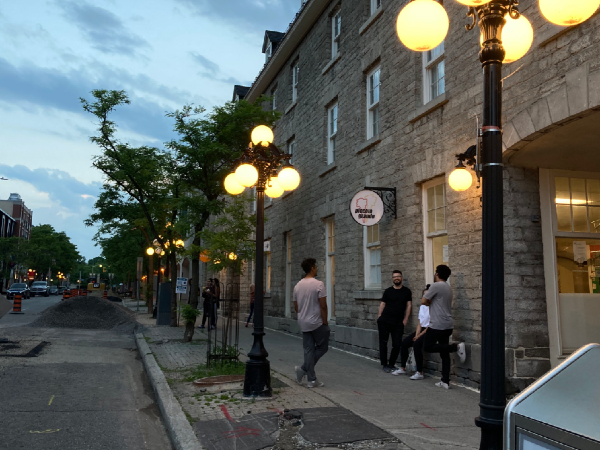 "Right now, we're taking it a day at a time, a week at a time at most," he said. "It's really hard to make the judgement calls. Are we more likely to close a week ago then we are now? Probably not, it's status quo at the moment."
Support from the local community has helped, said Ejov, and the province's move to Stage 2 of reopening is expected to boost foot traffic. But Ejov is looking forward to the rent relief granted by the new legislation.
"I refused to do rent deferral because it wasn't going to do anything for me," he said. "I'd have to pay April, May, June later, but if I did that, I would just go bankrupt regardless."
Ejov had been asking his landlord to consider applying for the Canadian Emergency Commercial Assistance Program.
EJOV got some support from the prime minister today. Justin Trudeau urged provinces to legislate temporary eviction bans during his daily briefing on the COVID-19 pandemic.
Benjamin Shinewald believes eviction bans are bad news.
The president and CEO of Building Owners and Managers of Canada told the CBC that "you do not force private parties to tear up contracts in Canada. That happens in banana republics."
The organization has 3,100 members including building owners, managers, developers and brokers.
He added that he believes the best option would be to provide rent relief directly to tenants and let them negotiate with landlords to come to agreements together.
The Ontario moratorium on evictions allows businesses to stay open during the summer, and try and negotiate the restrictions on CECRA, according to Julie Kwiecinski, Director of Provincial Affairs (Ontario) for CFIB.
"This will prevent summer evictions, and give us time to continue to press the provincial and federal governments to make much-needed improvements to CECRA. While the program is helping many businesses, many more are being left out due to overly restrictive criteria."
Currently, businesses have to have lost at least 70 per cent of their income to be eligible, which Kwiecinski says is too restrictive.
Ejov is eligible, and asked his landlord to consider applying nearly a month ago.
"I wanted a straight yes or no answer, I didn't need any fluff, and I haven't heard back from them."
But now that some commercial evictions will be stopped, he hopes his landlords will respond.
"I'm doing the best I can do," he said, "and all I can do is hope landlords will come to their senses and apply without any more fight."
---
More Stories