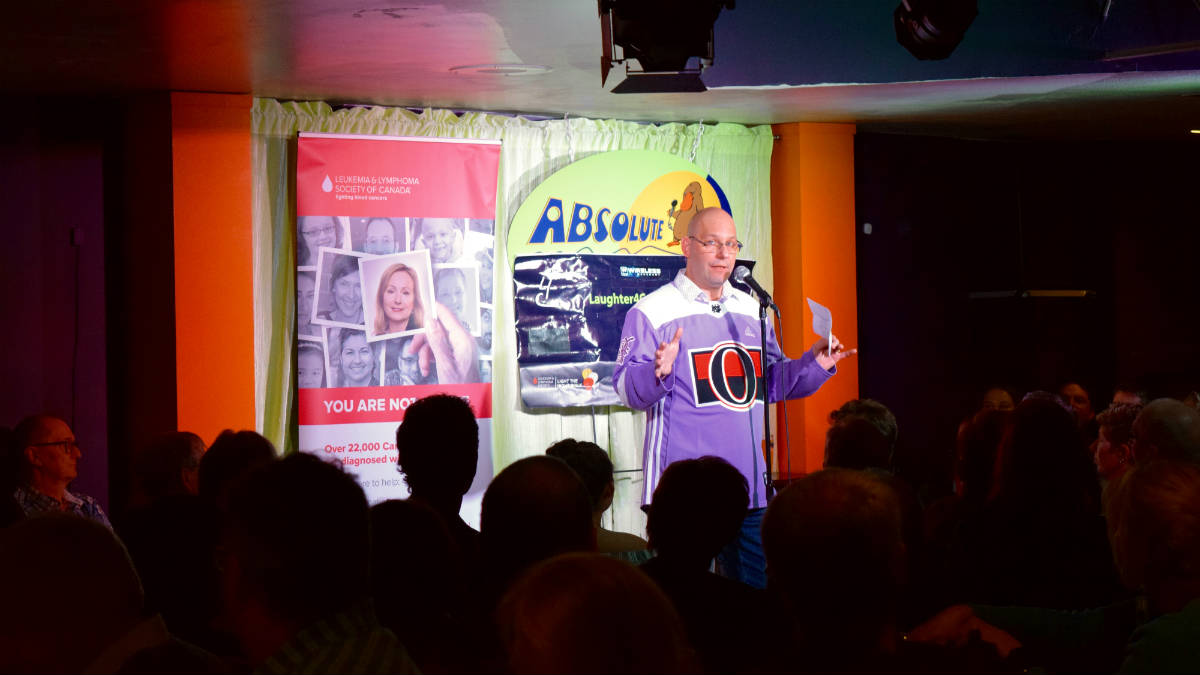 Darren Bessette is a two-time cancer survivor. His battles with the disease inspired him to create a fundraising event to help fight leukemia and lymphoma with laughter.
The fundraiser, called Laughter 4 Cancer, is an evening when comedians perform and all proceeds go to the Leukemia and Lymphoma Society of Canada.
This past Nov. 21, the Absolute Comedy Club in Little Italy was packed with supporters of Bessette at his second annual event.
For the second year in a row, the event was sold out. According to Bessette, that's about 180 tickets at $35 each.
In the crowd was Ottawa Senators defenceman Dylan DeMelo. He recently announced he would be working with the LLSC as a celebrity ambassador.
In a recent tweet, DeMelo revealed that his involvement with LLSC was inspired by a friend's mother, who was diagnosed with leukemia. In October, DeMelo participated in LLSC'S Light The Night Walk.
DeMelo donated a signed jersey, a hockey stick and tickets to a Senators game to the Laughter 4 Cancer silent auction.
Comedian Jenn Labelle performed a set at the event. She said she felt a personal connection with the fundraiser as her father is a survivor of Hodgkin lymphoma.
"Cancer can cause a lot of stress," said Labelle. "Laughter is a great way to deal with that stress."
Also performing were local comedians Scott McMann, Mark Scalia and Evan Carter.
Last year, Laughter 4 Cancer raised $16,000 for LLSC. This year, before the show even started, the fundraiser had about $14,000 in ticket sales and donations.
LLSC area manager Shanda White said the event was expected to raise at least $1,000 more in 50/50 draw ticket sales and winning silent auction bids.
White helped Bessette organize the event, but said she can't take credit for its success.
"Darren has put so much into this," she said. "When he got sick the second time, the event was delayed, but he still pulled it off."
Bessette was diagnosed with diffuse large B-cell lymphoma in 2016. He was in remission until March 2019, when his cancer came back.
His second time battling cancer was tougher, he said: "We had to take a more aggressive approach."
Bessette received treatments the second time at Princess Margaret Hospital in Toronto using a trial therapy drug called CAR-T Cell.
"It's still new to Canada," said Bessette, "and it's only been approved in Quebec" for non-trial treatments.
Bessette explained that the treatment attaches a protein to cells in the immune system, allowing the cells to detect cancer cells and kill them off.
Bessette said the therapy isn't available to all patients because it's so expensive.
"Each treatment is over $700,000 per patient," he said.
According to the Canadian Cancer Society, lymphoma is a blood cancer that starts in cells in the lymphatic system. The lymphatic system works with the immune system.
"Events like Laughter 4 Cancer do more than just raise money. They also raise important awareness for blood cancers," said White.
The audience at Absolute Comedy was filled with Bessette's friends and family — and even the coach of his daughter's soccer team.
Bessette said his favourite thing about the event is seeing everyone gathered together for a good cause.
"Everyone," he said, "just gets to sit down, relax, and have a laugh."