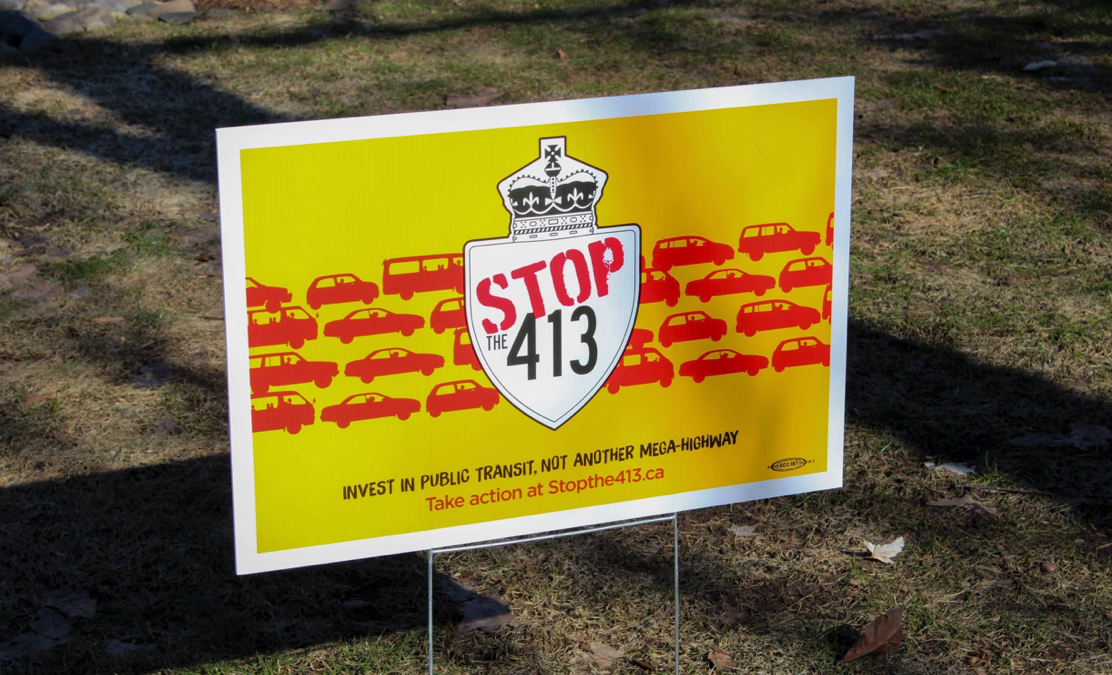 CALEDON, Ont. — As you drive northwest out of Toronto, high-rise buildings start to disappear replaced by farm fields, small towns and provincial parks filled with wildlife. You have entered the Town of Caledon, but this relatively lightly developed municipality on the edge of the GTA is at risk of having a major highway built through it.
The Ontario government has proposed a four-to-six-lane, 400-series highway in the area, to be called the GTA West Corridor or Highway 413. It is to be 59 kilometres long with 11 interchanges to municipal roads and easier access to highways 400, 427, 410, 401 and the 407 toll road. It will extend from Milton near the west end of Lake Ontario to suburban Vaughan north of downtown Toronto, cutting through the lower part of Caledon.
Caledon is home to about 71,600 people and has some of the best farmland in the province. The average time driving from one end of Caledon to the other is about 35 minutes. Geographically, it's the largest municipality in the Greater Toronto Area.
Michael DiMuccio, a resident of Kleinburg, one of the small communities inside Caledon, knew nothing about the highway until he realized it was going to be built about 500 feet from his backyard. Speaking with his neighbours, many had no knowledge of the highway, so he took matters into his own hands.
DiMuccio created the "Stop the 413" Facebook group in November 2020 to alert more people the planned highway, and the group has gained traction. He is not just alerting his community anymore; he is opposing the construction. He has been spreading the message: "Stop the 413. Invest in public transit, not another mega-highway."
"If our numbers are large enough, and we can communicate intelligently about what the situation is, (people) can then start to take action," DiMuccio says.
Four years ago, an expert panel deemed Hwy. 413 unnecessary after finding it would damage the environment and only save commuters 30 to 60 seconds of time compared with other existing routes.
Even so, the Progressive Conservative government has revived the plan, dividing the community. Some local politicians argue the project is needed to fight traffic congestion and better serve the transportation needs of the fast-growing community.
The upper estimate for the cost of building Hwy. 413 is $6 billion, based on the previous environmental assessment (EA) conducted in 2018. A new EA is being conducted that focuses on precisely identifying the route and developing a design for an overall design for the new transportation corridor.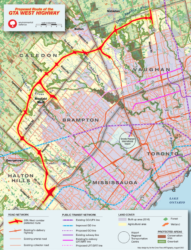 In a press release, Caroline Mulroney, the provincial minister of transportation, said "the GTA West Project will create thousands of jobs and generate up to $350 million in real GDP during construction." The Ford government also cites congestion as another reason for the roadway.
Johanna Downey, Ward 2 regional councillor, says residents in her area, specifically in the agriculture community, have been engaged in this project for around two decades.
On March 11, the council of the Regional Municipality of Peel held a meeting and discussed Highway 413. According to the council, the highway is part of a larger discussion that formally started in 2010 with a boundary area transportation study.
The community feedback Downey received has been marked by frustration. "It's like this group of people woke up one day and said let's stop this, let's stop the 413," she says. Many others in her area were confused where this reaction came from.
Around 18 per cent of Caledon is Whitebelt where future development may be permitted. The rest of the town's land, about 80 per cent, is protected Greenbelt.
Downey says she wants the EA finished so she can find out if any form of development is feasible.
"It's very premature to make any decisions or say yes or no to something when we haven't actually done the homework to know if it is possible," she says. "If we don't preserve that corridor the entire area will be built up anyways."
The farms on the land Downey described have been in limbo because they could be developed. Farmers can't sell because no one wants land that's targeted for a potential highway corridor, and they risk being developed if they grow their operations.
Tom Dolson, the president of the Peel Federation of Agriculture, said in an email that developers own about 75 per cent of the Whitebelt. Developers have been steadily acquiring farms in Caledon for about 25 years, but actual development has been frozen for 14 years, he explained.
Brampton resident Adam Hamilton says he's in favour of the highway because traffic in his area continues to worsen.
"There is no real east-west corridor for people to get across the city, in fact, it can take almost as long as it takes to get from Brampton to Toronto," Hamilton says.
Mayfield Road divides Brampton and Caledon and is usually congested with truck traffic moving goods to Bolton-based distribution centres. Hamilton says he thinks Hwy. 413 will help alleviate some of the traffic on this road.
Surrounding cities, such as Mississauga and Brampton, have used up most of their land, and development is now spreading to Caledon.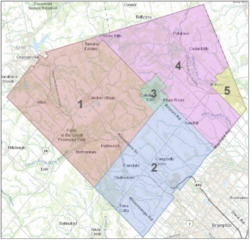 Ian Sinclair, Ward 1 regional councillor, says he has mixed feelings about the highway. "We can see a need for an alternative route to relieve the congestion on the 401 and move it across to the 400, but there is a major cost to us because we're losing land for alternative uses," Sinclair says.
Much of the highway would be built on the Whitebelt of Caledon, which according to Sinclair, is in the firm hands of developers.
Ultimately, it is up to the farmers to decide if they want to sell their land. However, Sinclair says many of the owners have already sold their land and are living in their homes until told to leave.
According to Dolson, the Peel Federation of Agriculture does not support a federal EA on Hwy. 413 because it could possibly extend the freeze on farmland.
Critics cite many reasons why Highway 413 should not be built, and the relationship between developers and the provincial government is a key concern.
According to a recent Toronto Star report, out of eight developers who own prime land along the proposed route, four are strong supporters of the Progressive Conservative government. "Most of the developers are significant PC donors," the article stated.
Tony Rosa, Ward 5 area councillor, has lived in Caledon for 20 years and has concerns about what this highway will do to the Town of Bolton. He says Caledon is supposed to grow to 300,000 people by 2051, more than four times today's population.
In 2019, Ontario declared a climate change emergency to protect provincial ecosystems and communities from the impacts of climate change. According to Environmental Defence, a leading environmental advocacy organization in the province, the highway will pave over farms, forests, wetlands and a portion of the Greenbelt.
Sarah Buchanan, program manager for Environmental Defence, is organizing opposition to Hwy. 413. In a world of climate change, the highway is a really bad idea, Buchanan says.
"It would add a lot of cars and trucks to the road at a time when transportation emissions are going up when they need to be going down," she says.
In 2018, the Ontario government created the Made-in-Ontario Environmental Plan to protect air, land and water. The construction of this highway will be going against the plan.
"I think that the 413, in particular, brings with it so many different problems that I've seen people from many different walks of life come together to oppose it," Buchanan says.
They include critics like Irene Ford, a Vaughan resident. "We need solutions that address climate change," Ford says. "I think the government really needs to look at this goods-movement model and what they are supporting and how it's driving climate change."
In 2017, the former Liberal government came out with the Greenbelt Plan to protect the countryside. It includes agricultural viability and protection, environmental protection, settlement areas, infrastructure, natural resources and climate change. "Its fertile soil, moderate climate and abundant water resources support agricultural production that cannot be duplicated elsewhere in the province and the country," the plan reads.
Although the highway would not be built over a large part of the Greenbelt, it would disrupt the land leading up to it, which would impact watersheds and the lower part of the Greenbelt, just above Mayfield Road.
The Toronto and Region Conservation Authority released a statement arguing that about 85 watercourses would be impacted by the project, and, of these stream crossings, 10 are "high priority" locations ecologically, because they are in deep valleys.
Over the years, Ford said she has seen proponents point to consulting reports that say the land has been degraded or does not hold the same ecological benefits as it did before.
"They start to really create this narrative that the land is not as important as it might be and beat down the natural heritage or importance of the natural heritage features that are there," she says.
The Highway 413 website says the province is committed to maintaining a strong environmental oversight during the project to minimize impacts on nature. "Proposed watercourse crossings would be designed with the intent to minimize the impacts to the watercourses, the valley lands, floodplains, fish habitat, wildlife and trail networks," it reads.
Despite their promised efforts to minimize impacts on nature, will this be enough compared to how much damage it may cause?
Other municipalities have withdrawn their support to build Hwy. 413, including Mississauga and Vaughan.
Bonnie Crombie, mayor of Mississauga, is an opponent of the proposed highway. She has shown her support for the cancellation of the project by joining forces with reputable environmental organizations, including Environmental Defence.
"We feel this is a relic of past planning methods and only encourages urban sprawl," Crombie says.
An unnecessary highway
The mayor says she thinks the highway is unnecessary especially since it will only save consumers about a minute of commuting time. 
Phil Winters, co-owner of GoodLot Brewery in Alton, opposes Highway 413 because he believes there are better forms of transportation. "It just seems ludicrous that you would sacrifice the ecological well-being for some perceived economic well-being that runs counter to the natural systems that we're trying to protect," he says.
Winters has found that very few big-operation farmers oppose the highway but the smaller organic farmers are opposed to it. However, Winters says it seems like the big canola and grain farmers are using this as an opportunity to become millionaires. "I really think who is driving this whole agenda are the developers," Winters says.
Crombie says there are other solutions besides building Hwy. 413, such as extending Hwy. 427. To hasten the movement of goods, Crombie suggested a dedicated lane on Hwy. 407 for trucks.
Ford and Winters agreed that alternative approaches should be considered. They both suggest the government use existing highways, such as the 407, since it is currently a toll highway and relatively few people use it.
"The 407 and the 412 (in east-end GTA), it's like a ghost town," Ford says. "Local residents are complaining because they don't use it because it's a toll highway, and so it's not actually alleviating any traffic congestion because nobody wants to use it."
There is a large group of people who want to see Hwy. 413 cancelled, but until the latest environmental assessment is complete, there is no telling what the future of the 413 will hold. The EA will be completed by the end of 2022, according to the Ontario government's website.
In the meantime, the controversy around the project continues to grow.
---
More Stories