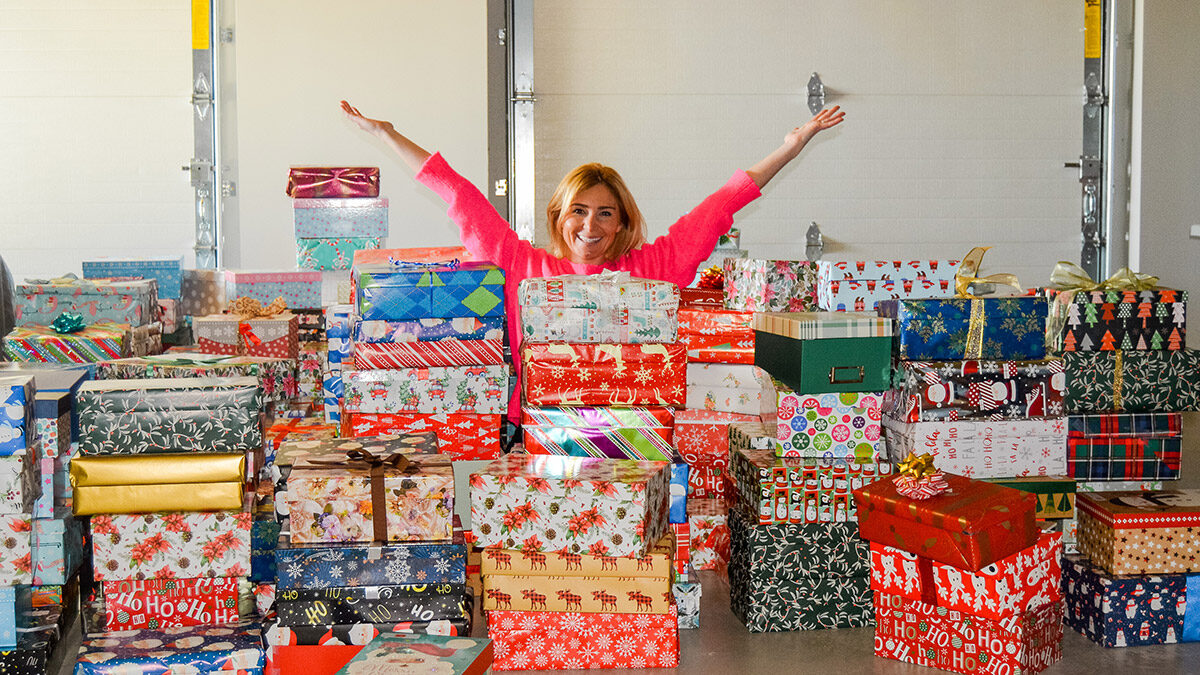 The Ottawa Shoebox Project, a charity delivering gift-filled shoeboxes to local shelters and community agencies that help women affected by homelessness, is having difficulty meeting requests this holiday season.
Started 11 years ago as a local chapter of The Shoebox Project for Women, Ottawa's Shoebox Project sends the boxes, primarily donated by the public, to homeless women or women at risk of homelessness. Last year, the organization delivered about 2,500 shoeboxes. This year, the project hopes to reach 3,500 to 4,000 women, but organizers worry it may not reach its goal.
Randi Prieur, coordinator of The Ottawa Shoebox Project, says the organization sees more need because more women — those who lost jobs because of COVID-19 and suffered while staying with their abusive partners or were unable to afford rising rent — are seeking help through area shelters. In addition, with overall costs rising, the organization also lacks funds to buy extra gifts to fill needed shoeboxes.
Prieur said the organization has added items to its annual online auction to raise more money. The organization also increased its social media presence on Twitter and Instagram, hoping to raise awareness and receive more gift boxes from local residents.
"I have to say that's a heartbreaking thing to go through, where you don't have enough to give every woman a Christmas gift this year, a holiday gift, something to let her know that she's seen, and to help her connect back to the community," said Prieur.
Homelessness for women is worsening in Ottawa. Chantal Cadieux, Overnight Shelter Manager from Cornerstone Housing for Women, said the shelter she manages is receiving more demands than it can accommodate.
"That's one of our biggest issues because we just don't have space to take more people and there's so many people that do need a bed," said Cadieux. "We get calls late everyday for beds, and 90 per cent of the time we are full. So we have to just find a different shelter for them."
"It lets these women know they aren't alone. It helps reduce that feeling of isolation and helps them move forward."

— Randi Prieur, The Ottawa Shoebox Project
"They are having an increased demand, which means they are asking us for increased donations," said Prieur.
The organization also makes additional shoeboxes itself and supplements collected shoeboxes with extra gifts it buys.
"So when we are inspecting [collected shoeboxes], we can add some items into those shoeboxes to make sure everybody is receiving an equitable gift," said Prieur. "And with the [rising] cost right now, we are just struggling to make that happen and have the high-quality boxes we are known for."
Many charities across Canada are struggling to run programs with higher costs, even as demand for their services increases.
"It's like a strain on the whole system. It has a domino effect," said Prieur.
Prieur said every shoebox collected from the public is inspected to ensure its contents are valued at about $50.
"We do have a level of quality that we put forward in every shoebox, so it's not just basic necessities. There's luxury items in there, to a nice chocolate bar, some mascara or lipstick, something to make them feel special," she said.
Sixty volunteers inspect the boxes, which requires time and patience. They also help pick up and deliver shoeboxes and run social media.
"Without all the volunteers doing this program, it just wouldn't work right, because there's such a volume, an influx of boxes that come between," said Amanda Silverthorn, whose family has been volunteering for three years.
Ashley Jordan, senior program manager of Booth Residence at Cornerstone Housing for Women, takes charge of a supportive housing building with 42 women who have experienced homelessness. She said the holiday season is usually the hardest time for residents.
"The Shoebox Project is important for us because it allows our residents to be able to open a gift or two. Many of our residents have never had that pleasure of 'normal Christmas,' so we try to make this time a little bit better for them," said Jordan.
Jordan said gifts are even more special to her residents this year because residents were displaced by a fire earlier this year and have just returned to the original building.
Prieur said shoeboxes help these women feel more connected to society.
"It lets these women know they aren't alone. It helps reduce that feeling of isolation and helps them move forward and helps them through their journey and helps hopefully move out of the system and to be more independent," said Prieur.
How you can help
Before Dec. 11, 2022:
Fill a shoebox with gifts and deliver it to one of the drop-off locations.
---
More Stories