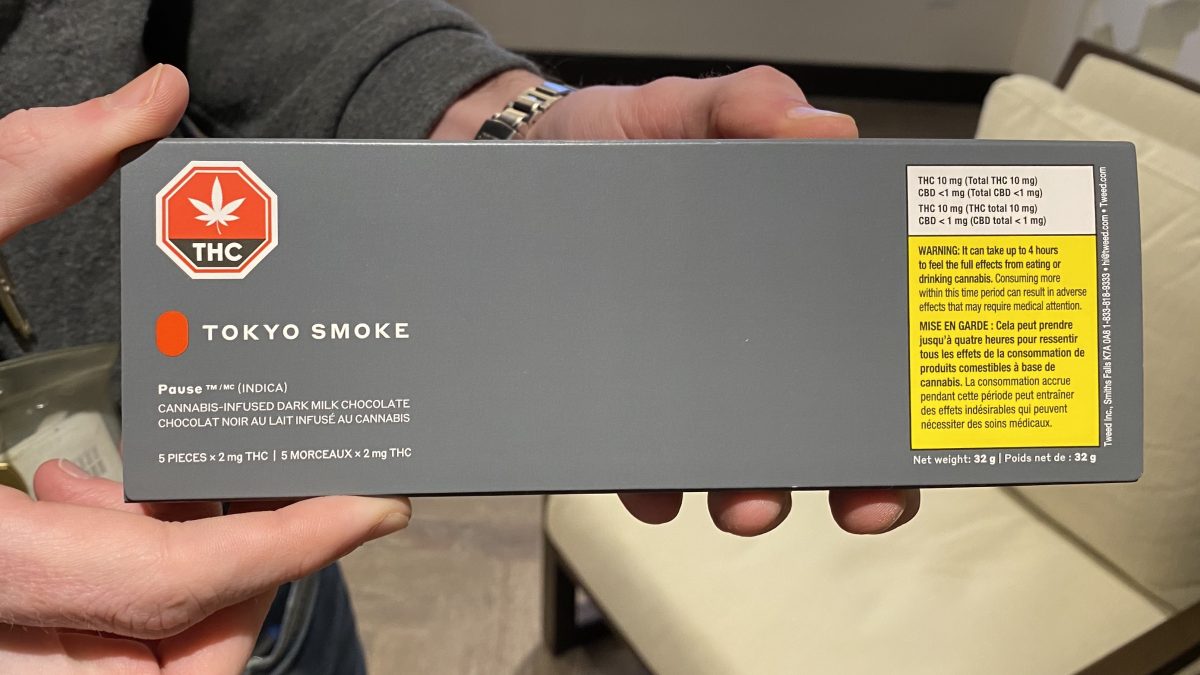 The shelves are almost bare at Fire and Flower, a cannabis store in the ByWard Market, and the 21-year-old guy who wanted to buy a cookie had to choose from a few chocolate bars and gummies. 
Ben Warner, assistant general manager at Fire and Flower said, at the time of this interview, that the store wasn't receiving enough stock to keep customers happy. "There's a limited supply at the moment," he said, "there's not as many producers making them." 
The range of products, including chocolate bars, cookies, gummies and mints didn't come to all cannabis stores on Jan. 6, 2020 as promised. For example, Fire and Flower received its first batch on Jan. 9 and London cannabis shops received their products on Jan. 11.
Just like the situation that unfolded when cannabis was first on sale legally – shortage of supply and delay in getting products – cannabis retailers were seeing a delay in getting adequate stocks of edibles on the shelves. 
Tricia Lackey works in brand experience at Superette, a cannabis store based in Toronto with a location on Wellington Street close to Westboro. She recommends that people check leafly.ca before going out to stores to see what's in stock and avoid disappointment upon arrival. 
Even with the supply and demand issues, many don't seem too hung up on the fact that edibles aren't easy to get. The 21-year-old male (who didn't want to share his name), works as a gym instructor in Ottawa. Bundled in his winter gear, he said he was especially excited for edibles. 
"I prefer edibles as an alternative because I can take it and people won't smell it," said the young man who was walking away from Fire and Flower. He says there's a lot of stigma around the smell of cannabis. "When I'm in a public place, I don't like people to know that I'm smoking because of all the stereotypes," he said.
Lackey from Superette said edibles appeal to a variety of people for a variety of reasons. "There's not just new customers from a young person's perspective, but there's people that have been brought up with fear surrounding [cannabis]," she said.
She also says that people don't see edibles in the same way they see smoking cannabis – surrounded by a negative light.
Warner and Lackey said that dosage is another great thing about edibles. "An edible is a really great way to be able to dose exactly and know exactly what you're getting into your body," she said.
With Health Canada regulations, individual edibles can't contain more than 10 milligrams per product. Some of the gummy products are sold in packages of four, so the package is 40 milligrams, but each gummy can only be up to 10 milligrams. Warner said that products in the illicit market can contain up to 100 milligrams per product.
David Jenson, an Ontario Ministry of Health spokesperson, said that all cannabis consumption comes with health risks but smoking it can impact the user physically. "If you smoke cannabis, you may experience additional long-term health effects, including bronchitis, a long-term cough or a lung infection," he said. 
"The act of actual combustion doesn't feel awesome," Lackey said. People like being able to take marijuana without feeling like they're going to "cough up a lung" she said.
The gym instructor said that before edibles were legal, smoking marijuana was hard for him because of the impact it had on his lungs.
For new users, smoking may seem more intimidating because of the steps. "There's so many different ways you can smoke the herb," Warner said.
Since edibles have these features that can appeal to more people of all ages, "the government has done a really sensational job at making sure that the packaging doesn't look attractive," Lackey said, "but once you open anything – I think anything is appealing."
Warner says that more products will start trickling in over the next seven months and he encourages people to get out to their local cannabis store quickly if they're wanting edibles.
Cannabis 2.0
by
Camryn Patterson
---
More Stories