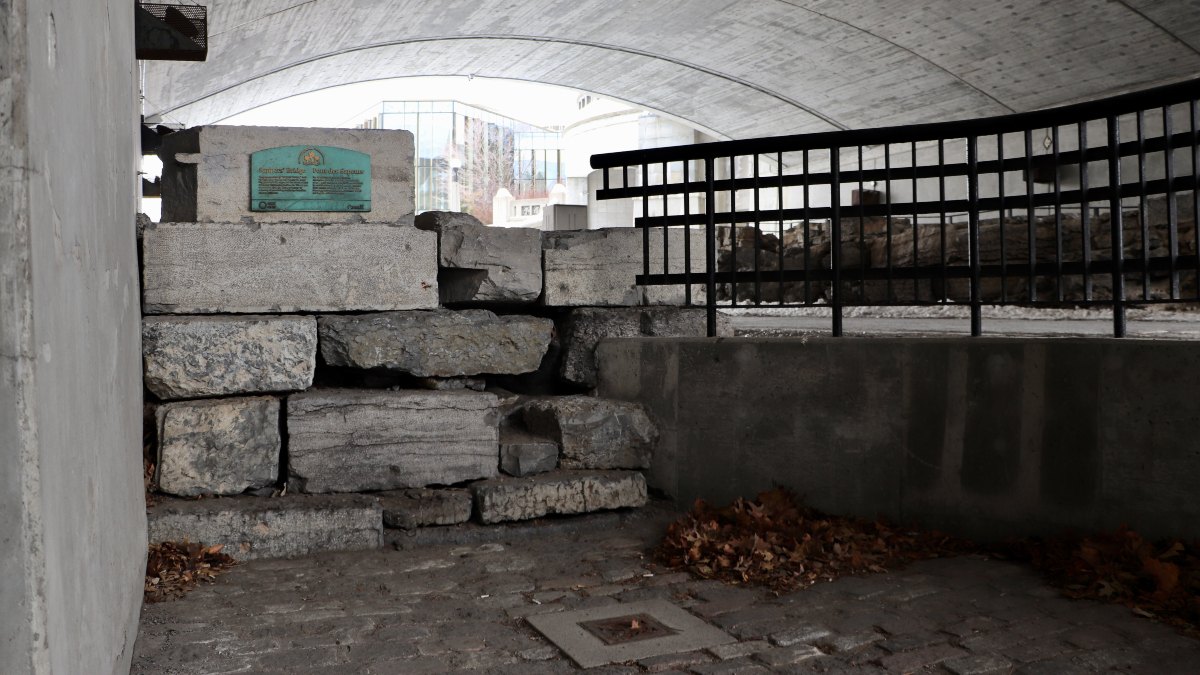 If you've ever found yourself underneath Rideau Street's Plaza Bridge, you might have noticed what appears to be a pile of discarded masonry. If you looked a little closer, you may have discovered a National Capital Commission plaque commemorating these slabs as important relics of Ottawa's history.
The pea-green sign marks the remains of the Sappers' Bridge, one of Ottawa's first fixed crossings. Designed by Thomas Burrowes, assistant overseer to Lt.-Col. John By during the construction of the Rideau Canal, the bridge was completed in 1827.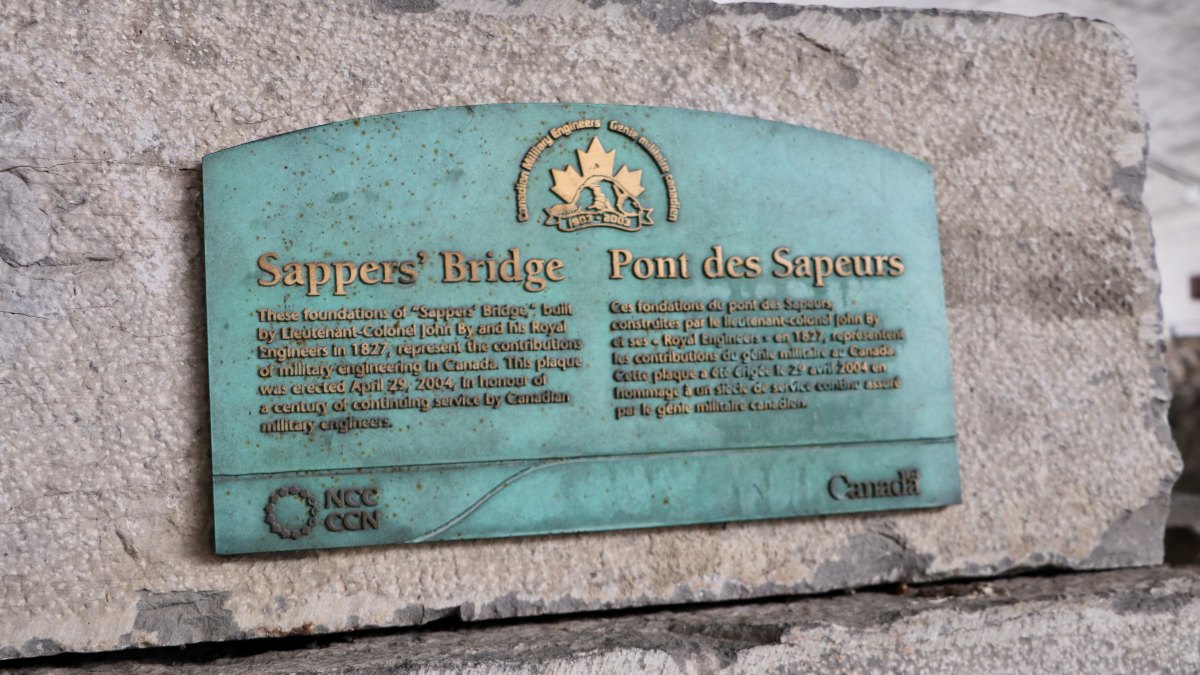 Rather than the bridge being built of wood, as was Burrowes's original plan, By insisted it be constructed with stone so it would be a permanent feature of what would become Rideau Street. The bridge was expanded after Ottawa became Canada's capital in 1867 and the city's population surged.
At the time of the bridge's construction, Ottawa — then known as Bytown — was separated into two communities. The majority of its population lived in Lower Town (today's Byward Market and adjacent Lowertown), consisting mostly of French and Irish Catholics, who were considered social inferiors within colonial Canada. Many of Lower Town's inhabitants were labourers during the construction of the canal and its related structures, including Sappers' Bridge.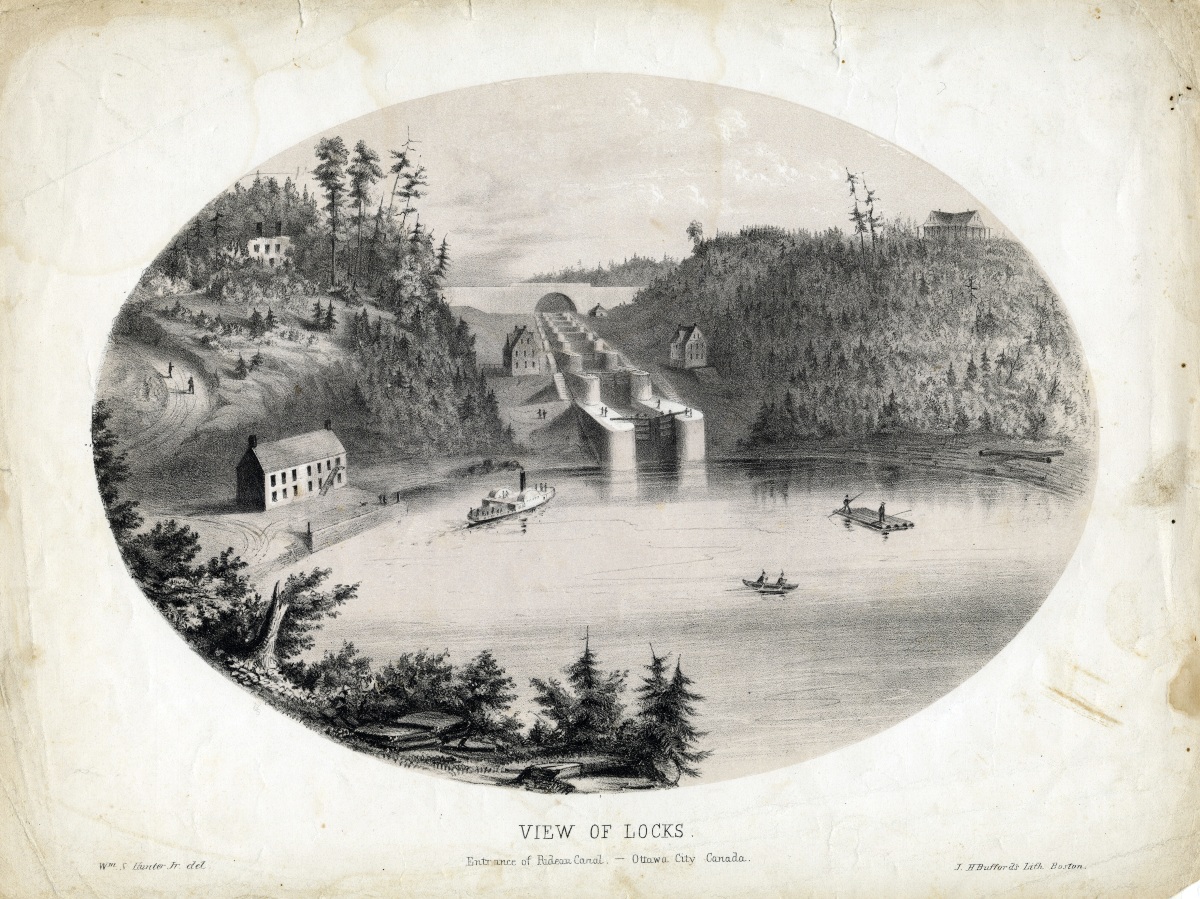 Located to the west was Upper Town, which had a much smaller population and housed the city's elite, consisting mostly of Scottish and English Protestants, including Royal Engineers — also known as "sappers" — such as Burrowes and By.
Sappers' Bridge was the first direct physical connection between these two communities. It spanned the divide between Protestants and Catholics, English and French, rich and poor, engineers and labourers. The bridging of these two groups would be an important step towards mediating class relations in the city, making Sappers' Bridge something much more significant to local residents than a simple walkway.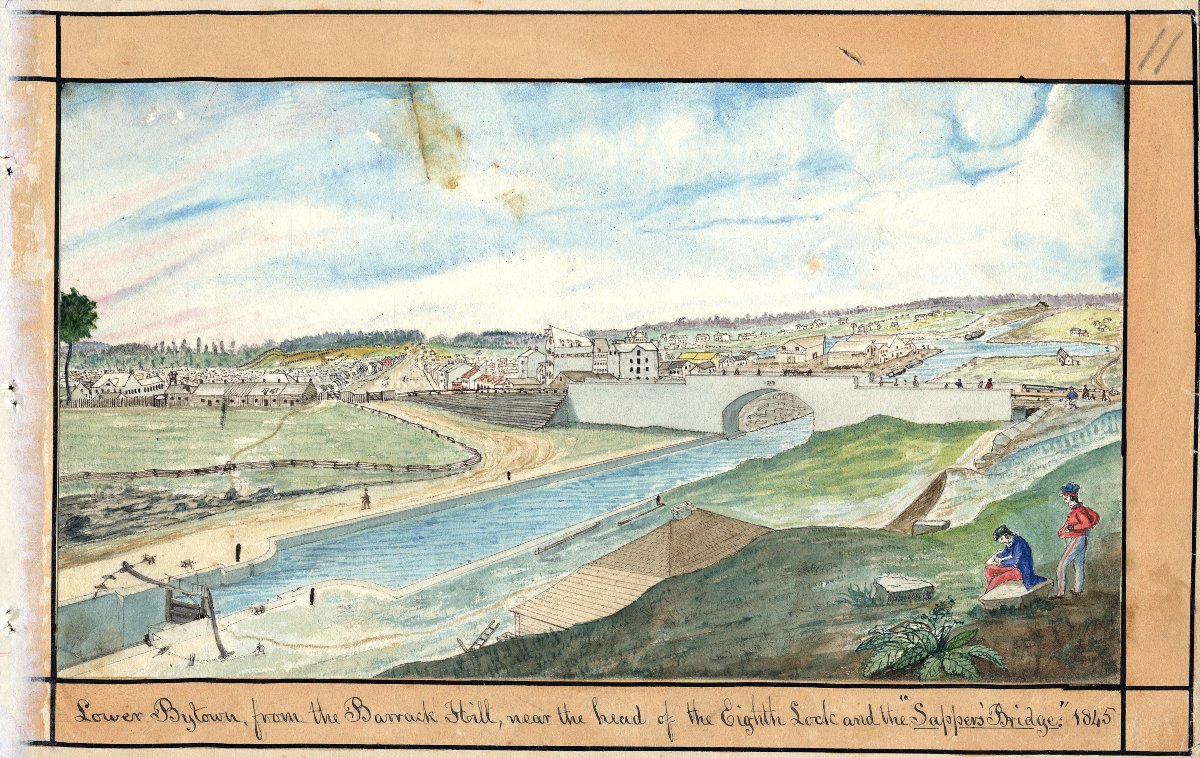 In fact, the bridge would become so significant to the city's identity that plans for its demolition angered residents, despite its gradually worsening state of repair. An 1871 Ottawa Citizen article referred to the possibility of taking down the Sappers' Bridge as "sacrilegious," considering it "an old landmark in the history of Bytown."
Despite efforts to keep it from demolition — including the completion of the neighbouring Dufferin Bridge in 1874 — the Sappers' Bridge met its end in 1912 after Rideau Street's increasing traffic made it structurally unsound. Both bridges were replaced by the Plaza Bridge, which remains a Centretown landmark.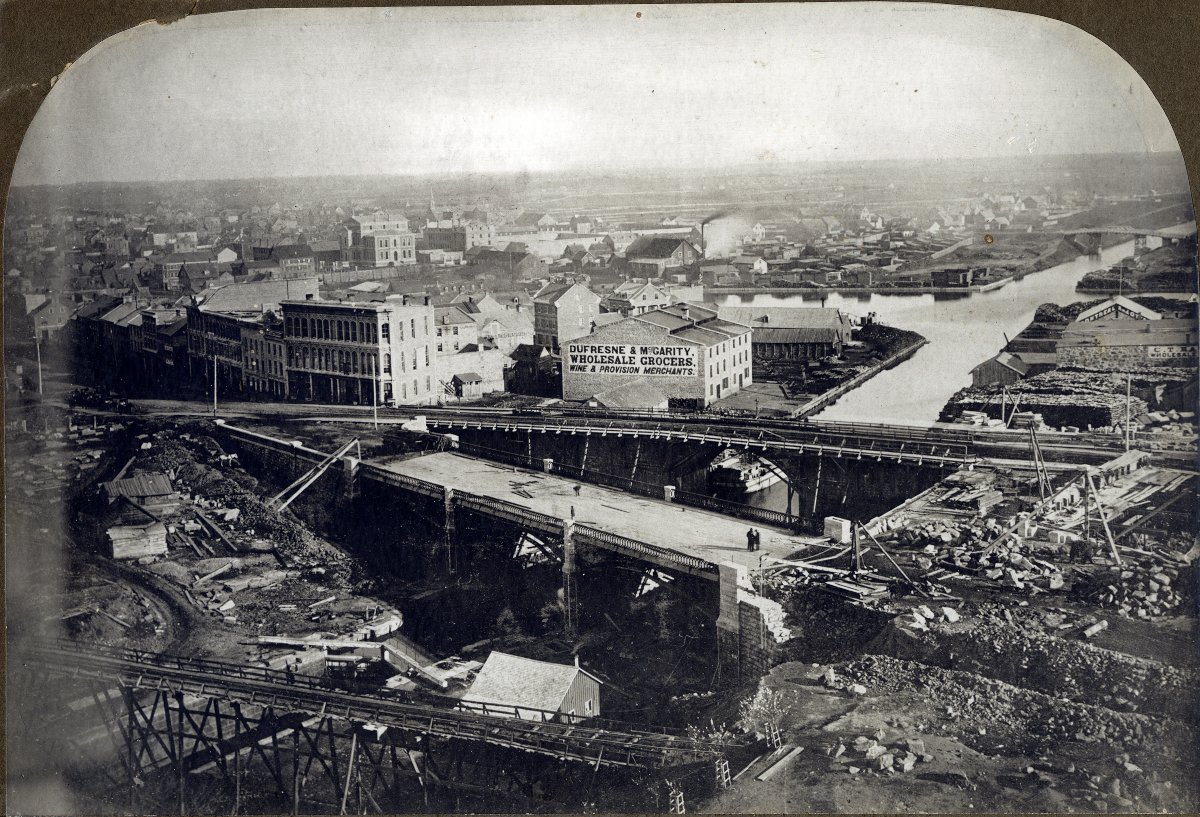 Though the bridge's physical remnants are few, its cultural remains run deep within the city. The Sappers' Bridge connected two disparate communities at a time when prejudice was as embedded in Ottawa's landscape as the Rideau Canal. It symbolized the possibility of the co-existence that would be essential for Ottawa's development into the prosperous and peaceful city it became.
All historical information relayed in this article is courtesy of Grant Vogl and the Bytown Museum's archives.
---
More Stories