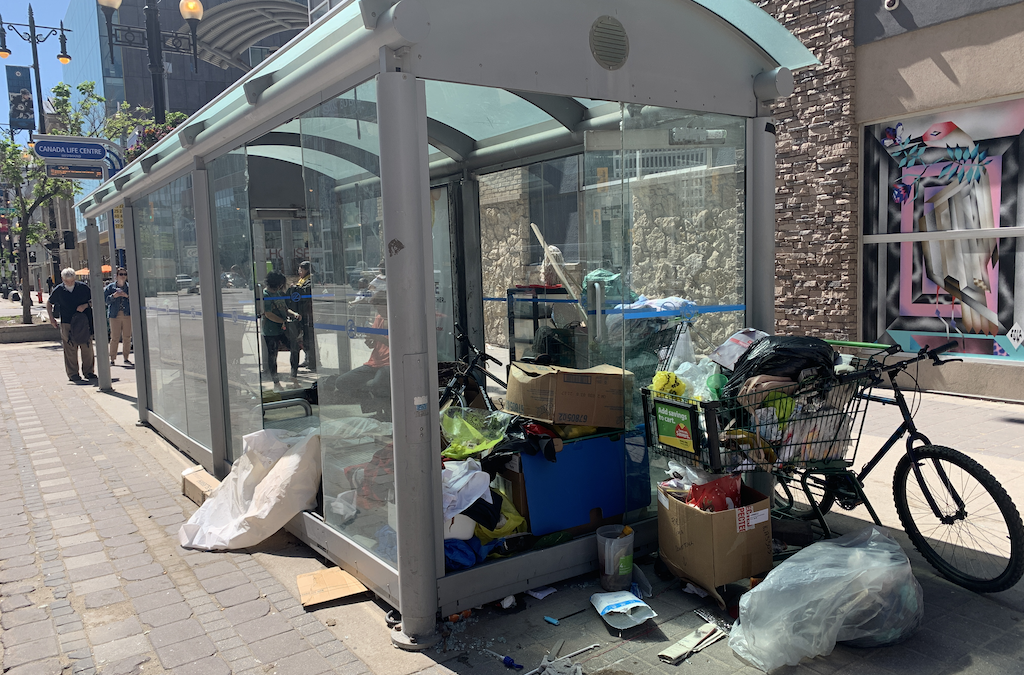 WINNIPEG — Winnipeg City Council is set to hear a motion Thursday to dismantle bus shelters along a major east-end street after the proposal was jilted at the city's Executive Policy Committee meeting last week.
The idea is being pushed by Transcona Coun. Shawn Nason, who recommended the removal of glass, doors, and benches at two bus shelters on Regent Avenue citing safety concerns following public complaints about substance use in the structures.
Drug use and overdoses are significant issues in Winnipeg, with the administration of naloxone by Winnipeg Fire and Paramedic Services nearly doubling from 1,403 incidents in 2019 to 2,684 in 2020.
In 2020, substance-related deaths increased by 94 per cent to 369 compared with the 2017-2019 average of 190 deaths per year, illustrating what one city councillor calls a "crisis."
"Crystal meth is cheap and it's ravaging our population," said Coun. Matt Allard, who represents St. Boniface.
That sense of urgency was shared by community organization representatives who called for "evidence based" solutions to the issue, describing the proposal to dismantle bus shelters as "regressive" and "punitive."
"My first reaction was that this is a huge step backwards," said Kris Clemens of End Homelessness Winnipeg. "My second reaction was, 'This is ridiculous.' This isn't going to do anything except stir up controversy."
Although the committee was not in favour of stripping amenities from the shelters, voting 6-1 against the motion, advocates say homelessness and addiction do require government action, but not punishment of the unsheltered.
"My first reaction was that this is a huge step backwards. My second reaction was, 'This is ridiculous.' This isn't going to do anything except stir up controversy."

— Kris Clemens, End Homelessness Winnipeg.
"In the absence of adequate housing and safe consumption sites, people inevitably use substances in public spaces," reads a joint statement issued by several community organizations protesting the motion. "Dismantling one or two bus shelters does not address this."
For many local organizations, the solution to reducing substance use in public is obvious.
"Safe consumption sites save lives. They're evidence based. They're best practice. People don't die. It makes so much logical sense," said Glynis Quinn, executive director of 1 Just City.
"One of our guests — who was much loved at one of our sites — died at a bus shelter. He didn't even take drugs typically," said Quinn.
The increasing number of incidents at transit shelters is illustrated by the sharp rise in calls for emergency services. Calls to the Winnipeg Fire Paramedic Service rose 49 per cent between 2020 and 2021, and 96 per cent between 2015 and 2021.
And calls related to overdose/poisoning increased by more than 50 per cent between 2020 and 2021.
Despite the rigorous organizational advocacy and the pressing issue of drug overdoses on Winnipeg streets, Manitoba continues to be one of the only remaining provinces without a safe consumption or overdose prevention site.
City councillor and Transit Safety Committee Chair Matt Allard says resistance by the provincial government is to blame for the stagnancy on this issue.
"There's a big responsibility that's not being taken at the provincial level," said Allard. "They are accountable to our citizens' health and there's a homelessness and addictions crisis happening."
Despite city council laying the onus on the province for the roll-out of a safe consumption program, the city could move forward without provincial support. 
Mayoral candidate Rick Shone says he's in favour of a supervised drug consumption site, but adds that the estimated $1.5-2 million annual cost is a hefty bill for the city to foot alone.
"We need to try something. We're not trying anything. Instead, we're tearing down bus shelters," Shone said on Monday.
Despite its dismissal by the Executive Policy Committee, the motion proposed by Nason will be the subject of renewed debate on June 23.
Nason declined to comment. But Clemens says there's a lot of work yet to be done to convince councillors that the city needs to do more than remove a couple of transit shelters to address drug use and homelessness.
"The struggle isn't over."
---
More Stories