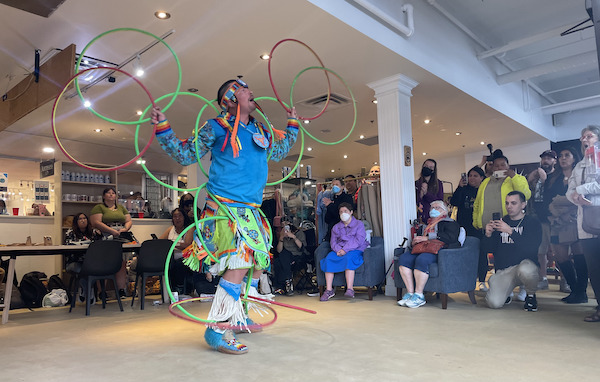 Laughter and conversation echoed in the heart of the city this week despite some rainy weather as community members celebrated National Indigenous Peoples Day at a block party hosted by the Assembly of Seven Generations (A7G).
The Byward Market was filled with singing, dancing, short films and art vendors, celebrating Indigenous culture. Hungry patrons lined up at Justine Deschenes' food stand for a bite from the Algonquin chef's unique menu of, among other offerings, salmon skewers and duck tacos.
It was the first time since the COVID-19 pandemic was declared that National Indigenous Peoples Day events happened in person.
"It's National Indigenous Peoples Day and being Algonquin, I thought it was really important to come and gather with community and friends and family, and just celebrate us," said Katie Butlers, after grabbing a tasty bannock berry shortcake with her friend Ali Summers.
"Especially today it's nice to come out and be visible and connect with some folks we haven't seen in a while," said Summers. "It's nice to finally see people off of Zoom and be able to laugh. A lot of our culture is very hands-on … so it's very cool to see people interacting with each other and being able to be together."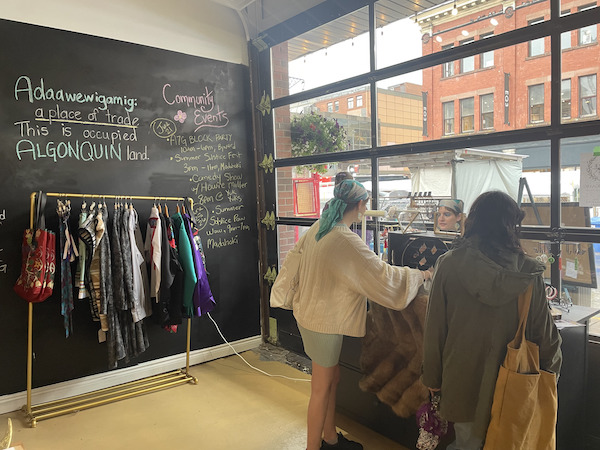 Patrons browsing inside of Adaawewigamig; Chef Justine Deschenes serves food to attendees of the block party; Nancy Pine paints at an activity centre set up by Indigenous Experiences. [Photos @ Wafa El-Rayes]
The event wrapped up two days of festivities supporting Adaawewigamig, a newly opened Indigenous-operated store in the Byward Market building. The store's name means "the place of selling, trading, and shopping" in Anishinaabemowin.
The store on William Street is owned by A7G, a youth-led grassroots organization that provides support and community for Indigenous youth. 
The space will host community gatherings and offer for sale Indigenous-produced clothing, beadwork, wild rice and other products by local artisans and entrepreneurs from across Turtle Island, said Gabrielle Fayant, one of A7G's and Adaawewigamig's co-founders. 
"Being Algonquin, I thought it was really important to come and gather with community and friends and family, and just celebrate us."

— Katie Butlers, on celebrating National Indigenous Peoples Day in the ByWard Market
The hope is that once suppliers and staff are paid, any additional profit will support A7G's community programming.
"We can't wait around for the government to give us money to do this important work," Fayant said. "We, unfortunately, have to do it ourselves — moving the needle and putting pressure on folks to see that we need these services so we can elevate standards.
"Indigenous youth are suffering a lot because of the lack of funding, of housing, of mental health support, and they don't deserve to carry that weight of colonization on their own."
A7G offers land-based, language revitalization and mental health programs for Indigenous youth. 
Harmony Eshkawkogan, an A7G youth working as part of the staff, said that such a space would have meant a lot to her when she moved to Ottawa at age 13.
"I know how important it is, this representation here in Ottawa — especially on one of the original blocks here. So being able to work in a space for Indigenous people and being able to share all the amazing work A7G does was exciting," said Eshkawkogan.
Her enthusiasm was shared by other members of the community, including Nancy Pine. She came to the event with her husband and daughter, Julia Pine Eisson, who participates in A7G programming.
"Being seen and heard is very important, because social media is one platform and forum but in Indigenous culture, it's really important to connect in body, mind and spirit," she said. "So having a presence here in the heart of the market, in the heart of the city — it's really important to be seen and heard. I applaud the artists, the youth and the community for recognizing and creating that space."
---
More Stories