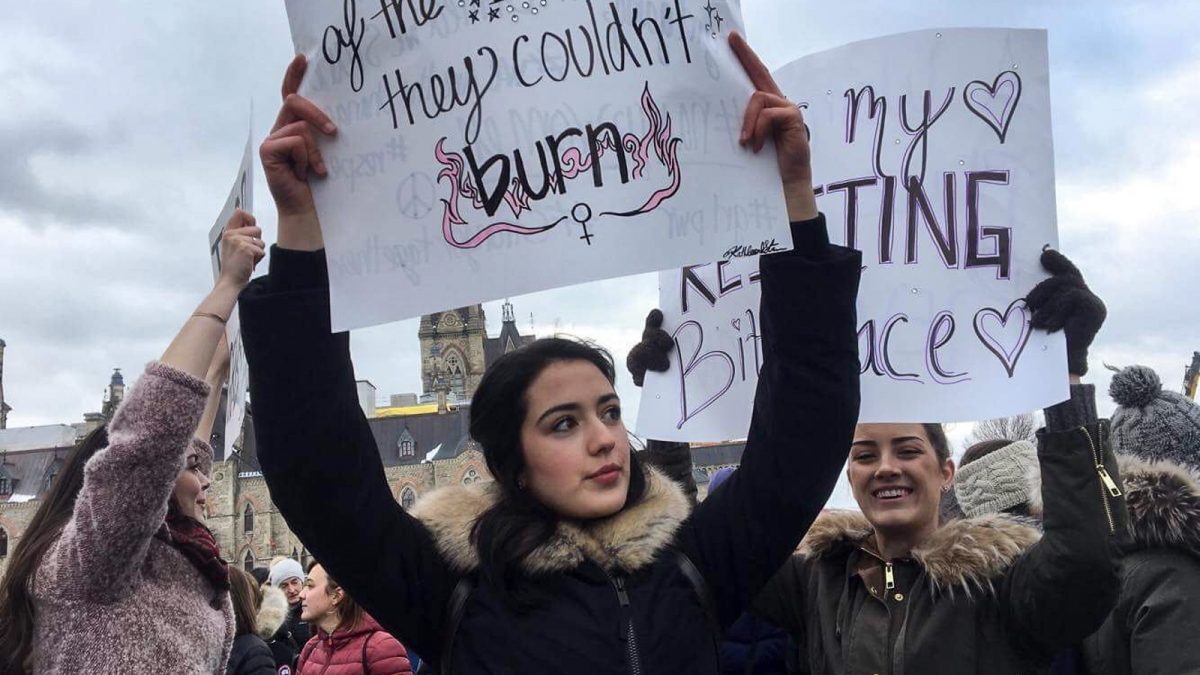 On Saturday, a #WomensWave of more than 1,000 people flooded Parliament Hill.
The national Women's March gathered Saturday morning on the Hill at 11 and then headed down Bank Street to rally at Lansdowne Park at 1:30 p.m. buffeted by bitter cold temperatures that reached -20C.
This is the third year of the march which was sparked by the election of Donald Trump as president of the United States and the #MeToo movement. There will be marches across Canada, the United States and around the world.
This year's march in Ottawa called for an end to gender-based violence and was to feature keynote speakers Dillon Black, a gender-nonconforming and LGBTQ+ rights advocate, and Bridget Tolley, who is a founding member of Families of Sisters in Spirit, which advocates for an end of violence toward Indigenous women and girls.
The Women's March has become an opportunity for activists get together face to face and to speak publicly on the issues, said Paulette Senior, the president and CEO of the Canadian Women's Foundation.
"In the era of the #MeToo and other online movements, except for the marches, we [activists] don't get to see each other's faces, reach out and touch one another, get to talk with each other very often. The march allows us to demonstrate just how much these issue matter to so many of us," she told Capital Current.
Senior believes that a large gathering such as the Women's March makes a difference and helps send a clear message that gender issues matter.
"Some people might ask why, in 2019, we still march," said Senior. "But the fact is that the gender pay gap is still live and well. And in this moment of #MeToo, and conversations with respect to gender equality, sexual violence, and issues of consent – this is a moment in time where I think we have an opportunity to show decision makers, leaders, and each other that these issues matters to us. Showing up matters. "
The programming this year included a project by the local art collective Higher Love. Marchers who arrived at the Aberdeen Pavilion were to leave their protest signs alongside the building create a "vast and bold canvas of powerful messages." The protest signs will then be transformed into a public art project.
"It's exciting to be part of the march," said, Ashleigh White, one of the five artists with Higher Love. "Especially with the new issues that have arisen in the past year, and because of the understanding of what it means to march."
Since last year, White says the route of the march has been changed to allow families to join along the way at intersections.
"Now people have the option of joining the march at any of the intersections and can have a taste of the march without having to walk the whole distance if that's too difficult for them in the cold weather," said White.
---
More Stories