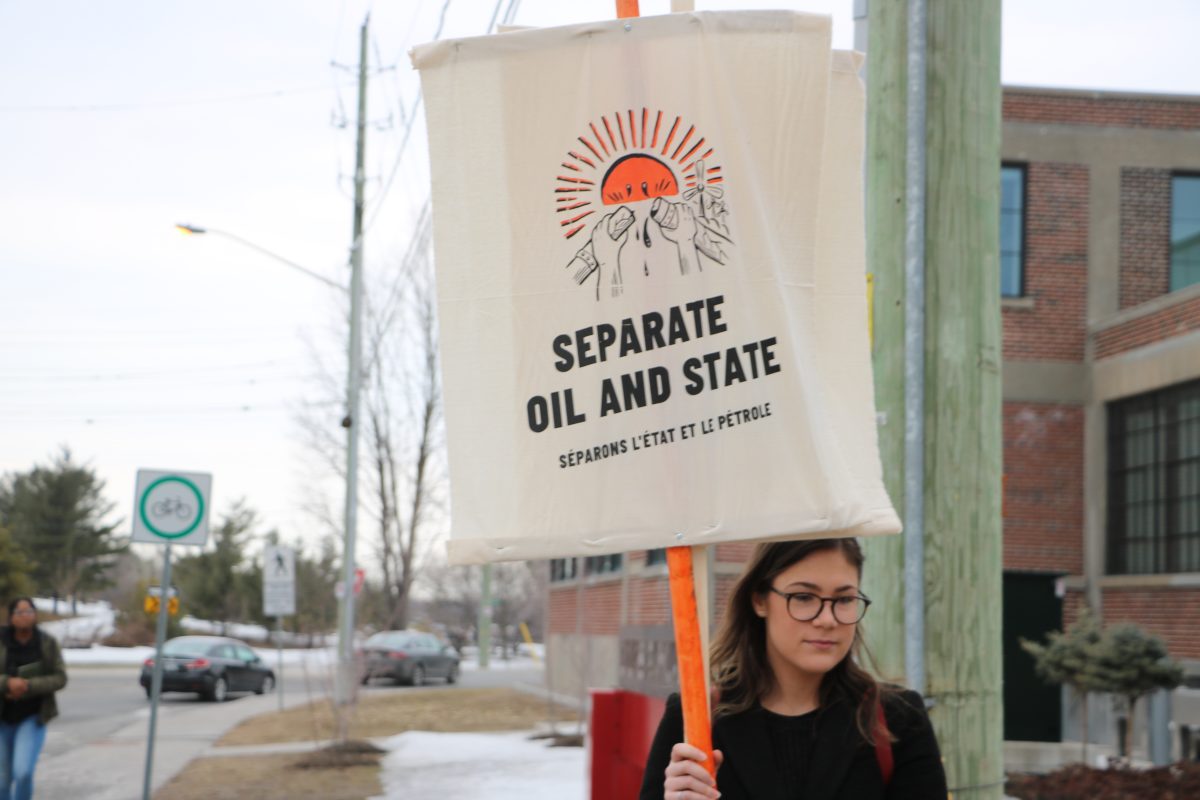 Outside the Bayview Yards innovation hub, a group of climate activists chant 'Who's side are you on?' in hopes they will heard inside by Catherine McKenna, the federal environment minister. Organizer Katie Ryan-Perfitt shouts "I don't think she can hear you" to encourage the protestors to chant louder. Soon the sounds echo down the street of the otherwise quiet neighbourhood.
The question was meant for McKenna, who had just finished a town hall to discuss her climate change policies. The town hall was meant to start a conversation with the community on what can be done for climate change.
The meeting was part of a series of events by McKenna in the leadup to the formal introduction of the new federal carbon tax in April. McKenna did speak with the protestors before the town hall.
The protesters are part of a wave of concern by young people about climate change. The most prominent public face of this wave is the Swedish teenager Greta Thunberg and the growing movement called Fridays for Future. But concern is growing locally too.
Amber Dyck, a masters student in agriculture at University of Ottawa was happy to have a chance to speak with the minister. "It was really nice to talk to her, I've been working on being compassionate and trying to recognize her humanity because I know she must have a really tough job trying to bring very diverse ideas together," she said.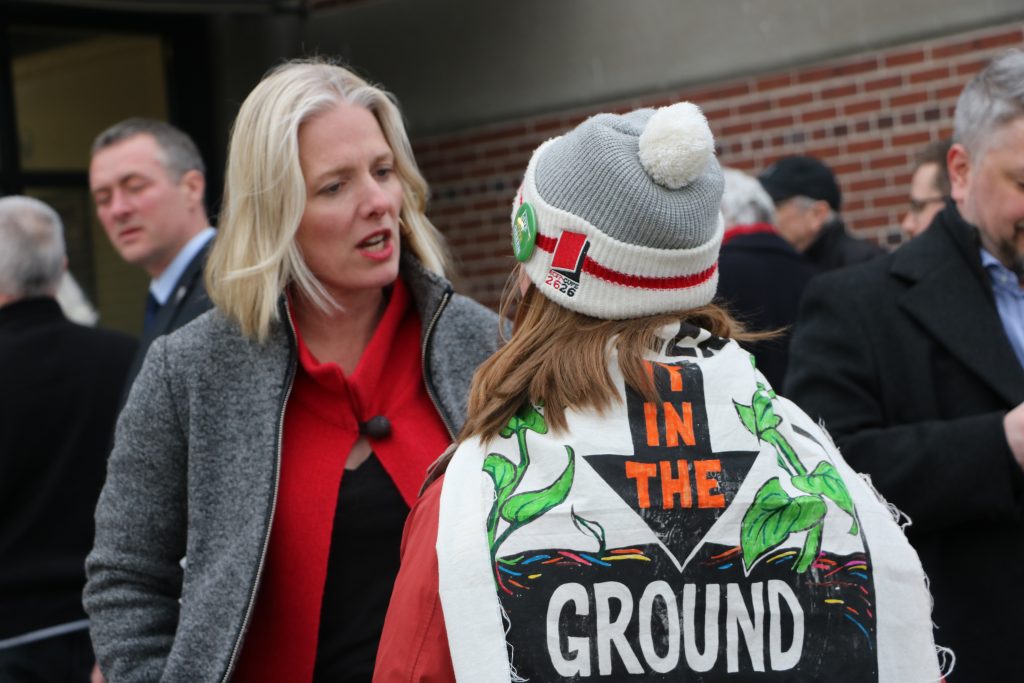 Dyck says she's happy McKenna is enforcing some climate change policies, but says she doesn't believe it's enough. "By even saying we are taking on climate change when our steps are totally inadequate is misleading and it's negligent."
Dyck is pushing for a Canadian version of the New Green Deal. "In Ottawa there's already a hub forming," Dyck said.
"It's recognizing this critical climate state that we're in," she said.
McKenna said she was grateful that the protestors were there. Dyck says that McKenna wants the community on her side. "She really needs us to rise up and be strong to show the oil lobby is not the strongest voice."
Mike Fletcher travelled from outside of Ottawa to attend the function. He said he came on behalf of his daughter, who is involved with Fridays for Future.
Fletcher said youth involvement in the fight against climate change is vital, but the fight isn't only for them. "They have the most invested, if they don't have a future, I really worry for them," he said. "It's become so urgent, that everybody has to take some time to get involved in this."
Lauren Latour represented Ecology Ottawa's new Youth Climate Ambassadors program. It launched in March and now consists of 40 people between the ages of 17 to 27. It aims to educate youth about environmental challenges and what they can do to fight it.
"We're seeing young people taking to the streets in climate strikes, so we're living in a really exciting time," she said.
The Youth Climate Ambassadors work alongside several sustainability programs in Ottawa like the Ottawa Greenspace Alliance and Sustainable Eastern Ontario. The program is similar to internships but with a focus on environment sustainability.
Tao Orion was very concerned by what McKenna had to say. "It was a really tough thing to sit through because it was a really nice presentation. I'm sure anyone who cares about the climate would feel comforted by what she had to say," he said. "But as somebody who knows real issues and what's actually going on, it's all lies."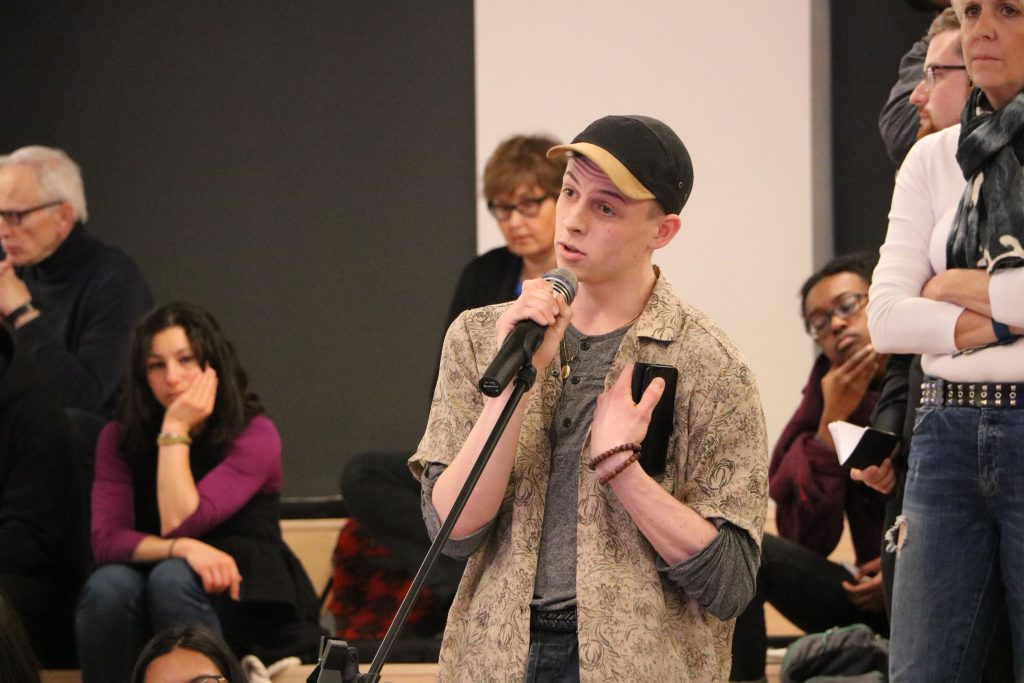 He said that the presentation is not helping the actual issue of climate change. "It's hard to sit through a presentation that is actually contributing to this crisis and why we're heading towards a climate apocalypse."
He is advocating for Earth Strike, an international movement urging workers to take off one day of work to register their protest and make sure that greenhouse gas emissions will go to zero by 2020. This is radically different from McKenna's plan to remove coal in the same timeline.
Orion said he's concerned that the people in charge of climate policy won't be around when the effects of these changes hit fully. "We're the first people to feel the first effects of it, feel the most effects of it. I know Catherine is going to be dead by the time that I'm dealing with flooding and forest fires."
Dyck wants younger people to focus on making small personal changes that will help contribute to saving the environment, like watching their water use or reducing waste. "All of these are ways that people can in their daily life just get a little more linked in and see "oh this is something I can do, and it's exciting and hopeful."
---
More Stories