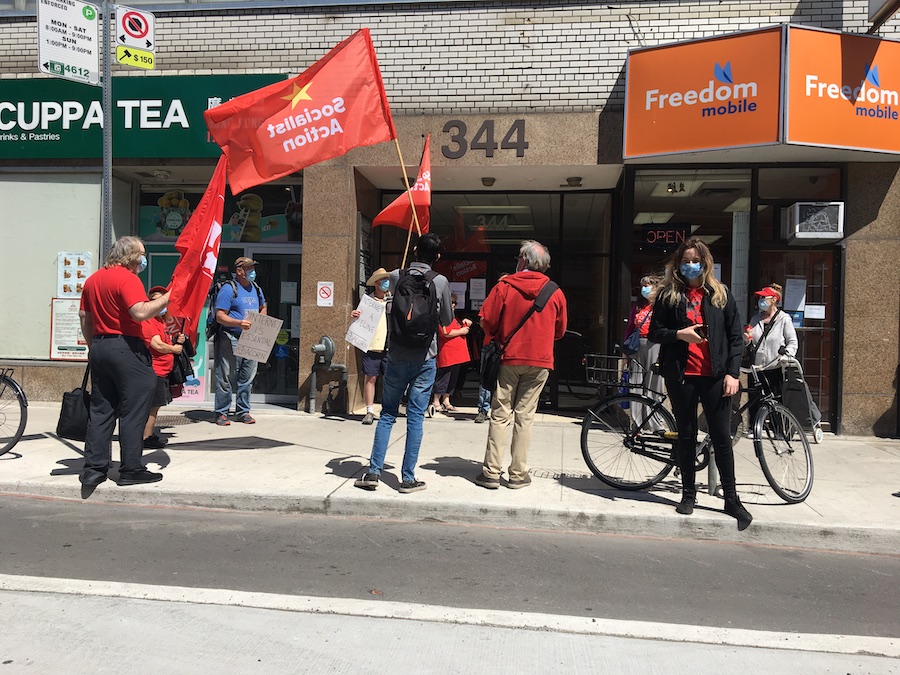 Ray Noyes has been feeling particularly isolated during the pandemic. The Ottawa man, who has bipolar disorder and lives on the $1,200 the Ontario Disability Support Program pays out each month, doesn't risk leaving his house because he is vulnerable to COVID-19.
Unable to afford the internet, he is cut off from many of his usual supports.
"My doctor is working from home, and so I've only been able to see her or to have visits with her by phone," he said. "If I had the internet, we could at least see each other, which would be helpful. I have a counselor who is in the same situation.
"But living without the internet, and I also don't have cable TV, I'm relying on the radio to hear the news."
Noyes is not alone.
ACORN Canada, the social and economic justice advocacy group, is urging that access to the internet be free during the pandemic for all low-income Canadians. To that end the group held rallies across the country in June.
The Association of Community Organizations for Reform Now is a national organization representing low- and moderate-income families with more than 130,000 members organized in 24 neighbourhood-scale chapters in nine Canadian cities, including Ottawa.
A 2016 survey of 394 ACORN Canada members found that 83.5 per cent found the cost of internet to be "extremely high," while almost 60 per cent revealed that they had to cut back elsewhere to afford access.
"During the COVID-19 crisis, many low-income people are relying on the internet for school, work, food deliveries, telemedicine, communication with fam. and more," ACORN says on its website. "But high prices are causing people to sacrifice other needed items. Further, many low-income people just can't afford the internet."
The advocacy group adds: "Low-income people across Canada, while isolating at home, urgently need unlimited internet access and affordable wireless plans to stay connected to vital services and everyday life."
Noyes said being limited to the radio is frustrating.
Staying in touch
"I would constantly be hearing about how important it is not to be isolated, how important it is to stay in touch, and how useful the internet is to get together with people to get to do Zoom conferences or virtual get togethers," he said.
Being cut off from the internet stops Noyes from finding out more about the stories he hears on the news — a constant annoyance, he said. But it also prevents him from accessing information about COVID-19 and mental health resources.
"There are some crisis lines you can call just to talk, and I do have my counselor but only talk to her every couple of weeks, more or less on the schedule, you know," he said. "So, at other times, if I have something in mind and I'm not really particularly wanting to tell my whole story to somebody new, I would go online and look up what they suggest."
The closure of libraries has left Noyes — along with thousands of others across the country — cut-off.
"If they're going to be allowed to operate as oligopolists, I think it's completely appropriate for the government to step in, and make sure these companies are operating in the best interest of the consumers."

Brett Caraway, communications professor, University of Toronto
In 2016, the CRTC declared internet a basic service that all Canadians should have access to at home. In July of the same year, the United Nations passed a resolution recognizing access to the internet as a basic right. But the big question is whether this means internet should be free or priced more affordably, said Brett Caraway, a professor at the Institute of Communication, Culture, Information, and Technology at the University of Toronto at Mississauga.
"If it's going to be free, the question from a financial perspective is, of course, how are you paying for it, and who are you paying for?" he said. "The other way is making it affordable, that's the model that's used most often. That's normally referred to as universal service."
The idea of universal service – where everyone should have access to a service at affordable rates – first emerged when the postal service was being established in Europe and the U.S., according to Caraway.
Universal service was then one of the key principles for the U.S. government in allowing what is now AT&T — which formerly owned Bell Canada — to form a telephone service monopoly in the U.S and Canada for much of the 20th century.
Universal service
The Bell system essentially became the sole provider of telephone service in North America.
That was the case until the monopoly came to an end in the U.S. in 1984 after years of pressure for AT&T to divest its regional holdings. AT&T had already cut ties with the Canadian portion of the company in 1974, which formed Bell Canada.
After the end of the Bell system, what emerged in Canada was an oligopoly, according to Caraway, with three large companies offering the majority of telephone service across Canada — Bell, Rogers and TELUS. Unlike in a competitive marketplace, in an oligopolistic market prices tend to rise, according to Caraway
"Usually you have a price leader, the largest firm who sets the prices," he said. "The other firms will usually just follow their lead."
"Oligopolies don't compete on price, because if you start doing that, everyone will lower their prices and these firms won't make as much money."
In the digital age, the price of internet service has largely followed the pattern established by the telephone oligopoly.
This results in customers typically staying with the same companies and internet prices remaining generally high. But Caraway said this doesn't mean telecommunication companies in Canada couldn't make universal service more affordable.
"If they're going to be allowed to operate as oligopolists, I think it's appropriate for the government to step in and make sure these companies are operating in the best interest of the consumers," said Caraway.
The picture in Canada
Caraway added that Canada regulates industries more stringently than the U.S., which makes implementing the right to free or more affordable internet more likely in this country.
According to the International Telecommunications Union's ICT Development Index, Canada ranked 29th globally for broadband access, use and skills compared with other countries in 2017 (the U.S. ranks 16th and the U.K. 5th.
"I'm somewhat hesitant to have a right to be attached to a particular technology like the internet, because the technology will keep developing," he said.
In Canada, the Connecting for Good program offers internet access to low-income families across Canada. TELUS waived fees for two months for existing customers of the Connecting for Good program during the pandemic, according to a spokesperson. Bell Canada waived overage fees for home internet plans until June 30. Rogers did not respond to a request for information about its COVID-19 policies in time for publication.
But living without the Internet, and I also don't have cable TV – I'm relying on the radio to hear the news."

Ray Noyes, Ottawa resident
While these kinds of programs help provide internet access for some, Noyes said he and many people like him are excluded because he is single. To ensure people aren't left cut off, he said such programs need to be expanded.
"Well, we've given them the message," he said. "Not everybody qualifies for the benefits, and I think that during the pandemic, a lot of people who otherwise have had a reasonable income might be a little more sympathetic to other people who don't have as much."
---
More Stories