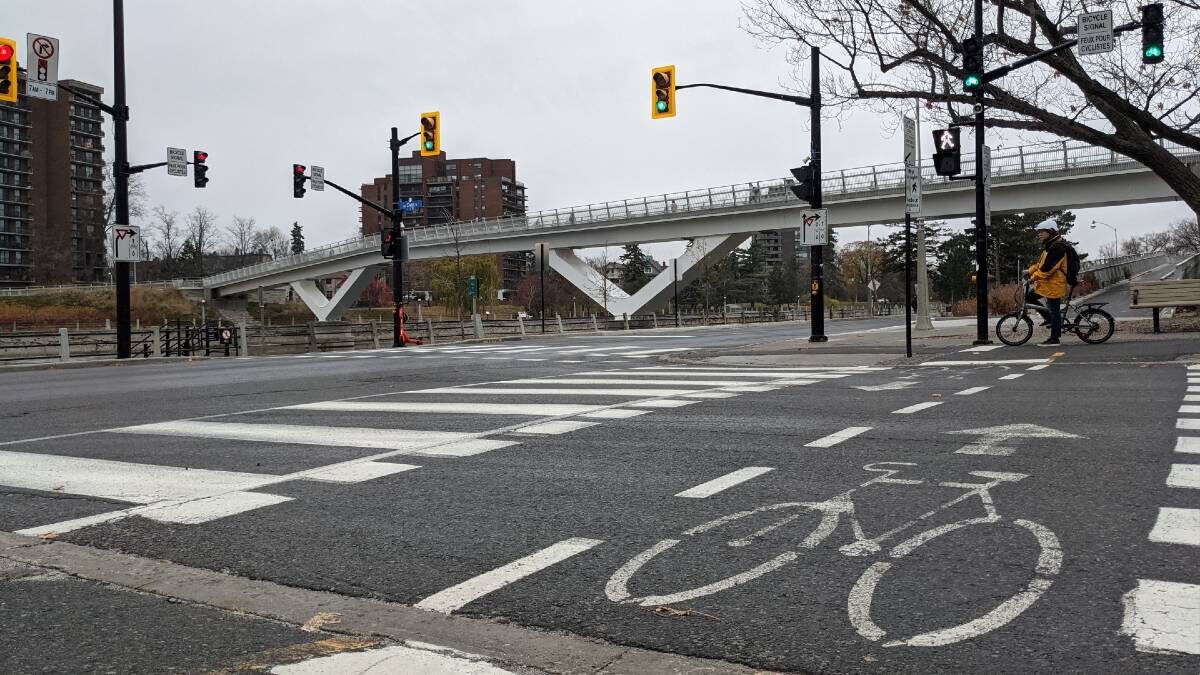 You wouldn't think a lengthy document detailing new guidelines on designing urban intersections could create a stir, but urban planning enthusiasts and cycling fanatics across Ottawa were thrilled to get their hands on a much-anticipated report from the City of Ottawa on that very topic.
The 91-page document, "Protective Intersection Design Guide," was completed in September and released to the general public with little fanfare on Nov. 5. Emmett Proulx, the project manager of Project Cycling and Walking Programs for the city, who helped spearhead the guide's creation, announced its release in a Twitter thread that day.
"Ottawa is a North American leader in building protected intersections," Proulx tweeted.
"Protected intersections fundamentally make intersections safer for vulnerable road users (…) but the concept can be deceptively tricky to adapt to complex real-world intersections. The Guide provides a transparent framework for designing protected intersections, from high-level principles, to corner type selection, to functional and detailed design."
The guide defines protected intersections as roadway junctions specifically designed to make vulnerable road users like pedestrians and cyclists feel safer by "shortening crossing distances, reducing exposure, increasing visibility, and improving yielding behaviour by motor vehicle drive."
Some features of protected intersections include corner safety islands that separate bicycles and pedestrians from vehicle lanes and crossride setbacks that place cyclists and pedestrians within the sightlines of drivers when stopped at the lights.
The guide was created to ensure consistency in design as more protected intersections are constructed across the city.
Intersections are some of the most dangerous areas for cyclists and pedestrians, Bike Ottawa president Érinn Cunningham says.
"We know that that's where we tend to see the most conflicts," he said. "It's not surprising given that, you know, vehicles start moving less predictably at intersections, sometimes speeding up to catch lights or turning (and) not always using signals, for example, or not always checking to see if people on bikes are there."
The city's 2019 road safety report found that collisions resulted in 250 cyclist injuries and four deaths. This was the highest number of cyclist deaths in five years. The report also identified the 10 intersections with the highest volumes of collisions, which included Hunt Club Road and Riverside Drive with 58 and Catherine and Kent streets, with 43 collisions.
Concerns over the safety of vulnerable road users, paired with a highly active and vocal contingent of cycling advocates, has led to a number of infrastructure projects specifically designed to make roads safer for pedestrians and cyclists. Ottawa began implementing protected intersections in 2015 as part of that effort. There are currently 13 across the city.
Cunningham said the continued attention on bike safety, and the introduction of standardized protected intersection guidelines, is "a great step forward."
"From what we've seen, from the comfort level that it provides in the intersections in this city, it improves the experience at intersections, I think, for all people who are using the road, not actually even just people on bikes and people walking, but even for people who are driving," he said.
Elizabeth Murphy, program manager of Transportation Engineering Services with the City of Ottawa, says protected intersections are recommended for most urban intersections.
"While numerous protected intersections are planned in the near and medium term, the ultimate implementation timing of protected intersections is dependent on funding from development and capital sources which have been approved by Council," Murphy said in an emailed statement.
Effectiveness questioned
But while the protected intersection push trudges forward, there is still skepticism about how effective these designs can be.
Bill Bourne, a cycling coach and board member with the Ottawa Bicycle Club, said he's "not a big fan" of protected intersections, because they too often exist in isolation.
The intersection at Donald Street and St. Laurent Boulevard, he said, is a good example of why the infrastructure doesn't always have the desired affect.
"There's a protected bike intersection there, and there's no other cycling infrastructure. There's not even a paved shoulder," he said. "If you're cycling down St. Laurent, you're cycling in a traffic lane. And then you come to the intersection, and you're expected to now use bike infrastructure. And then you cross the intersection, now you've got to go back out and act like a car."
Bourne is also concerned that the city's guidelines don't consider the added complexity of protected intersections for road users. In some cases, an intersection may have up to three sets of lights — for motorists, cyclists, and pedestrians respectively — making them difficult to navigate.
If new protected intersections aren't paired with education initiatives for road users, Bourne said they might just be counterproductive.
If the city's goal is to make streets safer, Bourne would like to see more emphasis on other measures, such as traffic calming and roundabouts that slow traffic and increase road users' comfort level. But better education, he emphasized, is also essential.
"Creating dedicated cycling infrastructure in the downtown core is a challenge (because) we haven't built our cities that way," he said. "I don't know if there's a really easy answer to that infrastructure. For a couple million dollars, we could do a lot of education and train people to properly use the infrastructure we have and to ride safely on the roads."
---
More Stories