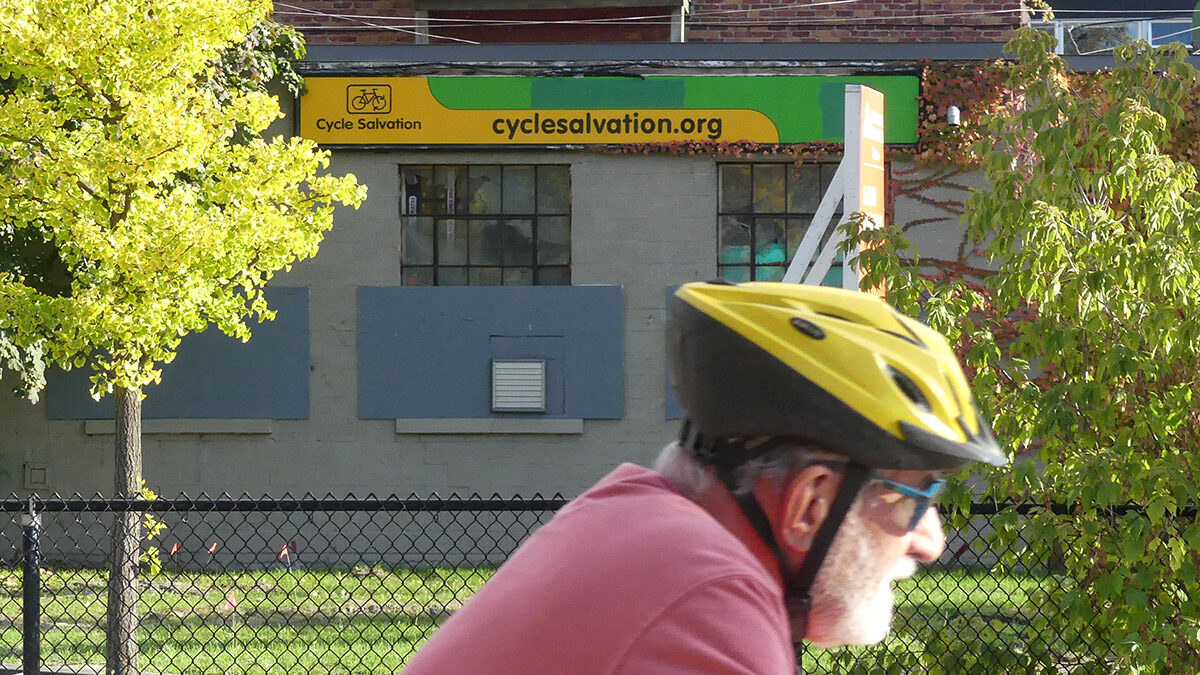 Local residents in need will be receiving refurbished bicycles this spring, thanks to a new initiative launched by the Ottawa-based not-for-profit Cycle Salvation.
Located on Bronson Avenue, Cycle Salvation is a social enterprise that refurbishes donated bicycles and sells them back to the community.
The business is managed by Causeway Work Centre, an agency that helps individuals, who are experiencing mental illness, poverty, homelessness or other challenges, find work. Cycle Salvation is staffed by Causeway clients who face employment barriers.
This year, the bike shop kicked off a new initiative to help local community members.
In October, Cycle Salvation launched Spokes for Folks, which aimed to raise $7,500 in a month to help refurbish 30 bicycles that would otherwise be too expensive to restore. 
Partnering with Serenity House and the Ottawa Community Immigrant Services Organization, the bikes are to be donated to men undergoing addiction treatment, as well as to new Canadians. Both organizations have a long history of supporting marginalized people in Ottawa — Serenity House has supported men with substance use disorders since 1969, while OCISO has been providing settlement and integration services to immigrants since 1978.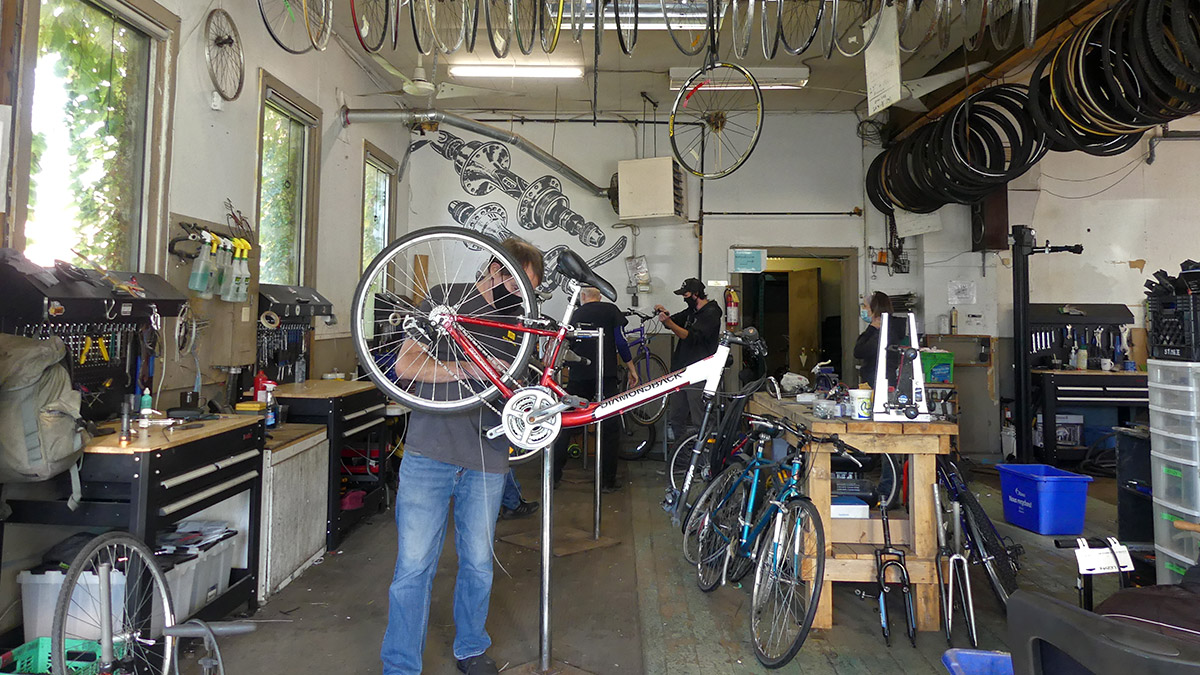 Rachel McKeen, communications co-ordinator at Causeway Work Centre, said the initiative is a response to two issues: community members donating bikes that are too expensive to be fixed and resold, as well as local organizations reaching out for bicycles on behalf of clients.
"Usually we would take those (expensive donated) bikes and scrap them for parts for other bikes, but these are also just perfectly good bikes that we could (give) to people," McKeen said.
While the shop came shy of meeting its fundraising goal during its month-long campaign, McKeen said in an emailed statement that Cycle Salvation raised more than $5,100 in October. She said the funds are enough to refurbish 20 bikes and the Cycle Salvation team is in the process of completing the job.
"We have yet to give a bike to a person in need, and since the regular cycling season is wrapping up, it likely won't be until spring that we are able to donate," McKeen explained. "Ideally, (the initiative) would've happened earlier in the year, but the nature of Cycle Salvation is that they generally tend to be very busy in the spring and summer months."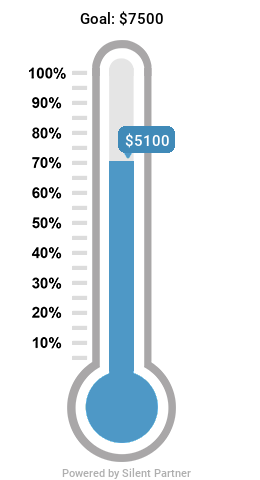 As the bicycles are being restored, Cycle Salvation staff say they are looking forward to seeing the fruits of their labour. 
Rob Robitaille, social enterprise manager at Cycle Salvation, said the bikes will make a noticeable impact in the lives of those who receive them.
"It's for new Canadians (and) new people to the country that in many cases want to bicycle just for transportation, so that they can actually get to work or go to school and things like that," Robitaille said. "They can't afford a car at this point, and so it's going to be their basic means of transportation while they're here."
Darrin Busby, head mechanic at Cycle Salvation, said he was excited about the Spokes for Folks initiative.
"I'm the one who tells (customers) the specs of the bike — what's good, what's bad about it. I just love seeing the look on their faces when they get a new ride to take home," Busby said.
He added that the joy of those who receive the bikes trickles back to the Cycle Salvation team.
"Seeing how happy they are just always puts a smile on my face," Busby said. "It just makes me really appreciate the work I did to the bike because someone else is loving it to get around the town."
For Torunn Gill, Cycle Salvation's shop supervisor, Spokes for Folks provides an opportunity to build a sense of community during the COVID-19 pandemic.
"COVID, it's really kind of taken away from some of the community initiatives that we were able to do, so it's nice to get back to being able to offer different community partnerships," Gill said. "That's really exciting, because I think it just allows us to be able to help more people."
She added that while the pandemic has been difficult for the social enterprise and its clients, the team has banded together.
"With Spokes for Folks, (we thought), 'What can we do to maybe have more of an online presence?' And so we've had to be creative in the way that we can still help people and not have such a face-to-face (focus)," Gill said.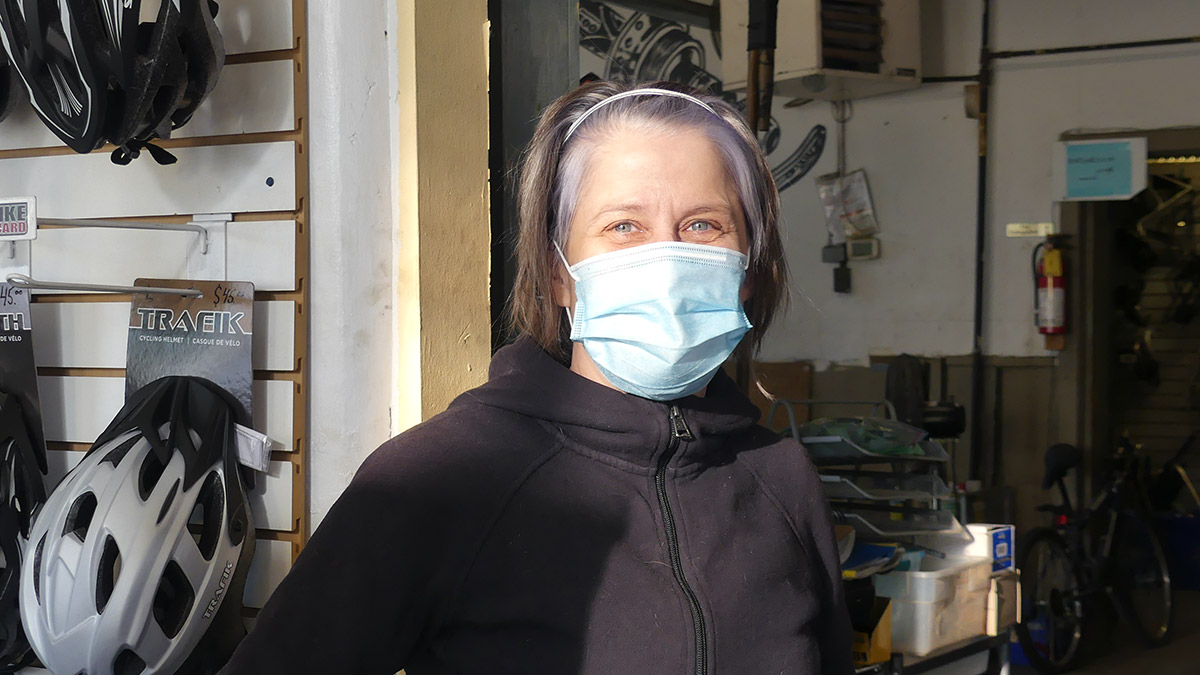 Gill added that she also has a personal connection to philanthropy, speaking about how her lived experiences with mental health issues in the past inform her desire to help others.
"I understand what barriers are like, because I've had barriers myself, and I see the barriers that the people that I work with have and have dealt with in their life," Gill said. "Having lived with certain struggles, you really do appreciate or have empathy for other people."
She explained how Cycle Salvation tries to foster empathy in everything it does.
"Something that we try to do here is try to provide a place where people do work, where they're able to feel comfortable and just (have) a positive environment," she said. "So it's more than just a bike shop. It's a community bike shop."
Spokes for Folks supports this goal of helping community members in need while preventing donated bikes from going to waste.
"We hate to scrap a bike. We really like to save them all, if we can, and this gives us an opportunity to rescue more bikes from the landfill and then fold them back into another organization that's very worthy," Robitaille said. "So it feels really good to be able to do that."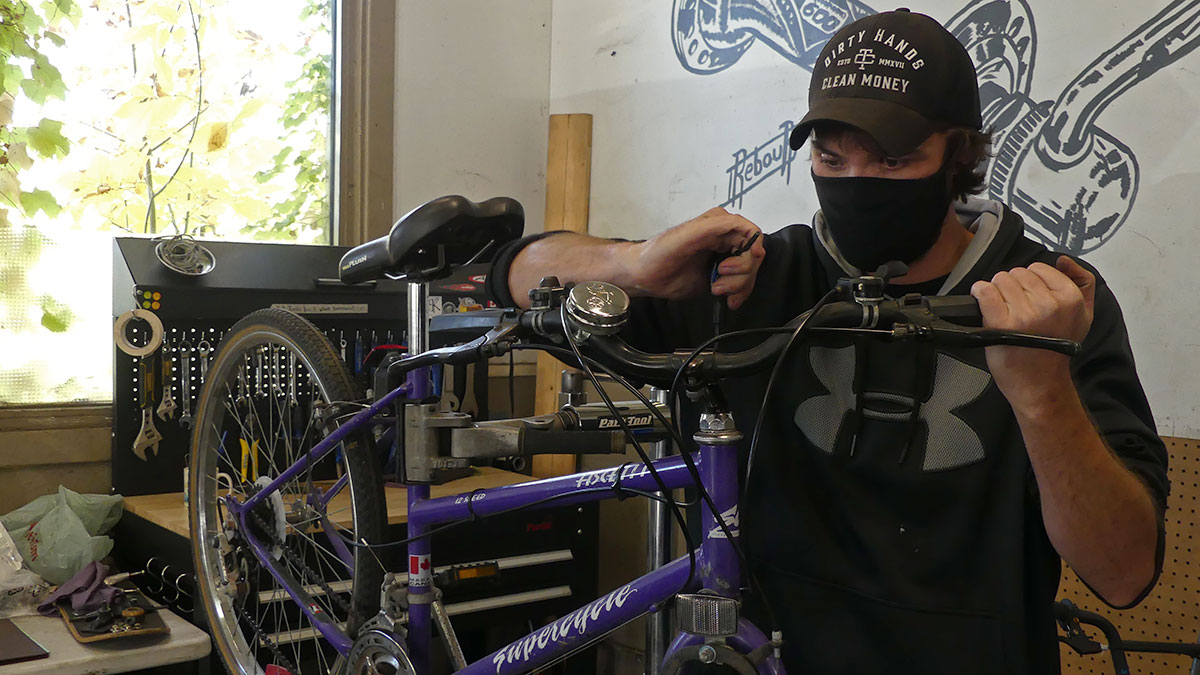 McKeen said the initiative embodies Cycle Salvation's commitment to its triple bottom line: people, profit and planet.
"It's sort of a win-win-win scenario for people to support the initiative, because they are preventing these bikes from ending up as scrap or in landfills, they're helping people who work at Cycle Salvation gain valuable employment hours, and then they are also providing a healthy and reliable form of transportation to people who can really use it," she said.
While some of the refurbished bicycles are set to go to the partner organizations' clients this spring, McKeen said refurbished bikes will be available when other organizations get in contact about donations in the future.
Robitaille said he'd like to see Spokes for Folks become an annual initiative, rotating through different partner organizations so the bike donations reach a wide variety of people.
McKeen agreed, adding she hopes some iteration of the project continues year over year.
"This is just sort of an opportunity to see what the general community interest in this is," she said. "We're just hoping that this will gain enough momentum to carry through into the next cycling season."
---
More Stories